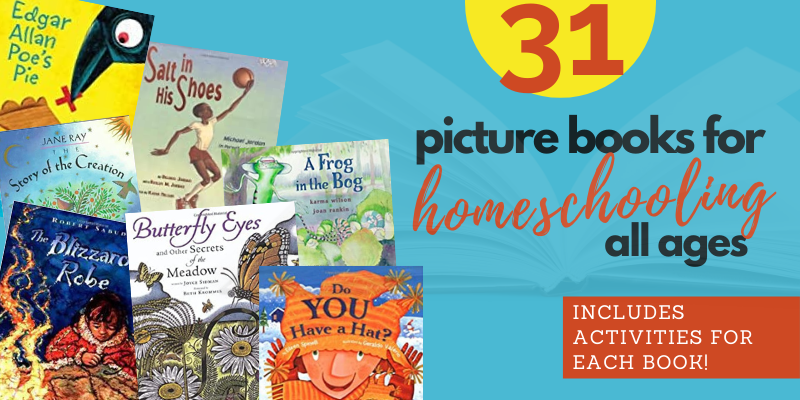 As part of our 31 Picture Books For Homeschooling All Ages series, we have chosen kids' books with vivid language, interesting stories and striking artwork to appeal to every person in your family. Butterfly Eyes and Other Secrets of the Meadow is one of our favorites!
Each book post also includes a few activities — some simple, some more involved — for your entire family to enjoy together. Or not! Reading the book is enough in itself if that is all you want to do.
Pin
Snuggle up and enjoy a picture book or two together as a family. It may be the highlight of your day.

Butterfly Eyes And Other Secrets Of The Meadow Picture Book Details
PinBook: Butterfly Eyes and Other Secrets of the Meadow
Author: Joyce Sidman
Illustrator: Beth Krommes
Stunning. Just stunning. The words, the pictures, everything. Joyce Sidman and Beth Krommes are wonderful artists.
Normally I am not a fan of free verse poetry, as I find it choppy and hard to read aloud to my kids. However, Joyce Sidman has a special way of creating cadence and rhyme in non traditional patterns to create beauty with words. Words I can read aloud with ease.
In Butterfly Eyes, the riddles are combined with short snippets of non-fiction to create the perfect companion to a nature study of meadows and fields.
The riddles are easy enough for the smallest reader but the information will be interesting to all. I learned several new facts my first time through!
Older kids and adults will see the humor in "An Apology to My Prey" and "Bubble Song." Who couldn't laugh at,
Beautiful bubbles, bubbles of spume…
Butterfly Eyes and Other Secrets of the Meadow Homeschool Activities
#1 – Beth Krommes uses scratch board for her illustrations. Try making your own or ordering a pack to make your own beautiful artwork!
#2 – Meadows and fields cover most or our country. Even some city parks will have meadow animals. Take a nature walk. See how many animals from the book you can spot. We use these handy nature guides whenever we are out and about. They are durable and the kids love looking through them discovering what could be out there. They have guides specific to region, and species as well as general guides.
#3 – Now that you are home, spend some time making up riddles of the animals or plants you spotted. Can you stump Dad? Mom? Big brother?
If you enjoyed these nature riddles here are a few more for you to enjoy!
Picture Books Lists For Homeschooling For All Ages
 Looking for more picture book resources for your homeschool? Download our printable library and book list below!