Taking photos of the kids can be a fun project, but it is often an exercise in frustration too. Getting them to cooperate, finding the right time of day, and pulling everything together for a fun photo shoot is not easy. But the results — I love the fun results!
I wanted to use some fun props this year, but didn't want to go with the traditional desk, books, and globe. So I set-up a little studio on the back porch, warmed up the old camera and got some shots I was happy with.
Then I threw them into my photo editing program and fancied them up a bit. I just love the results. Photos that show a bit of my kids' personalities and capture a little piece of their interests at this point in time.
Taking great photos is not hard, if you follow a few simple tips to help you get a good shot. Here are a few that may help you out.
Turn off the flash
Flash never makes anyone look good. You can shoot near a window or in a sunny room, but if you don't have great light in your house, then get outside.
Find the right light
For great photos you want good natural light in open shade. Don't take photos out in the open during the middle of the day, because the sun creates harsh shadows or squinty eyes.
Avoid shade under trees because you don't want dappled shadows on your subject's face. Open shade like under a porch or near the edge of the garage door is the best kind.
Once you get to your spot, scoot your subject right to the edge of the shade so the light is lighting his or her face. Have them move forward and back to find that lighting sweet spot.
Pin
Move your subject away from the background
Putting your subject with his or her back right against the wall usually doesn't make for an attractive photo. Be sure to move him or her a couple of feet away to create depth between the person and backdrop.
Create your composition
If you are shooting at the edge of your garage you will want a backdrop of some sort to hide the garage clutter. Think about what things you would like to have in the photo with your child. I came up with the chalkboard idea, but other popular back-to-school props include desks, apples, globes, and books.
Some people like traditional props, but don't be afraid to think outside the box and come up with something different. It is fun to try and create photos that really reflect your homeschool. If you aren't "sit at desk" people, it is OK not to use a desk in your photos.
As with props you have a number of options for dress. I decided that since our school days were mostly casual, then our photos would be too. You may want a more formal, dressy shot because you don't get to see the kids like that often.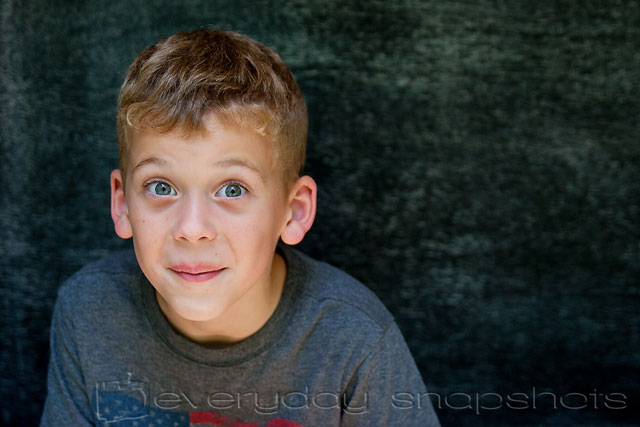 Pin
Use the portrait setting on your camera
If you have a digital SLR open up your aperture. If that is Greek to you, or you don't have a digital SLR, then use the portrait setting on your camera (usually the setting marked by a person's head) . That will give you that great blurred background and focus on your subject.
Fill the frame
Don't try to take a photo from eight or nine feet away — your subject will be tiny and you won't be able to see anything. Fill the frame with your subject and be deliberate about your composition. I knew I wanted to use the space to the right of the kids for the graphic, so I made sure to leave that space open in the photo.
Pin
Use the rule of thirds
Even if you are not using the space on the side of your subject, photos are still more interesting when the subject is not dead in the center of your photo. Move your subject off-center by imagining a giant tic-tac-toe board over your photo and putting your subject's eyes at the intersection in the upper left or right.
Take a ton of photos
To get one great photo, you need to take 10, 20, or more. When working with kids you never know when you will get funny faces or closed eyes. Let them be goofy. Crack jokes. Ask them questions and get them talking between shots. Anything you can do to loosen them up will help you capture genuine smiles and not forced grimaces.