I'm so happy to introduce you to Amber Vanderpol today. I don't really remember how I met Amber. She and I had internet friends in common and we just sort of started to follow one another and chat from time to time; now we're FitBit friends.
Amber is very involved in the Charlotte Mason (CM) community, helping with CM West and hosting virtual CM reading groups. You can hear more about those virtual groups on her Scholé Sisters interview.
It was on Instagram last fall that I started noticing her interest in basket weaving. She would occasionally post pictures showing her projects and progress. I thought many would be interested because looking at the basket in progress is fascinating.
Amber, please tell us a little bit about yourself, your family, your homeschool, and the ages of your children.
My husband and I have six children, ages 15, 11, 8, 5, 3, and a baby due in August. Our oldest is a girl, then we have three boys followed by two more girls.
We have homeschooled from the beginning, but we began homeschooling following Charlotte Mason's philosophy and practices about six years ago.
We live in the foothills of the Sierra Nevada Mountains on a 10 acre property in a house we largely built by ourselves.
What is your hobby?
The hobby I'd like to share a little about is basket making.
How long have you been making baskets?
I only started basket making about a year and a half ago, when I took a class through my local fiber guild. I've since been able to take another class, and I've started experimenting with making baskets on my own.
How did you get started or interested in making baskets? How would someone else get started?
I've long dabbled in a number of hobbies, learning enough to be able to introduce them to my children but never finding one that I really was all that interested in doing in my very limited free time.
I occasionally sit and knit or crochet or do other things for the sake of setting a good example to my kids or joining in on their handicraft time, but I seldom would devote time to those endeavors when the kids weren't around.
This changed when I had the opportunity to take a basket making class from an experienced basket maker in my local fiber guild. My daughter is very good with her hands and enjoys a wide variety of handicrafts, and I originally signed up to give her the opportunity to try basket making.
Much to my surprise, I found I really enjoyed it! Finally, a hobby that I really wanted to do for my own sake, not just to be able to show it to the kids.
There's something about the physicality of basket making that really appeals to me. Most of basket making is your hands and your chosen material and the tools only come in as minor helpers, not as necessary instruments.
And the materials can be so varied! I've seen baskets made from purchased reed from far away places as well as materials that might be nearby or even in my yard.
Taking a class in person was a great way to get started, and it was so encouraging to look at my finished basket and think, "I made that!" It was very helpful to have someone available to walk me through the process and to double check my progress to make sure I was heading in the right direction.
While trying to find the time to take a class like this wasn't easy, I felt like it got me started on very solid ground. I'm not sure I would have been able to really get started or finish my first basket without taking a class. And now that I have these two classes under my belt, I have a lot more confidence in basket making and the instructions in books and patterns don't seem nearly so daunting.
If you are interested in finding a class, I recommend asking around at a local fiber guild or basket makers guild as a great way to find someone who teaches classes.
Many guilds are listed here. We found our local fiber guild at our county fair, where they have an informational booth as well as many beautiful fair entries.
What kind of equipment or resources are needed to do it? Are there books or instructional guides that you've personally found helpful?
Basket making doesn't take a lot of tools. You need something to cut the material, like heavy duty clippers or shears, some small clamps so you can let go of your work, a spray bottle to help keep your work moist and more flexible, and a bucket or dishpan to soak your material before you start working with it.
An awl and a tool or two for helping to manipulate the reed in tight places can be handy too. Different types of rims can require a few additional tools like a scraper and zip ties (or string), but still, the amount of equipment needed is quite minimal.
The website my basket making teacher recommended for supplies is NC Basketworks. They are a family-owned company in North Carolina and they sell a wide variety of high-quality basket making materials and tools, as well as kits and patterns.
The book my basket making teacher recommended as the book to get is Contemporary Wicker Basketry by Flo Hoppe. The second edition can be purchased used from various sites, or new directly from the author. I have the book and the directions, photos and projects are excellent.
Where can we learn more about it?
There's such a wide variety of basket making out there these days, from traditional forms belonging to different cultures to modern art baskets and quite a bit in between. If it is something you are interested in, I would suggest trying to find a local or at least local-ish class and building some foundational skills in a way where you can get immediate feedback about what you are doing.
After that, start looking around and seeing what you're interested in making, and explore patterns, books and kits that are out there. And of course, there's always helpful videos on YouTube!
How do you make time to participate?
Basket making gets more time during the summer when I can bring my basket in progress to the lake with me and work on it while the kids play. It is really nice to get a longer stretch for working on a basket, particularly if I'm working on a bigger one, but I do try and sneak in some time here and there on the occasional evening or weekend during the school year.
It is always a challenge to find time for things like this, but the feeling of seeing something real, something I can use and see and enjoy come together makes it worthwhile. I also enjoy the boost I get from doing something creative and satisfying with my hands.
Where can others find you online?
I am online at my blog at Flare of Light and on Instagram as @ambervanderpol. I also help to plan retreats and conferences for Charlotte Mason West.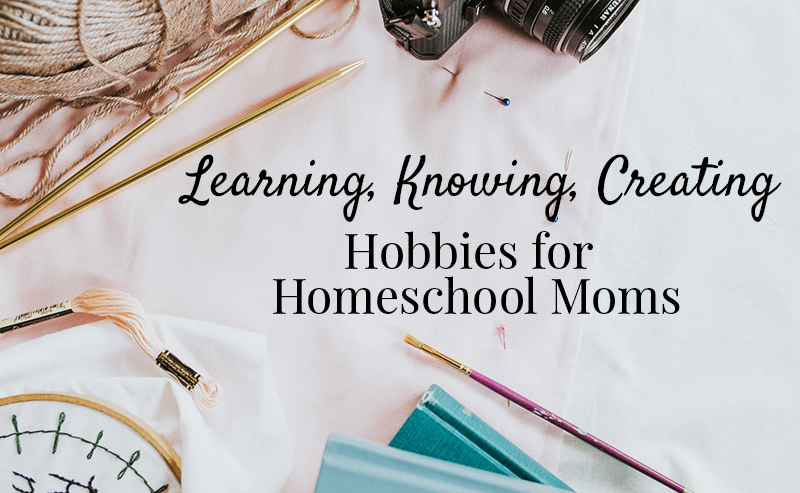 Dawn here again … I so appreciate Amber's time and detailed explanation. I love that it started as seeking out a class for her daughter but became an interest for herself. I also appreciate that she made time in her busy family to take a second class in order to improve her skill and understanding.
Inspiration for Hobbies can come from all sorts of places – it's continuing to practice and learn through doing that is where the magic happens, though.
I love seeing the basket come together. I couldn't visualize how the patterns and edges were created until I looked at Amber's pictures. I hope you enjoyed that as much as I did!