Middle school science is a sort of point of no return. Elementary science is typically easy, exciting, even fun. High school science is historically pretty tough. Middle school, though, is the time when science begins to shift from learning random facts to applying vocabulary words, filling out diagrams, and maybe even getting your hands dirty. Sixth through eighth grade is a make it or break it time for students in science, and with new jobs being created in the STEM fields every day it is important to get it right.
I received a co-op package for free in return for my review. The opinions expressed are my own.
My kids attend a co-op science class, and when I was offered the opportunity for their entire class to try out Biology for the Logic Stage by Elemental Science, I could not say yes fast enough! Teaching middle school science can be a daunting task, and making sure it's taught well adds even more pressure. We were not disappointed.
Who Can Use This Program?
Biology for the Logic Stage will work great for middle school science classes in multiple settings. Anyone wanting to teach more about plants, animal life, and the human body can use and learn from this curriculum.
Families can use this program for their own middle school science students at home, with everything needed to teach, read, learn, and try all laid out for the parent in the guide. There are options for both printed versions and ebooks, as well, so you can re-use the materials with younger children without having to store them for years.
The teacher's guide includes options for a co-op class meeting twice a week or 5 times a week, so it is flexible and doesn't leave anyone scrambling to adjust or skip anything crucial. The material is secular, so there would likely be no objections to a private school using this curriculum, either.
The program is intended for middle school science students, typically 6th-8th graders, but it does suggest reading options for including lower levels for younger siblings, and alternative ways to challenge gifted or older students.
Because the program is so well-planned, anyone can teach middle school science using it. Whether it's your first year leading a co-op or you're a seasoned scientist, the teacher's guide is laid out well and is incredibly easy to follow. There is even a schedule to follow, removing any guesswork and promising almost no prep work.
How Is This Program Used?
Following either a 2-day or 5-day schedule, the teacher follows along with the provided information and presents materials to the class. There are two spine books used to build the program off of, worksheets, experiments, and optional tests.
Classes follow along together in their student books, and troubleshooting fixes are included if things go awry (as some middle school classes have been known to).
Each week there are sketch assignments for students to label diagrams, vocabulary, as well as discussion questions and memory work. It is a full science program, designed to ensure mastery and understanding of middle school science and biology.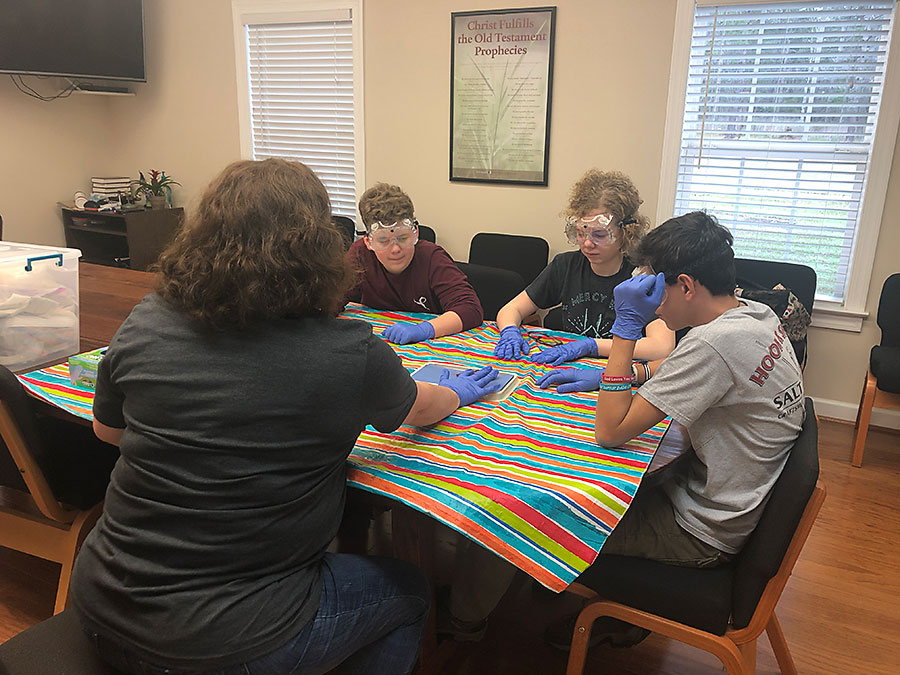 There are optional experiment kits that are especially fun to make biology more real and hands-on, and the kits are mercifully curated for you, so there's no need to run to Walmart the night before co-op!
What Is Included in Biology for the Logic Stage?
Biology for the Logic Stage comes with almost everything but the teacher. It is a truly open and go program.
We used the co-op package and additional experiment kits, and it could not have been easier. Almost everything needed for all of the experiments was provided in the kit, apart from the patience to observe a few of them over a period of days! There is no exhaustive preparation, only following the provided instructions.
The teacher guide that comes with the program has everything needed to teach middle school science, including copies of everything the students are reading, discussion questions, expected results from experiments and troubleshooting for the experiments if they don't go according to plan. There is a schedule that lays everything out, as well as suggestions for additional reading or activities. Everything is explained in a step-by-step process, allowing you to simply facilitate without needing years of experience in a lab.
The student books include pre-drawn diagrams for labeling, experiment sheets to help students learn to write lab reports, discussion questions, memory work, and room to write additional reports. Optional unit tests can also be ordered that include vocabulary, true/false, and further discussion questions. These are excellent to use for preparing students to answer in complete sentences, and for proving mastery if your state requires a certain level of reporting.
You can check out samples of this and other Elemental Science programs here.
Biology for the Logic Stage was an excellent open-and-go program that our co-op truly enjoyed. It was incredibly easy to use and well-planned, making it a great option for anyone who finds themselves teaching middle school science. If you're a little intimidated, someone who likes things to be planned out, or someone who isn't so great at planning, you should definitely check out Elemental Science's packages. Our co-op's use went smoothly, as I fully expect yours to.
Click over and check out Biology for the Logic Stage as well as the other science levels and course available at Elemental Science.