PinI've always liked birds. I mean, they're nice, fun to listen to, and can even be pretty to look at. But that was as far as my admiration went.
I knew a Robin from a Yellow Finch and a Blue Jay; some very common species in my native New York, but I couldn't tell a Sparrow from a Wren or give you any sort of information on birds that did not have bright colored marking features.
All of this changed with a trip to visit friends on the coast of South Carolina. A short drive from their house, an old rice farm had been converted into a bird sanctuary. Here, migrating and resident birds, as well as alligators were in abundance.
The four mile drive through took us an hour, but could have easily have taken longer! What an amazing piece of creation! That was it!  We were hooked!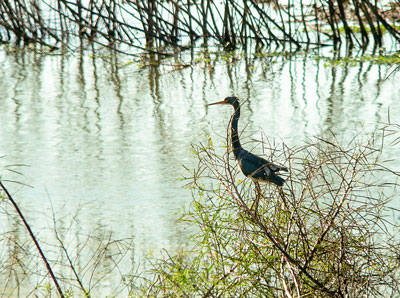 Pin
Identifying birds is a slow process. I encourage my children to observe and enjoy them even if they don't know the names. We add two or three to memory each season as we see them and focus on them.
Here are a few strategies to begin identifying birds around your neighborhood and in your backyard:
Listen!
One of the quickest ways I identify a new bird is to listen for an unfamiliar call. One day this gave us the awesome opportunity to see two Red Bellied Woodpeckers fighting above our street for territory!
Another day we were led by sound to a BrownThrasher perched in a tree.  All About Birds is a great web site from the Cornell University of Ornithology that has several recordings for each bird species.
There have been many times we have identified birds based mostly on their call. We make a guess with a bird guide and confirm with the sounds we have heard.
Look!
Some of the best times to observe birds are after rain, in the morning and in the early evening. We once had an entire flock of Yellow-Rumped Warblers interrupt our breakfast. We all crowded around the window to watch them eat their breakfast instead!
On a recent camping trip, we observed two birds at our site that were tamer than most; probably due to the fact that they were used to being fed by people. The Brown Thrasher we quickly identified, because we had the opportunity to see one earlier in the week at home.
The Catbird however required searching our guide books and talking and more observation before we could be sure we had gotten it right.
Here are some resources we have used and enjoyed:
Pocket Naturalist Guides from Waterford Press
– Amazon has the guides listed by state as well as general areas such as coastal birds. These are great for sticking in a backpack or nature bag!  Also look for the other subjects like trees, mushrooms, wildflowers, knots…
The Sibley Guide to Birds
 – This is a helpful guide if you are going out of your normal viewing area.  Also, the Sibley Backyard Birding Flashcards are great for looking though with your young bird lovers! My daughter LOVES to look at the beautiful pictures on each card.
Birds at Home
 by Marguerite Henry – I hesitate to list this one because it is out of print. However, Amazon does have them used most of the time. It is such a lovely book about common North American Bird species.
Mrs. Henry talks about the birds as if they are friends and describes their habits as in language that is appealing to both me and my children. The paintings are large and accurate to help in identification. It is worth looking into and adding to your library!
Feed!
Yes, if you feed them, they will come.  We picked Birdfeeders (Kids Can Do It)
 by Renee Schwarz at the library and loved the fun practical feeders made mostly from things you have around your house.
There was also helpful information about when to put feeders out, how they need to be kept up, and what types of feeders and food attract which birds.
Pin
I have found that the excitement for birding is contagious for children and even adults. My curiosity and wonder was piqued by our friends and a trip to an amazingly beautiful bird sanctuary.
Birding is fun and easy for the whole family. Take it slow, enjoy each new encounter and not only will you add another bird species to your repertoire, but a memory too.   Like this one:
Pin
This is actually a picture of a later "bird fort" the kids made. But the first one was quite similar. Inside they have their sketch books and colored pencils and sometimes a flashlight, because it is dark in there!
We never talked about bird blinds or how they could be helpful in observing birds. Here they found out for themselves that if they hid, the birds would come closer to them.