I remember distinctly the very first Kathryn Tucker Windham book that I read. It was perhaps her most famous — Thirteen Alabama Ghosts and Jeffery.  I know I was somewhere between grades three and five when I found the old cloth-bound volume tucked away in the non-fiction section of the Florala, Alabama library.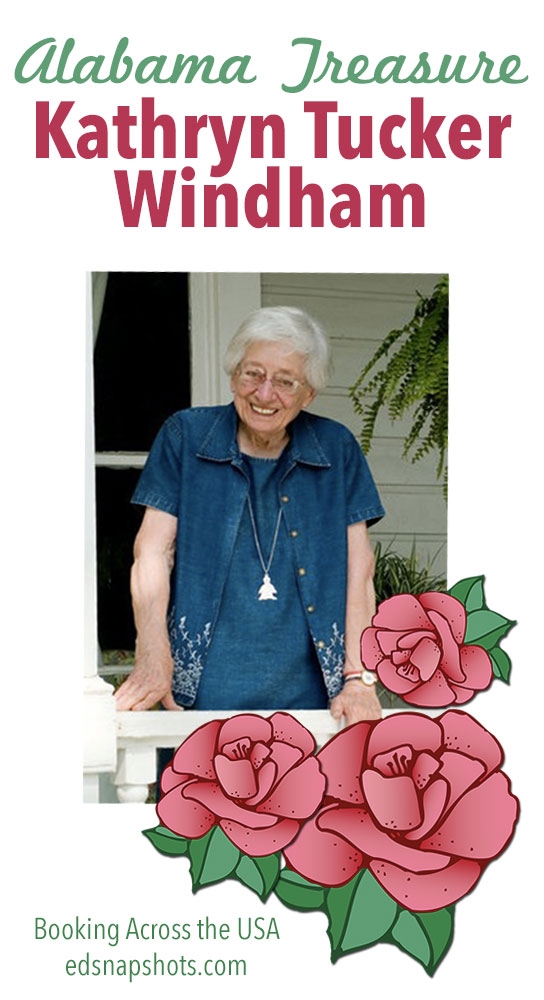 PinThe stories are "true." Ghost tales collected from small towns all over Alabama. Local folklore passed down via oral tradition for over a century. They were perfect for an upper elementary voracious reader, but also enjoyable for an adult as well.
Not too scary, the tales are full of description and details about the spooky settings and as much information about the people involved in the tales as the local gossip could recall. I went on to devour every single Windham ghost book my library owned — which was most of them. She wrote seven more ghost books.
Windham was born June 2, 1918 in Selma, Alabama and lived in the state her entire life. She started her writing career as a newspaper reporter, working on several papers across the state and winning a number of Associated Press awards for her writing and photography.
Her interest in ghosts was sparked by a ghost named "Jeffery" taking up residence in her own home. Windham contacted her old college professor, herself a collector of ghost stories and folklore, and the idea to create the first ghost book was born. A prolific writer, in addition to the ghost books, Windham also wrote other books for adults and children mostly dealing with life in Alabama.
Later in life she became renowned as a storyteller, traveling across the state telling her ghost stories, among others. Windham died in 2011 at the age of 93.
More about Kathryn Tucker Windham
Things to Do
PinRead Thirteen Alabama Ghosts and Jeffrey
.  Then pick up one of the other ghost story collections. I think I read them all. Windham herself recommends these stories for grades four and up. I think that is just about right. Upper elementary is when I devoured these books.
Get a big map of Alabama and map out all the locations in the book.
Collect your own ghost or family stories. (Windham says in her interview that though she has told ghost stories for years, family stories are her favorite to tell.) Ask an older relative to take a few minutes and tell you a story of when they were young or a family story they remember having been told to them. Take time to write the story down for others to enjoy. Can you make your story as detailed as the ones from the book?
Find a story you like and practice telling it to others. It would be fun to have family and friends over for your own story telling session. Tell a story you remember from when you were younger, maybe a time something funny or sad happened. This online storytelling guide will give you some tips.
PinCheck out another of Windham's wonderful stories, which was made into a picture book. Ernest's Gift
 is the true story of Ernest Dawson, who was once denied entry into the Selma library because he was black. Ernest went on to have a full-life, all wonderfully documented by Windham in the story. And when he died, Ernest donated $10,000 to buy children's books for the Selma library.
Windham excelled at telling stories about her fellow Alabamians, the ones living and the ones not. Grab a glass of sweet tea and enjoy a good tale thanks to Kathryn Tucker Windham.
This post is part of the Booking Across the USA series. Be sure to check out the landing page for even more great author and illustrator stories from every state.
Pin
Photo Credit: "Kathryn Tucker Windham" by Source. Licensed under Fair use via Wikipedia.