To say that I don't like arts and crafts would be an understatement. Paint, glitter, glue, tiny pieces of construction paper seem to all gang up on me and whittle away at my sanity one process art project at a time.
But I know my children like art. I know they like to create. I know that this desire is part of how they reflect the image of their Creator. Deep down I want to provide my children with ways to express their creativity in meaningful ways.
When we began our US Geography study, I stumbled upon American Landmarks from Southern Hodgepodge. I thought it would be a good resource to add, nothing more. I had no idea the path these amazing chalk pastel art tutorials would lead us on.
The first tutorial we tried was the lighthouse for Rhode Island. I did one too, only as a way to show the girls how to use the pastels, but soon found myself hooked. This was great!
The art tutorial was easy to follow and helped us to understand how to get the most out of our pastels. What should you draw first? What colors do you use? What should I be thinking about as I start my drawing to be sure I can layer the lights and darks correctly? All these questions are answered in the carefully worded instructions.
I loved how forgiving the chalk pastels were to work with. The children enjoyed blending their pictures and watching the colors come together. It was like magic. The very nature of the medium enhanced their not-always-perfect drawings.
Sarah Joan loved her lighthouse so much she chose to enter it into our local art museum's Youth Art Month Contest. I loved that she was confident in her art. It looked like the picture she had in her head of what a lighthouse should look like.
A month later, she was rewarded with seeing her artwork on display at the art museum. This was a very exciting moment for her!
We have even used the Statue of Liberty tutorial in our homeschool co op. The instructions were easy enough for one mom to explain to a group of children how to draw the Manhattan Skyline and the Statue of Liberty in the foreground. Art concepts like perspective are easily caught with simple directions like, draw the shapes of the distant buildings in New York City. The buildings are a line of square boxes; some tall and some short. 
If you would like to use ChalkPastel.com tutorials in your co-op or with a group of friends, please see the terms for their co-op program.
Recently, I was given The Seashore Art Tutorials Pack by Southern Hodgepodge to review. I wanted to share this art saving resource with others. It is true, you really are an artist and these tutorials can help you and your children discover your creative side without loosing your mind!
Ruth was very excited to see another chalk pastel tutorial. Since our first lighthouse, we have done several of the American Landmark tutorials with great success. She chose to do an under the sea theme as a present for her grandparent's anniversary. Don't you think it turned out marvelous?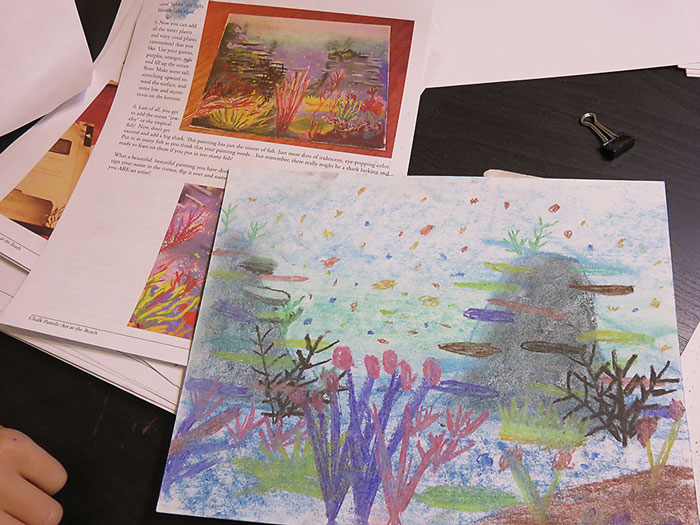 Benaiah, not to be left out, chose to do the man on the moon tutorial in the new Space art tutorials. I helped him read through the directions, but these results are all his.
Anna, who is only four, also loves pastels. Up to this point however, her art has been mostly cover the entire page with pretty colors and blend them together. This time, she choose to do Mercury. I helped with tracing the paper plate onto her paper, and showed her how to blend just a little, but this lovely planet is hers.
If you like the idea of art, but don't know where to start, or are simply looking for something your older kids can pick up and do on their own during Morning Time, the Chalk Pastel Art Tutorials from Southern Hodgepodge are a easy, and effective resource.