Welcome to the Eight For Each State US Geography tour. I am so glad you are joining us.
New Mexico is truly a Land of Enchantment with its amazing desert landscapes, wildlife, and beautiful skies that seem to go on forever.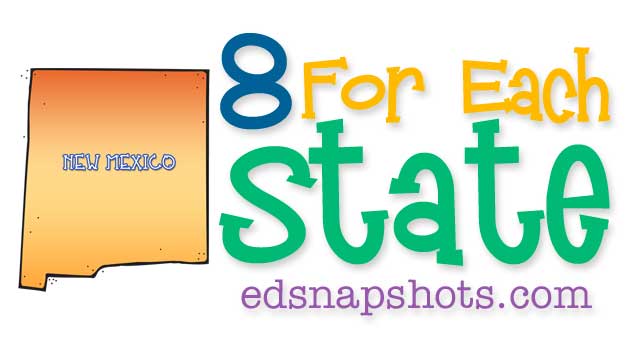 New Mexico was a fun state to study because there were so many different things to learn about. In our favorite book about New Mexico, E is for Enchantment we learned about native people, wildlife, culture, food, and famous people.
The perfect set of books for a living US Geography study. I love the pictures in this one. They enhance the idea of New Mexico being "The Land of Enchantment." Each new fact is introduced with a rhyming couplet with more information on the topic to the side. We love reading each book at the beginning of the week to inspire us in our study.
Two more sets of books we use to help with notebooking pages and maps are:
It is always interesting to learn more about mysteries in history. The Anasazi built and left amazing homes in New Mexico. We enjoyed this book that gives us a look into an ancient society archaeologists continue to study today.
More Anasazi resources:
We have used this handy cookbook for many states. For New Mexico it suggested taco soup. What a yummy dinner! However, because it is still very hot here we chose to make this yummy taco dip instead.
Simply layer a package of cream cheese, a can of refried beans, one pound of taco beef, 2 cups of salsa, and cheese in a 9×13 pan. Bake until bubbly and enjoy with corn chips.
This would be an amazing event to visit. However, if New Mexico is not in your plans anytime soon, enjoy these resources to experience hot air balloons in your US Geography study.
The REAL Physics of Hot Air Balloons!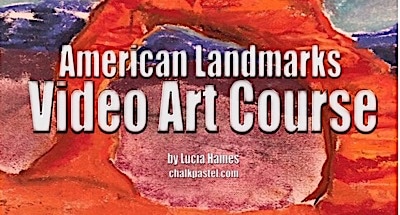 5. Spanish
More than one third of New Mexican families speak Spanish. Have some fun learning how to say simple Spanish phrases together.


Spanish Interactive Notebooking Template
Fun Spanish video with beginner phrases
Spanish English Picture Dictionary
Ruth loves the Josefina books and counts them among her favorite American Girl historical fiction books. Enjoy these stories set in New Mexico in the early 1800's with your daughters and/or your sons!
Be sure to also check out Welcome to Josefina's World: 1824, Josefina's Craft Book, and Josefina's Cook Book for more information about traditional Hispanic life in New Mexico.
Smokey the Bear was a real bear cub rescued from a forest fire in 1950. He became the poster bear for fire prevention.
Spend some time talking about fire safety, especially while camping or cooking outside. Here are some resources to get you started.
The history of the orphaned bear cub
Puppets, worksheets, dot to dots, lessons and more
8. Desert Ecosystems
New Mexico has some of the loveliest landscapes. Most of these are deserts. Look at some pictures of New Mexico deserts. Enjoy the beauty of the flowers and rocks only found in a desert. Talk about how these plants are made to survive this harsh environment.
E is for Enchantment: A New Mexico Alphabet (Discover America State by State)
New Mexico (Hello U.S.A.)
New Mexico (Blastoff Readers. Level 5)
Anasazi
Bandelier National Monument (National Geographic Trails Illustrated Map)
The United States Cookbook: Fabulous Foods and Fascinating Facts From All 50 States
Hot Air: The (Mostly) True Story of the First Hot-Air Balloon Ride (Caldecott Honor Book)
Spanish-English Picture Dictionary (First Bilingual Picture Dictionaries)
Welcome to Josefina's World: 1824 (American Girl)
Josefina's Craft Book: A Look at Crafts from the Past with Projects You Can Make Today (American Girls Pastimes)
Josefina's Cook Book: A Peek at Dining in the Past with Meals You Can Cook Today (American Girls Collection)
D is for Desert: A World Deserts Alphabet (Science Alphabet)
What animals live in this area? Do they stay all year or migrate in and out? What special characteristics allow them to survive in the desert?
Use these resources to learn about and enjoy this biosphere.
D is for Desert: A World Deserts Alphabet by Barbara Gowan – In my experience, all of these books by Sleeping Bear Press offer lovely pictures and just enough informative text for elementary students.
Build a Desert Biome – We love to experience what we are learning hands on. This desert biome is right up my girls' alley. They might even add a fairy to this mini garden.
Desert Landscape Watercolors – This project is easily adapted to older children who want to capture some of the beauty of the desert.
Cucumber Cactus Snack – This was such a cute idea. We enjoyed this for our lunch one day!
What are your favorite things about New Mexico?