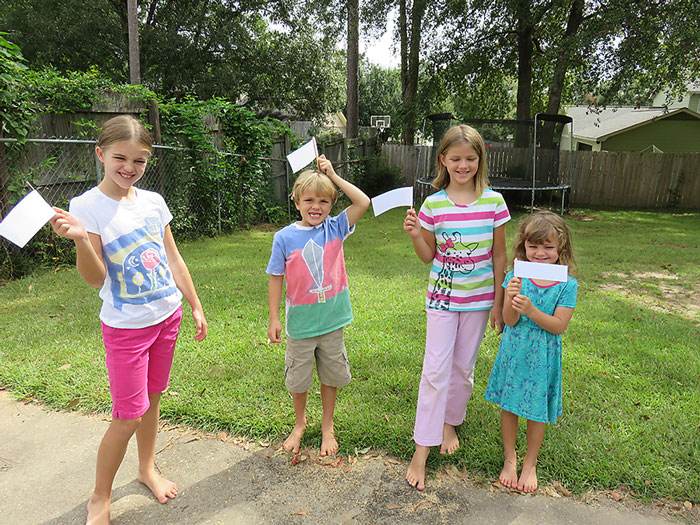 Welcome to the Eight For Each State US Geography tour. I am so glad you are joining us.
Be sure to check out all of our US Geography resources to help you plan a complete study of the USA.
Oklahoma, the Sooner State has a fun and interesting story of its nickname. On April 22, 1889 at noon, settlers raced to claim a spot of land in Oklahoma. Those who took part in this Land Run were known as "89ers," but some who snuck in early earned the nickname "Sooners."
PinCome along with us as we try out our own Land Run, learn about tornadoes, and eat some yummy Oklahoma food.
PinIf you have been following our US Geography study, you know that these books are our favorite. I have to say that S is for Sooner is one of my favorites. There are so many unique topics introduced in this book such as Geronimo, the James Gang brothers, oil, and Quartz Mountain. Enjoy those we have chosen below or pick out a few others to dive deeper into as you study Oklahoma.
Other books we like to use for notebooking and maps:
3. Buffalo Soldiers
PinBuffalo Soldiers were given their prestigious name from Indian tribes living in Oklahoma. These black soldiers built forts and protected the area with bravery that impressed the local Indians. Learn about Buffalo Soldiers from these great resources.
Fort Davis National Historic Site Electronic Field Trip – An amazing resource to explore who the Buffalo Soldiers were and what they did. With lesson plans for the teacher, interactive games and information for the student, this website really cannot be beat.
Buffalo Soldiers and the American West by Jason Glaser – We love these graphic history books. Everyone in the series has been a hit with my daughter.
The Buffalo Soldier by Sherry Garland – A picture book suitable for elementary children on this important topic in American history.
4. Dust Bowl
Drought and bad farming took its toll in the 1930's on the plains in Oklahoma. Nothing would grown and many farmers were forced to leave their homes.
PinInteresting science experiment on YouTube to demonstrate how the dust bowl was partly caused by bad farming.
Leah's Pony by Elizabeth Friedrich – A beautiful story about one girl's sacrifice for her family during the dust bowl. We have loved this book and have read it many times. I almost always end up needing a tissue.
Years of Dust: The Story of the Dust Bowl by Albert Marrin – Interesting and full of photos. A good choice for your older elementary child who wants to know more. 
Blue Willow by Doris Gates – A chapter book that makes an excellent read aloud or read alone for your independent reader. A gentle introduction to the hard times experienced by many and one of the books I fondly remember from my own childhood.
5. Land Run
I found this creative version of a Land Run at Our Cup of Tea. It looked like so much fun we tried it ourselves! We lined up for the start and ran to pick our favorite spot in the yard. I then asked each of them why they picked the spot they did.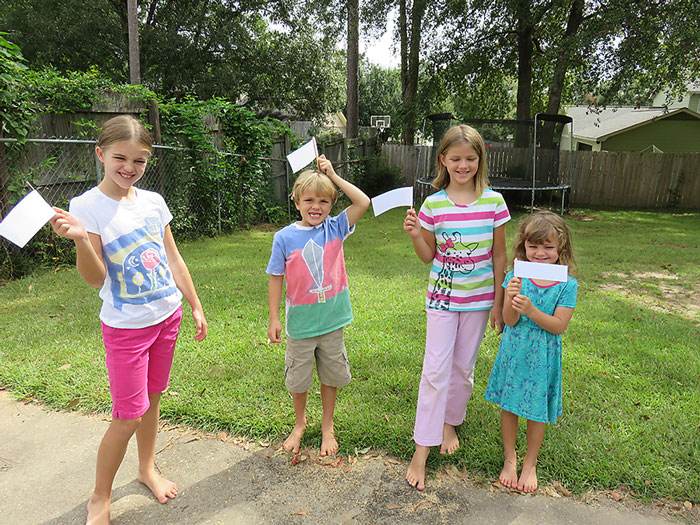 Pin
One daughter picked the black berry bushes, another the soft moss under our oak tree. My oldest was more practical. "Here it is flat and there is shade."
Let us know how your land run goes!
6. Oklahoma
What would a Oklahoma state study be without at least listening to the song Oklahoma from the Roger's and Hammerstein's famous play? Better yet, watch the whole musical for a fun family night!
7. Peanut Blondie Brownies
We found our Oklahoma food recipe in the United States Cookbook. We have a peanut allergy at our house so we made this recipe instead.
Pin
Another option for Oklahoma food: Fried Onion Burgers got their start in the great depression as a way to stretch the meat on a burger and still have it taste good.
We found our recipe at A Taste of Home Cooking. They look so good!
Pin
8. Tornadoes
Tornadoes are simply a part of living in Oklahoma. It doesn't seem to be a mater of if but when a tornado will pop up. Enjoy learning about this interesting severe weather with these resources:
Tornado in a Jar – Of course this fun experiment needs to be a part of your tornado study.
Tornadoes by Seymour Simon – With over sized pictures and simple text, Seymour Simon's books are a good mix of information and wonder producing pictures.
 S Is For Sooner: An Oklahoma et Series Alphabet
Pin Oklahoma (Hello U.S.A.)
Pin Oklahoma: The Sooner State (Exploring the States)
Pin Buffalo Soldiers and the American West (Graphic History)
Pin The Buffalo Soldier
Pin Leah's Pony
Pin Years of Dust: The Story of the Dust Bowl
Pin Blue Willow
Pin The United States Cookbook: Fabulous Foods and Fascinating Facts From All 50 States
Pin Tornadoes
Pin I Survived the Joplin Tornado, 2011 (I Survived #12)
Pin Tornadoes!
Pin
Tornadoes! by Gail Gibbons – Gibbons books are always good introductions for young readers. Enjoy this one about tornadoes. 
What fun and interesting things did you learn in your US Geography study of Oklahoma?