I'm so happy to introduce you to Sarah Lashbrook today.  I met Sarah on Instagram when a mutual friend asked us to join in curating an account for the encouragement of Charlotte Mason homeschool moms and their real, every day lives.
That account @charlottemasonirl has been a lot of fun and the nine of us have become good friends through the administration and general background chat.
I noticed in Sarah's pictures that she had a lot of handmadefiber art work on display. When I asked, she told me that handicrafts were a passion of hers and one that drew her toward Charlotte Mason education in the first place. I knew I wanted to introduce her and her work.
Sarah, please tell us a little bit about yourself, your family, your homeschool, and the ages of your children.  
I am a mom of three (soon to be four in November!), and I've been married to my husband for nine years. We live in North Florida and love the outdoors, especially activities that revolve around fishing, hiking, and the beach.
My daughter is 8 years old and will be in 3rd grade in the fall; my oldest son is 7 and will be in 2nd grade. I also have a younger son who is 5 and will be starting kindergarten this year.
We are a Charlotte Mason family, and I've used the curriculum at Ambleside Online to homeschool since the beginning.
What is your hobby? How long have you been doing your hobby?
I've always been interested in fiber arts. I taught myself to hand sew as a child and as an adult, I taught myself how to crochet.
I've been an avid crocheter for the last few years, mostly working on smaller weekend projects, such as scarves, dish cloths, and pot holders.
About two years ago, I began learning embroidery, and I have fallen in love with the process of first designing a piece and then adding texture and color with the embroidery floss.
I've made several pieces of art to fill our home, and I love being surrounded by the things that I've poured my heart into.
How did you get started or interested in embroidery? How would someone else get started?
Honestly, I first became interested in embroidery while browsing around on Pinterest. Looking at so many of the amazing things others have made gave me the push to try it out myself.
I found a truly helpful website, Sarah's Hand Embroidery Tutorials, which taught me every stitch I know. This would be the first stop I'd recommend for anyone wishing to learn embroidery.
 What kind of equipment or resources are needed to do it? Are there books or instructional guides that you've personally found helpful?
 You don't need much to get started! There are four essential tools:
Fabric – I use (very inexpensive) cream-colored fabric for most of my projects, but you could add embroidery to pillow cases, placemats, eyeglass cases…the options are endless!
Embroidery Pens are not necessary, but they sure are helpful. I would definitely encourage anyone beginning embroidery as a hobby to invest in one of these.
Where can we learn more about it?
The website mentioned above was the single most helpful resource for actually learning the various stitches. Beyond that, I browse Pinterest a lot for inspiration and to gather ideas.
If you're feeling unsure about drawing your own designs, there are plenty of pattern books available, such as Aunt Martha's Flowers and Butterflies Embroidery Transfer Pattern Book, Over 25 Iron On Patterns.
How do you make time to participate?
I usually work on projects at night after kids have gone to bed. If the kids are engaged in their own activities during the afternoon, I'll pull out my current project and work on it then.
The nice thing about embroidery is that you can take it out and put it away again at a moment's notice – no big craft mess.  
Where can others find you online? 
I have an account on Instagram @home_again_six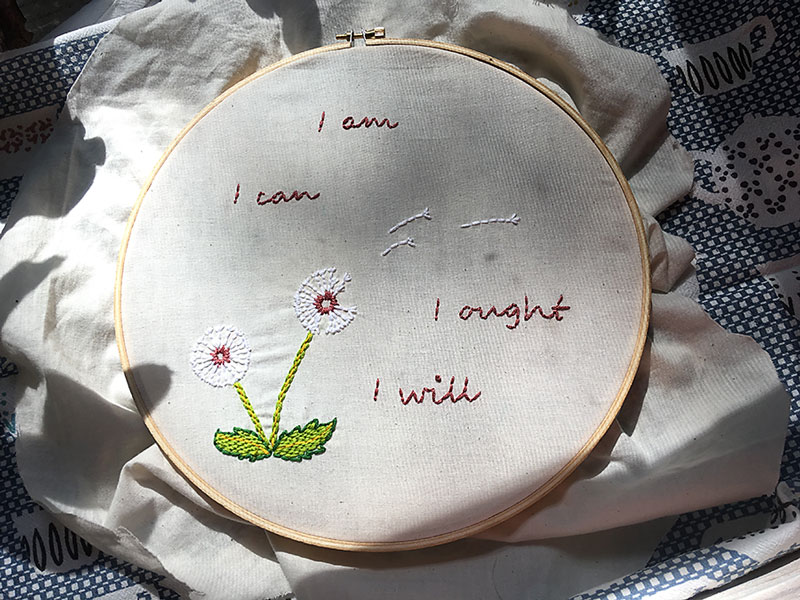 Dawn here again … Sarah's IG account is currently private so she can check followers, if you'd like to see more of her work or homeschool please feel free to request.
I was glad Sarah's pictures show us a work in progress from early in the process to finished product.  Isn't it lovely? I'm thrilled that she brought up the simplicity of pulling it out without a lot of craft mess and the few supplies necessary.
So many crafts need such an investment of time and space, but this one seems very contained. I'm inspired myself.