If you have ever reached a point in your homeschool year where you were on lesson 25 in science and only on lesson nine in history — you might need a loop schedule.
If you ever feel behind in your homeschool and it is stressing you out — you might need a loop schedule.
Pin
If you wonder how it the world you are going to fit in the five parts of language arts every day– you might need a loop schedule.
For me there just isn't enough flexibility in the "do this thing on this day" schedule because life is so busy. Instead, I use a loop schedule to help me get more things done and feel less stress in my homeschool.
What is a homeschool loop schedule?
Very simply a loop schedule is a list of subjects you want to do in your homeschool. I always tell people when they make their loop to think about what they would like to get done in an ideal week and put about that much in their loop.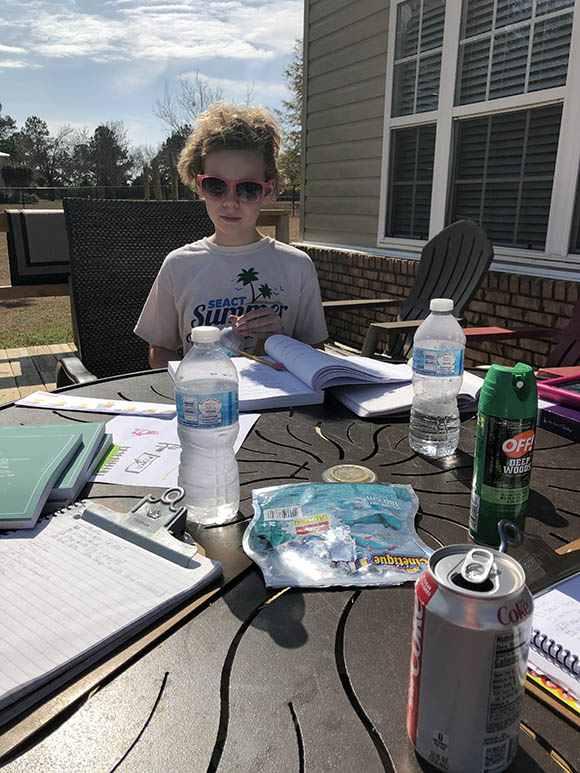 Pin
So mine might look something like this:
science

history

Shakespeare

art

geography

music appreciation
Notice this list is mostly content subjects. Skill subjects like math, handwriting, phonics, foreign language — these subjects need regular or daily practice so I don't put them on the loop.
Watch the loop schedule video
So every day when my daily subjects are done, we have a period of time in our day called Loop Time. During Loop Time I would start at the top of my list and do an activity for that subject — maybe a lesson in the book or go down our procedure list for that subject. If we still have time left when we are done, we move to the next subject and do a lesson there. And so on. 
When loop time is over for the day we are done. We might have checked off one subject, we might have checked off three or four.
But here is the beauty. The next day when loop time comes we simply pick up where we left off and work until loop time is over again.
But if the dragon rears it's head the next day and we have an emergency doctor's appointment, a chance for a cool field trip, or the washing machine floods — no worries. The next day we do school we can still pick up where we left off.
It's genius! And relieves so much stress.
Pin
The flexibility of homeschool loop schedules
The other beauty of loops is their amazing flexibility. You can use them for so many things.
Language arts of one of those catch-all subjects that really includes about five other subjects at least. Use a loop to include practice in grammar, vocabulary study, free writing, editing exercises, and spelling for your sixth grader.
Now here's a cool trick. Let's say your child needs more practice in spelling than he does vocabulary. Increase the frequency of things you want him to do more often. Let's look at the language arts loop again but this time include some subjects more than once 
spelling
grammar
vocabulary study 
spelling
grammar
free writing 
spelling
editing exercises
Every day your child is doing Language Arts for 30 minutes, but what they work on will differ every day.
The possibilities for using loop schedules are endless. Members of our community loop entire daily schedules, create loops within loops, loop individual time with their kids — they even loop their housework and menu plans.
Pin
Want to go beyond the basics of loop scheduling? Get the BONUS Innovative Loop module when you purchase Put Your Homeschool Year on Autopilot by June 21. Click here for more details.