Every day this week we are taking a look at a concept from one bestselling business or productivity book and seeing what we can learn from that concept as homeschool moms. Can we take these books designed to help CEOs in the boardroom and use them to help us be better CEOs of our homeschool? I think we can!
Back before the big dot-com bust in the nineties, I spent about a year working for a large telecom company. I was in curriculum writing and soft-skills training. At that time, the course The Seven Habits of Highly Effective People was all the rage throughout the company. Managers were constantly requesting it for their employees.
I had the good fortune to become a Seven Habits certified trainer, which is great. There is no better way to learn material than to have to teach it to others. And the word "paradigm" became forever entrenched into my vocabulary.
Seven Habits is simple. There are seven things that Covey thinks all good personal managers will do:
Be Proactive
Begin with the End in Mind
Put First Things First
Think Win/Win
Seek First to Understand, Then to Be Understood
Synergize
Sharpen the Saw
Looking at this list, you can easily see that any one of them would be a fabulous focus for a homeschool mom. It is so hard to pick just one because they are all so relevant. I highly recommend you get this book if you have not read it already.
For our purposes this week, we are going to focus on habit seven, a place where homeschool moms often short change themselves — sharpen the saw.
Sharpen the Saw
Sharpening the saw is simply the act of taking time to take care of and renew your own personal self. In Covey's diagrams of his habits, sharpening the saw surrounds all of the other habits as the outer circle, because he says, it is the one habit that makes all the others possible. Only by taking care of our needs first can we then help others.
The idea behind saw sharpening is that you can't continue to work at something (say cutting down a tree) unless you take time to rest and renew yourself (sharpen your saw). According to Covey, saw sharpening needs to happen in four different categories: physical, mental, social/emotional, and spiritual. Let's break each one down with a few examples.
Physical
Includes exercise, nutrition and stress management. What things to you do to relieve stress in your life? Knitting? Another hobby? Reading on the back porch? Are you eating right and planning time for regular exercise? Mystie has been inspiring me to action with a friendly Fitbit competition (full disclosure: she is kicking my booty).
Mental
Includes reading, visualizing, planning, and writing. Do you read for pleasure or your own edification beyond school books? Maybe you would like to start a blog or join a bookclub? There are also many good audio lectures online. Finally, are you taking time on a daily or weekly basis to sit, write, and get the excess out of your head and onto paper where it takes up less of your mental energy?
Social/Emotional
Includes service, empathy, synergy, intrinsic security. Are you building the relationships in your life with date nights and one-on-one time? Do you have a homeschool tribe, an online community like Scholé Sisters, other like-minded group for support and camaraderie? Do you serve in ways that fulfill you?
Spiritual
Includes value clarification and commitment and study and meditation. Do you attend worship regularly? Do you regularly spend time in prayer and study of spiritual books, saints or mentors, or Holy Scripture?
It is often so easy to push the things aside because you don't feel like there is enough time to do them (ask me how I know), but Covey contends that by keeping our saw sharp with these activities we will work and live more effectively. In other words, doing these things will save us time in the long run.
Read the Book

Author: Steven R. Covey

From Amazon: "One of the most inspiring and impactful books ever written, The 7 Habits of Highly Effective People has captivated readers for 25 years. It has transformed the lives of Presidents and CEOs, educators and parents— in short, millions of people of all ages and occupations."
More For You
Action Steps
You know I can't leave you without some actionable items! So for you is a Sharpen the Saw download. This pretty planning page gives you a month of sharp bookmarks to plan out exactly how you are going to approach each of your four areas in a given week, set some goals, and hold yourself accountable. Click on the image to download it free and get the habit started today before you begin the new school year.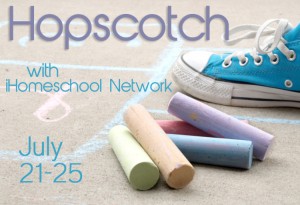 This post is part of the Hopscotch Series with iHomeschool Network. Be sure to click over to the landing page and check out the other fun 5-Day series the bloggers of iHSN have in store for you this week!