I received a free copy of  Air Is Not Oxygen: Essential Science You Should Have Learned … But Probably Didn't! by Bill Morelan, and was compensated for my time in exchange for a review. I was not required to post a positive review, and the review below is my honest opinion. 
Morning Time, circle time, group school, whatever you call it, it is the ritual changing homeschools everywhere.
While subjects like family worship, prayer, memory work, literature, history, art and music appreciation, and even math dominate the scene in most Morning Times, science at first glance seems too involved and messy to fit into the curriculum.
But science is important to me, not because I believe that all my children are going to be STEM majors, but because I feel like it adds to our understanding of God's great creation.
When we see and observe the stars, phases of matter, chemical reactions in the kitchen, or our bodies, we further our awareness of the wisdom and greatness of God.
Science, like math, music, poetry, art, and literature, is beautiful!
While I believe that is enough to begin adding science in some way to your Morning Time, here are a few more good reasons:
It is a great way to introduce science vocabulary in a fun and non-academic way. Say out loud, "cytoplasm." Great, now say it like you are a big green gooey monster and you are going to trap your children in your jelly like body. Fun? Try this with a blanket… it might get crazy, but your kids will never forget that cytoplasm is the jelly like fluid that fills a cell. For an added bonus, assign each child a part of the cell and cackle with evil delight as you add the nucleus, mitochondria etc… to the cytoplasm
It is a great way to add a small hands on activity to an otherwise read alound intensive hour. Science demonstrations and activities do not have to be complicated, messy, or take a lot of time to be effective. And, the change of pace in the middle of your Morning Time may help to keep minds engaged. If an experiment is longer, simply get it started in Morning Time and come back later.
It is a great way to bring everyone together to discuss a subject that is normally very age segregated. Science in Morning Time doesn't have to be complicated. It can engage a large age range of children and adults very easily. Have an older student take a turn once a week finding a topic of interest to share. Ask questions, discuss, find answers together. On other days, use a short topical resource such as Air is Not Oxygen by Bill Morelan.
I have wrestled with how to add science to our Morning Time for the last two years. This year I began with a very involved science program for my older two students, but because it did not span the age range of my family, the younger ones wandered off. Pulling them back again was such a distraction, we eventually dropped the science program.
Then I was introduced to Air Is Not Oxygen: Essential Science You Should Have Learned … But Probably Didn't! by Bill Morelan. The book itself includes physical, life, earth, and space science, and covers topics such as matter, life cycles, heredity, water, soil, earth changes and more.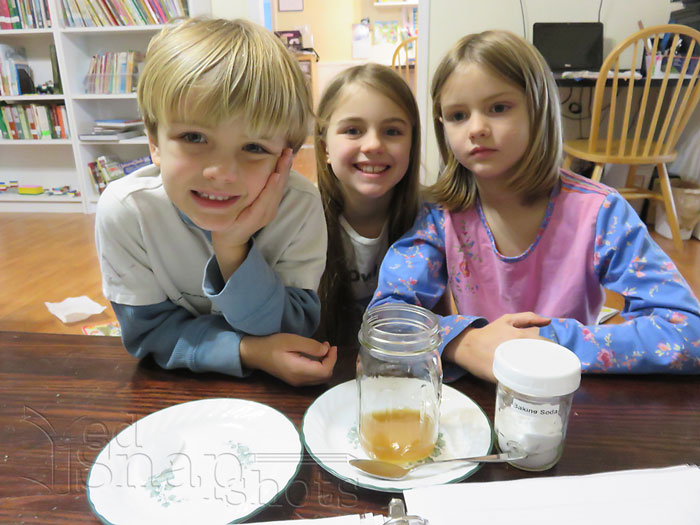 Each topic is explained briefly, and sometimes with very humorous footnotes, in two pages or less. Each topic also has two to three activity suggestions. It is the perfect length for Morning Time. Our experience is that it takes no longer than 10-15 minutes to complete a topic.
The topics covered are basic to science. The explanations are simple and easy to adapt to a wide age range of children.
They are also stand alone. Feel free to skip around based on interest and what you have on hand for the activities.
The activities, which can be done with supplies from around the house or from the grocery store, are not time consuming. At times we even choose to read about the topic and skip the activity.
How we use Air is Not Oxygen by Bill Morelan
Preview Activity — Sometimes I do a more formal preview or sometimes I just talk about the topic by asking questions like, "What would happen if you did…?"
Read the text — If needed I change words and sentence structure to make this part easier to understand for my younger students.
Have some FUN! — Do one of the hands-on activities at the end. Substitute ones you know will work better for you. Don't have an Alka-Seltzer tablet? Vinegar and baking soda in a small glass will do the trick.
I hope I have given you the inspiration you need to take the leap and enjoy science in your Morning Time. Science really is BEAUTIFUL!