There is likely nothing that strikes more fear into the heart of homeschoolers than the idea of a homeschooling high school. There's teens and then there's transcripts.. and then there's teens. It can be a little bit of a daunting idea for most homeschoolers, but I'm here to tell you that it doesn't have to be! Homeschooling high school can be absolutely delightful.
Can You Really Homeschool All The Way Through The High School Years?
One of the first questions homeschoolers often ask is, "Can I really do this?"
The answer is a resounding, "Yes!"
Ann Karako homeschooled for 22 years and has graduated all five of her children. Her website, annieandeverything.com offers information and resources to help moms homeschool high school confidently. She's written three books about homeschooling high school, including the most recent one, Taming the Transcript: The Essential Guide to Creating Your Teens' Homeschool Transcript from Scratch (without overwhelm) and also founded the really popular Facebook group It's Not That Hard to Homeschool Highschool . She also voices the It's Not Hard to Homeschool Highschool podcast.
Here's what Ann has to say in response to this question.
Considering I did it, then yes, it can be done!  It's like Ratatouille the movie. Ratatouille and the French chef say that anyone can cook. It's the same here. Anyone can homeschool high school. I did it five times, Everybody got into colleges and everybody got scholarships. It's very doable.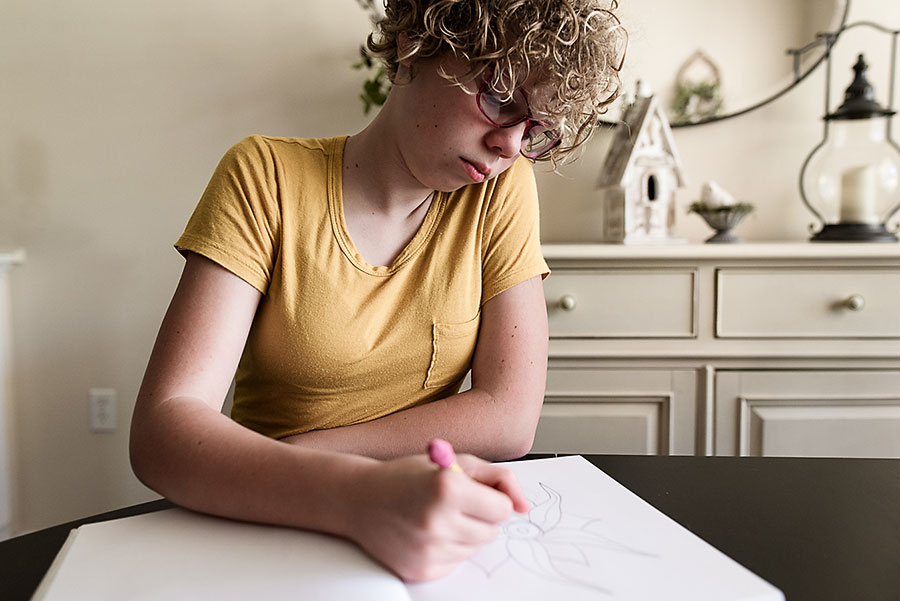 Pin
Do I Have To Use Outside Sources For Homeschooling High School?
It's easy to feel intimidated about what homeschooling high school will entail, especially when searching online. Oftentimes, the experts want to give you a big, long list of things that you have to do in order to homeschool high school school successfully, or to get your child into college.
The truth is, you do not have to employ any outside resources if you don't want to. You can design your family's homeschool high school experience to you to meet your comfort level. The outside things that everybody claims are absolutely necessary, or you're going to ruin your teen's life, are simply not.
Whether it's dual enrollment, honors courses, AP courses, volunteering or winning the national spelling bee – whatever you are worried your kid has to do in order to be successful at homeschooling high school –  most of it is not necessary at all.
You should not have to hire anybody. As a matter of fact, your teens will mostly be teaching themselves by the time they're finished with high school.
Listen to the Podcast:
Pin
What About College For Homeschool Graduates?
This is one thing that homeschool parents really worry about. As homeschoolers, we put a huge burden on ourselves about what kind of school we want our children to be accepted to.
First, all homeschoolers don't have to make a top college the goal. Don't try to make the kid fit the school, find the school that fits the kid.
There are so many options for post-secondary schools. Private, public, big, small –  you can find whatever best suits your child. That's the school that will help them be successful. That's the school that will most likely give you the best scholarship options.
Watch on YouTube:
Homeschool High School Transcripts
Ann's book, Taming the Transcript,  walks you through creating a transcript from start to finish. The reality is that the transcript is just a document – that's all it is.
In addition to the basic identifying information and dates, a homeschool high school transcript needs to have these three elements:
The courses your child completed during their high school years
The grades your child earned in those courses
The credits you assigned to those courses
When you realize that this is all you need, it becomes very easy to create a high school transcript. For more information and additional resources, Ann offers several templates in addition to her book. You will find all her resources HERE
Pin
How Do I Homeschool High School If I Also Have Younger Kids?
My oldest is 16, and I also have younger kids. How do we make homeschooling high school work when we have younger kids?
As learners move through the high school years, the truth is they become more and more independent in their learning. By the time senior year rolls around, they're doing their entire day on their own – scheduling their day, learning all the subjects on their own, doing all their daily work, and even correcting their daily work on their own. As a mom, your job will be more oversight than direct teaching. This frees you up to work with your younger kids who need you more.
It also teaches your teen the independent learning skills needed for college.
There are all sorts of solutions for how to homeschool as a family when you have a high schooler in the mix. It doesn't mean that mom has to try to kill herself to get everywhere with every child.
In reality, I still follow the same process for high school that I followed before – determining their interests and allowing that to guide our learning.
For example, this year, it was chemistry. They wanted to do kitchen chemistry.  I found a great high school level class online, and we've been doing that class. It's the same process that we've always followed. It takes a little more of our day, but it is much more the same than it is different from the younger years.
I think what has surprised me most as I've started homeschooling high school is how much I love it.