HSP 044 Chris Tilley: Dads Homeschool Too
It's been a long-time coming but we finally have an interview with a dad who is the primary homeschool parent! Chris Tilley did not go back to work after a layoff a few years ago, but his wife did. That left him home to be the house-husband and homeschool dad.
It's a fun interview with a look at what it's like to homeschool from the dad's side of the story.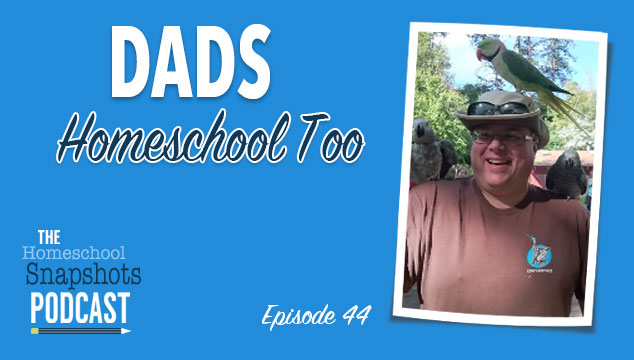 Links and resources from today's show:
Dear Canada Books
Guardians of Being: Spiritual Teachings from Our Dogs and Cats
Game of Thrones Series
X-Men Comics
Leave a Rating or Review
Doing so helps me get the word out about the podcast. iTunes bases their search results on positive ratings, so it really is a blessing — and it's easy!
Click on this link to go to the podcast main page.
Click on View in iTunes under the podcast cover artwork.
Once your iTunes has launched and you are on the podcast page, click on Ratings and Review under the podcast name. There you can leave either or both! Thanks so much.
Ways to Listen to the Homeschool Snapshots Podcast
Podcasts are radio shows that you can listen to at your convenience. You don't have to have an iPod or smartphone to listen.
Listen right here on the blog. Click through to the site and click the little play button in this post.
Listen on your smartphone, iPad or iPod Touch. Subscribe via iTunes or Stitcher. I show you how to do that here.
Subscribe to get updates. If you would like to receive our weekly newsletter, which will notify you whenever new episodes are released, you can subscribe right here.