Note from Pam: Since you have seen my homeschool room makeover, my homeschool room hacks, and homeschool room organization tips, we thought it would be more fun this year to see Jessica's homeschool room makeover we did last December. (Actually we were supposed to do it but after giving her all kinds of advice I came down with the flu, so she did the work while I lay on the couch and suffered miserably. Good times.)
I just loved the way her space turned out and it is so much more useable for them. At first she didn't think there was anything I could do to help her, but after a few minutes of ideas she was convinced. I hope you enjoy!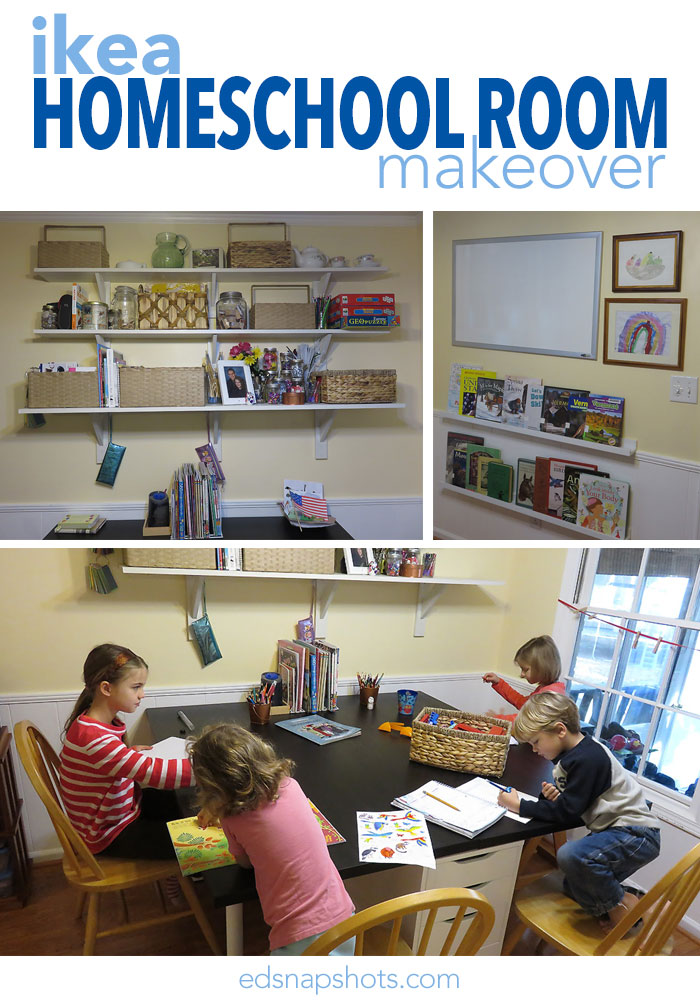 I hate to admit it, but I have had school-room-envy ever since Pam redid her school room a couple of summers back. I loved everything about her new space, right down to the lovely terra-cotta paint (from Pam: I hated that paint and am glad it's gone!) on the wall. I was very happy for her, and I tried to be happy with my space. And I was happy. It worked for us, for a while.
However, right before Christmas, my frustration level hit a new high. The thought of having three full-time elementary students next year coupled with the lack of space and clutter I was already experiencing was seriously affecting my ability to school.
Here is a picture of what I was starting with.
This space was cleaned up every day. This is what it looked like by the end of school.
I think Pam has been waiting to help me with this for a long time. When I began to list the problems I was having with my school space, she jumped at the chance to offer me her assistance. I was not so sure it was possible. I had given up hope honestly. I figured we were stuck with this small space and I should make the best of it.
Pam assured me that there were things I could change that would make my school space better. Neither she nor I had any idea of the massive transformation about to take place!
First the problems in my school space: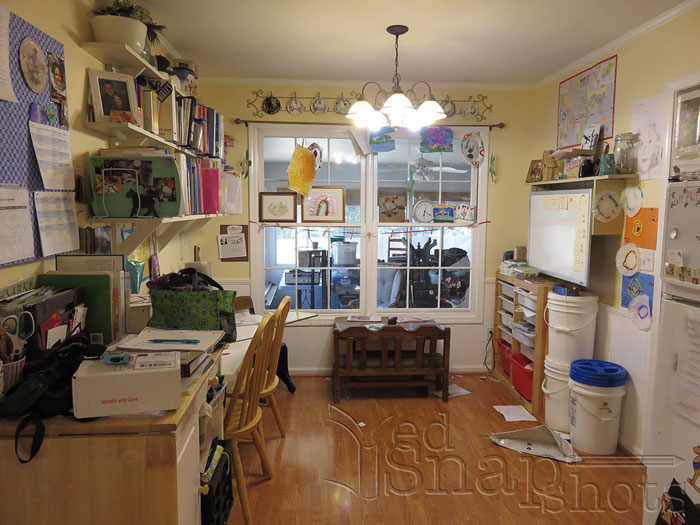 My "desk" – An old microwave cabinet turned mom desk was a great place for everyone to drop their stuff as they came in the door. It was almost never cleared enough for me to use it well. Also, no chair. I spent our entire school day standing.
No place for me – I am a bit fidgety. If I am not immediately needed by the girls for hands on instruction, I tend to wander off. To the computer, the kitchen or any place else that might be calling. I needed a "home" in our school room.
Preschool furniture and crafts – I bought this small brown table when the girls were little. We love it! It is still a great piece, but because it was in the school room, that meant that the preschoolers were also there, bringing their own noise, mess and distraction.
Unused Ikea bins – These were intended for use as homeschool bins. However, it never worked for us. They morphed into a place for each child to have their own storage space, craft storage, and the always messy, ever overflowing scrap paper bin. Add this to the old-timey school desk and I was literally tripping over furniture!
White board space – The shelf behind the white board was unused and in the way. The board wiggled and jiggled every time I wrote on it.
Visually distracting shelves – My father in law added these wonderful shelves to our school room a few years back. They have been nothing but helpful, but I haven't kept up with using them efficiently. The books, toys and manipulatives tended to get messy, out-of-place, and just didn't look nice.
Girls' Desk – My girls have been such sports. For a year and a half they have shared a small folding table. It worked. It was ok. But I hated not being able to face them, sit with them, talk face to face with them. I hated that they were staring at the wall. All their books were set on the table leaving them with a very small working space. Projects were extra hard. Table top space was a huge issue.
After identifying my problem areas I rolled up my sleeves and got to work! Let me tell you, it got a lot worse before it got better. Here's what I did.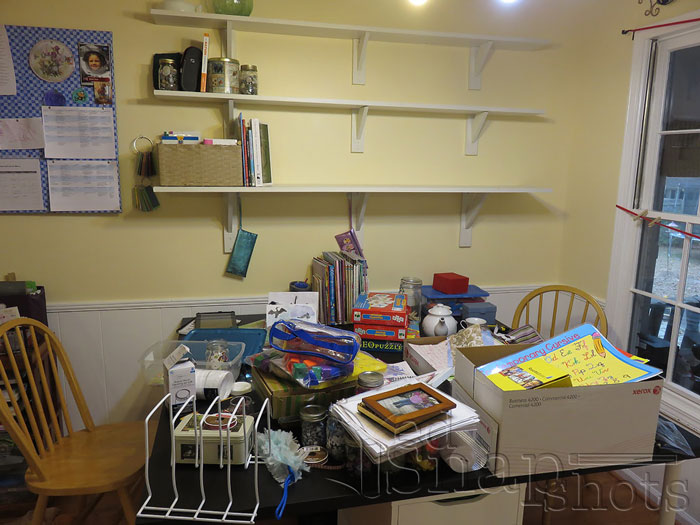 I began by clearing out all the books and curriculum I don't use. I did this at the beginning of the year, or so I thought. I had three boxes of stuff I wasn't using!
The preschool table and Ikea bins got moved into the family room. There is now a nice space for my younger two to work and color without being underfoot while I am teaching spelling.
I got brave and took the white board shelf off the wall. It was really quite easy. Should have done it years ago. It did remove a bit of paint, which was a problem because we do not have paint to touch it up with, but I solved that problem too with a little bit of ingenuity by hanging some of the kids' artwork over it!
Once the floor was clear I began a little bit of planning. Pam and I had originally talked about getting the smallest Ikea tabletop. We thought two put together in the middle of the floor would be good.Once I started measuring in my new, much larger looking space, I found that I could probably get a much larger tabletop. This meant plenty of room for projects, kids and maybe, dare I say, me?
Then I picked out what I wanted. I couldn't wait to get to Ikea! We eventually decided on:
Linnmon Table Tops – We got two of the 59 inch length in black brown.
Alex Storage Unit – They did not have the same shelves Pam got two years ago. I settled for these. We picked up two and simply did not put the doors on.
Alex Drawer Unit – At first I wasn't sure I would find these drawers useful. However, they have proven to be my favorite addition!
Table legs – We bought four. Ended up using two. At $3.50 each it was worth it to be sure we wouldn't need them.
Where did all the stuff go?
I replaced "my desk" with a small unused book shelf. I needed to have my file box for household management, it needed to stay. This was the perfect new home for it. No more room for everyone to dump stuff.
The other shelves became a fantastic place to store our loose paper and craft bins.
Most of the books that were on the shelves either got boxed up or moved to my new drawers. The books that stayed just look nice.
The girls school notebooks, other curriculum we were using went in their individual cabinet shelves.
I picked up a few new baskets from Michael's, a few new jars from Target and had a blast organizing our craft supplies! Oh my word! I had no idea it would make such a difference in my space.
I moved most of my teacher books the drawer unit. It has become my special space. Space for planning books, my craft supplies, hole punch, rulers, my dry erase markers. It is off-limits to the kids.
The last things to find a home were the activity and sticker books. I didn't want to put them up high or in a drawer. I needed them to be visible but out-of-the-way. Pam had the great idea of using the pan holder on top of the table. Way in the back, the kids could see them but they were still out-of-the-way.
Add some finishing touches and voila! I have never been so excited to start back to school after a winter break. It has been six months, and I can say that our homeschool room is now one of my favorite rooms in our house!
There are still a few things I want to do. I want to add a pictures of the kids and some artwork. Perhaps some framed Audubon prints. But these things can wait. I now have a functioning space where we can all learn together!
What changes are you making to your school space?