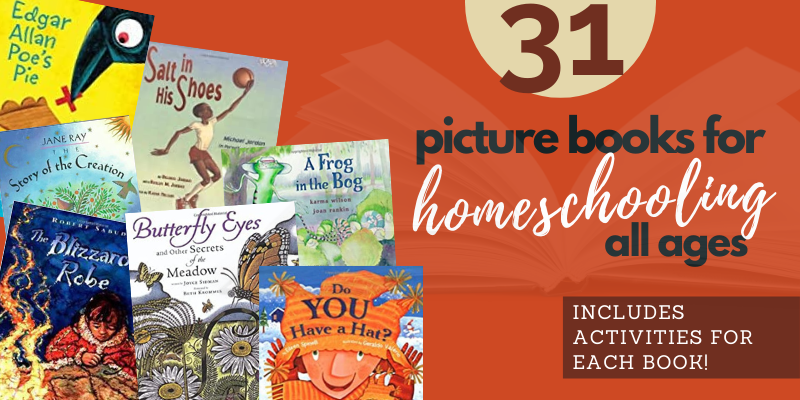 As part of our 31 Picture Books For Homeschooling All Ages series, we have chosen kids' books with vivid language, interesting stories and striking artwork to appeal to every person in your family. Ben's Trumpet is one of our favorites!
Our book posts also include a few activities — some simple, some more involved — for your entire family to enjoy together. Or not! Reading the book is enough in itself if that is all you want to do.
Pin
Snuggle up and enjoy a picture book or two together as a family. It may be the highlight of your day.
Ben's Trumpet Picture Book Details
PinBook: Ben's Trumpet
Author: Rachel Isadora
Illustrator: Rachel Isadora
Our family may be partial to this book because we love the trumpet. The sound, the shape, the funny noises it makes when you don't really know how to play, all that. We also love Jazz.
Ben is moved by the music he hears at the door of the Zig Zag Jazz Club. He watches and plays his trumpet all day, most likely hoping one day to play like the trumpeter he watches. But when a crowd of boys laughs at his make believe trumpet, reality hits, and Ben heads home, quiet.
I love the simplicity of this story. I love that kindness wins out in the end. I love the tenderness between a mentor and a new student.
The black and white pictures are fantastic! The page with the drummer really moves! 
Ben's Trumpet Homeschool Activities
#1 – Listen to some jazz. Talk about what makes it different from other types of music. We really enjoy Al Hirt. This album has all of our favorites!
#2 – Looking to learn a bit more? Look We're Learning has a whole Jazz unit study!
Picture Book Lists For Homeschooling All Ages
 Looking for more picture book resources for your homeschool? Download our printable library and book list below!