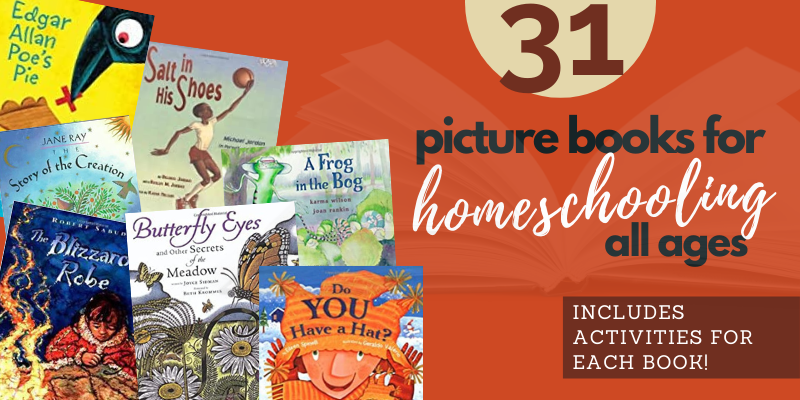 As part of our 31 Picture Books For Homeschooling All Ages series, we have chosen kids' books with vivid language, interesting stories and striking artwork to appeal to every person in your family. Leaf Trouble is one of our favorites!
Our book posts also include a few activities — some simple, some more involved — for your entire family to enjoy together. Or not! Reading the book is enough in itself if that is all you want to do.
Pin
Snuggle up and enjoy a picture book or two together as a family. It may be the highlight of your day.
Leaf Trouble Picture Book Details
Pin
Book: Leaf Trouble
Author: Jonathan Emmett
Illustrator: Caroline Jayne Church
Full of unique perspectives and stunning technique, the illustrations are my absolute favorite part of Leaf Trouble. Illustrator Caroline Jayne Church cut out her drawings and then layered the paper cut-outs and photographed them. The results are interesting to explore visually.
The book is the story of Pip, a little squirrel who is alarmed that the tree he calls his home is losing its leaves. He and sister Blossom rush to put the leaves back until mama squirrel explains what is happening to their beloved tree. The kids love this one finding Pip endearing and the book amusing.
Leaf Trouble Homeschool Activities
#1 – Make leaf handprints. These would make fun and memorable Thanksgiving placemats.
Pin
#2 – Explore the scientific reasons behind the change of colors and falling leaves with A Tree Is a Plant (Let's-Read-and-Find-Out Science)
. This series is a fabulous one for preschool and early-elementary science.
#3 – Go on a long nature walk. Pack a small picnic snack, bundle up, and spend a weekend afternoon traipsing through the woods just look at the leaves, the colors, and enjoying the fall air.
#4 – If you collect leaves from your nature walk or you backyard, dip them in wax to preserve the beautiful color. Then you can hang them about your house for creative fall decor.
Picture Book Lists For Homeschooling All Ages
 Looking for more picture book resources for your homeschool? Download our printable library and book list below!