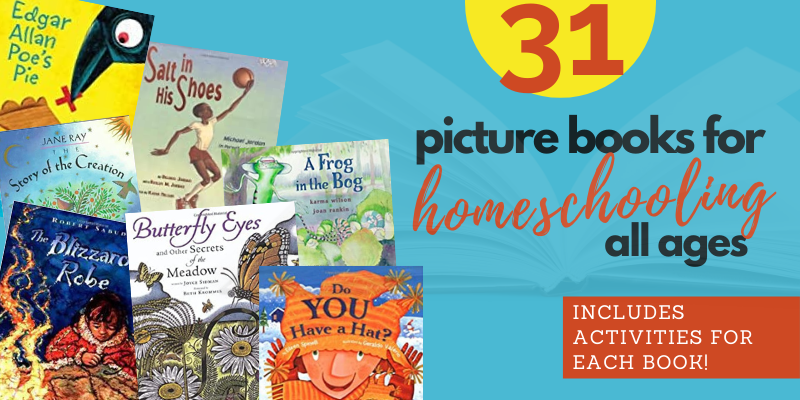 As part of our 31 Picture Books For Homeschooling All Ages series, we have chosen kids' books with vivid language, interesting stories and striking artwork to appeal to every person in your family. Vulture View is one of our favorites!
Our book posts also include a few activities — some simple, some more involved — for your entire family to enjoy together. Or not! Reading the book is enough in itself if that is all you want to do.
Pin
Snuggle up and enjoy a picture book or two together as a family. It may be the highlight of your day.
Vulture View Picture Book Details
Pin
Book: Vulture View 
Author: April Pulley Sayre
Illustrator: Steve Jenkins
A kids book about Vultures? Really? I hear you. Prepare to be surprised!
This rhyming day in the life book takes you with the Vultures as they hunt for food. But what kind of food? Giggles and laughs will follow as you read this book to your kids. Most certainly a rambunctious read aloud for any member of the family!
Steve Jenkins does it again. The illustrations in this book are bold, colorful and crisp. His artwork is unique and catches the eyes of my children as we read together.
Vulture View Homeschool Activities
Here in Alabama there are some who say that the vulture should be our state bird, we see so many of them. Somehow this book makes them more attractive. After all, I would rather see a vulture than a dead animal on the side of the road.
Pin
Vultures and other carrion eaters are important members of any food chain. Spend some time talking about food chains. My kids love to talk about who eats what. This can be done very informally as you read the book or you can use some of these resources for a mini unit if they show interest.