This activity is part of my Learn to Write Numbers resources. Be sure to click over to get all the fun printables and ideas.
I don't know about you guys, but I spend the month of July planning for the new homeschool year. Part of that planning this year means getting ready for my little K4 guy who is all about math and numbers right now.
He quizzes me constantly on math facts (sometimes strange ones!) and can often be found with the whiteboard and dry erase marker, simply filling the board number after number.
For him, there is some strange need to figure out how to form the numbers and then to write them over and over again.
So to help him along and make things fun, I decided to create a set of number poem printables to go along with my original Learn to Write Numbers cards. These are going to be a huge hit around here.
I have made two different versions of the printable in a fun ocean theme (ocean animal unit studies are big this year!) for summer and the start of the school year. Over the next few weeks, I will be releasing each of the numbers along with some fun ideas for early number learning, counting books, and writing number practice ideas.
Why two versions? Version one is the tracer version of each worksheet. This is the version we are perhaps most used to seeing for young children. The worksheet has the number with start and stop dots, the poem to recite with your child, object(s) to practice counting, and then lines and tracer numbers for practice.
This version is great for kids who are about five-and-a-half to six and up, who have the fine motor skills to put that number between those lines.
Little guys, like my Thomas, are not quite ready for lines yet. For them, I have the young learners' edition of the printable. It has the same number with start and stop dots, poem, and object for counting, but instead of lines and a tracer, it has simply a good-sized box for practicing the number.
That way as the little ones work on strengthening their fine motor skills, they still have a nice big spot to use and feel successful in forming the number.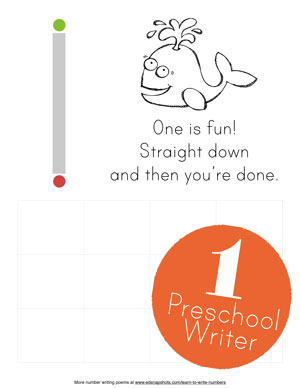 Sign up below to get our original set of preschool number printables in two sizes delivered straight to your email inbox. We laminate these and use them for practice again and again. For more number printables, you can also visit our learn to write numbers landing page.