This activity is part of my Learn to Write Numbers resources. Be sure to click over to get all the fun printables and ideas.
Moving on to three today! As a writer, three is one of my favorite numbers. Three is the number of the little pigs, the wishes a genie gives you, and the Trinity. (See how I just did that writer-three thing there? For some reason these things sound better in threes.)
Little kids love three because that is usually an age where they become aware of numbers, the rhythm of counting, and have the physical dexterity to hold up the correct number of fingers to show how old they are. I think all of my kids were pretty stoked about the number three, because that was the age they were when they really discovered numbers. It was a special buddy for a while. On to the printables!
Learn to Write Numbers Printables
Don't forget the printables come in two versions. One with lines and tracers for school-aged kids and one with just large boxes for the little guys.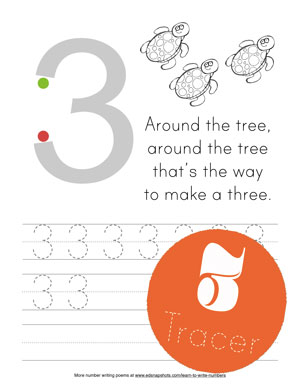 Counting Books
My original learn to write numbers post focuses on a few of our favorite counting books, but here are a few more we love.
Counting all the way to ten,  Ten in the Bed
 is a bedtime counting book that is tons of fun. Each animal makes a noise that never fails to delight as it falls from the bed. And in the end the friends are all snuggling together again. We have the large, paper version that is out of print, so I linked you to the board book version instead.
We just love Five Little Monkeys Jumping on the Bed
. The kids love the repetition and the rhythm of the story while I think the artwork is adorable and can really identify with Mama monkey.

And speaking of the original learn to write numbers post, be sure to pop over there and grab your number printables in handy card form. My little guy loves to carry his laminated set around on the jump ring. Small enough to travel and easy to use.

Sign up below to get our original set of preschool number printables in two sizes delivered straight to your email inbox. We laminate these and use them for practice again and again. For more number printables you can also visit our learn to write numbers landing page.