One of the things that may be most surprising to people who ask questions about our homeschool is that I don't give grades to my kids. But the fact is I am not required to give grades (this varies from state to state), and I expect my kids to master all the material I present to them.
Grades are an artificial construct the school uses to communicate the student's ability and effort to another party. I am the only party who needs knowledge about my kids' ability and effort at this point, and I am either painfully or joyously aware of it every single day — no grade needed.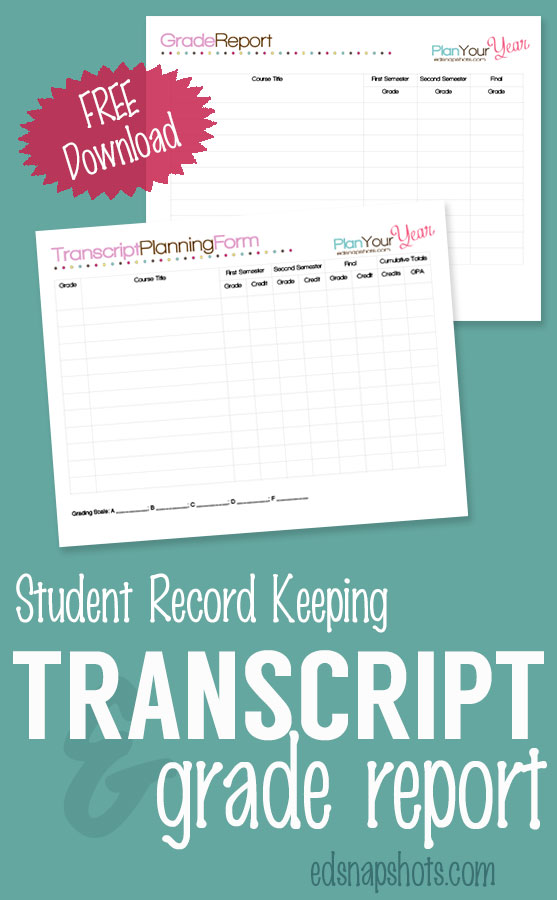 Pin
As kids grow older and move into the middle and high school ages, grade tracking becomes much more important. First kids need to get used to the construct of grading, averages, and how these things work. This is how they will be measured when they leave your homeschool.
Perhaps most importantly, though, grades need to be recorded for transcripts. Once the students begin the college admissions and scholarship seeking process, the transcripts will be invaluable  and almost always required.
Transcript Help
I do not have experience building homeschool transcripts, but I have friends who do. Without a doubt, resources by Lee Binz come highly recommended for those seeking high school grading and transcript help. Here are a few friends have liked:
Free Homeschool Planner
To help you out with keeping grade records and transcripts I have added two new forms to my free homeschool planner set.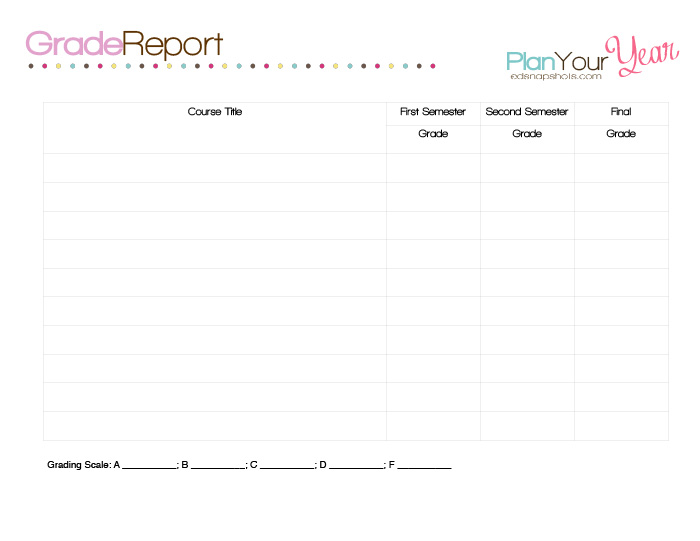 Pin
First is a grade tracking form. Use one of these for each student per year to keep track of grades. If you need to track grades for your state or umbrella school these may come in handy. This could also be helpful to use with middle school students who you are beginning to grade but do not yet need a transcript for.
Pin
The next form is to use in your transcript planning and personal record-keeping. Use it as you are planning out which courses your high school student might take and as a record of their grades. Once you are ready to begin submitting the transcript, you will want to seek out a professional version to use.
As with all of my homeschool planning forms, both of these can be typed in using Adobe Reader, printed, saved, and edited. This tutorial will show you how.
For even more free homeschool planning forms be sure to subscribe to our weekly emails. You will receive a beautiful pack of twelve forms to match these that will help you plan your entire homeschool year.