Make 2020 the year you put the joy back into your homeschool.
Do you feel overwhelmed at trying to cultivate an appreciation for truth, goodness, and beauty in your children?
Do you struggle to find great resources to use?
Do you find that you try to do all.the.things and then get overwhelmed and then do nothing instead?
Do you spend hours researching just the right books to read?
Do you feel intimidated choosing which poems to read or artists to study?
Do you wish you could find ideas for learning together across the ages and stages of your family?
My kids were missing out on the most important part of homeschool because I wanted to do it all myself.
Hi. I'm Pam Barnhill and if you are a homeschool parent who wants to have a more consistent start to your day, combine your students more efficiently, or feel like you are missing out on subjects that are important to you, then I can help.
I have to be honest. I am a born perfectionist and control freak. I thought that if I wasn't the one doing all of the planning for our homeschool and Morning Time that I was doing something wrong. After all, wouldn't I be missing the biggest benefit of homeschooling — a personalized education — if I didn't pull everything together myself based on what we were studying?
Boy was I wrong.
I wanted to read the best books, share the best poems, learn about beautiful music and art. These are the things I value most and starting our day this way keeps us in a good state of mind for doing the hard work that comes later. Yet often it wasn't getting done consistently because I didn't have time to make a plan.
So I set out to solve the problem.
The solution was my friend Jessica and a partnership that has resulted in beautiful Morning Time plans for hundreds of families. Jessica is a kid-lit aficionado. She reads hundreds of books and geeks out on researching art, poetry, and resources. She also has a knack for choosing the ones that kids love.
Jessica's gifts, along with my curriculum and graphic design experience, helped us create a tool that homeschool families can use to have a Morning Time that is always engaging and changing. It is the perfect way to start a homeschool morning.
So how do we consistently bring the best to our children each and every school day?
The Morning Time Annual Subscription
Enjoy the best books, poems, and prayers in your Morning Time. Never spend hours looking for just the right resource again.
Avoid the checking-off-all-the-boxes trap. Instead enjoy your homeschool again by making time for the subjects you love.
Have more time for life. (Let us show you how you can combine your multi-age students and learn more in less time.)
Stop beating yourself up over not getting a plan made. Spend more time teaching your kids because we have done the planning for you.
Enjoy smoother mornings. (Use our plans to get going in the morning and have a better day all day long.)
Don't waste another day trying to create things from scratch. Get our pre-made plans and love Morning Time tomorrow!
I never thought I'd be able to actually use an open and go plan. I'm actually pretty good at pulling things together, but these plans are really, really great stuff. I love the book choices, the poetry, and the memorization selections. I could go on and on.
Rena Sites
Get the Annual Subscription for only $99
Get the subscription thousands of homeschool moms use to make connections and love learning together.
When you become a Morning Time Annual Subscriber you get
Our current collection of 40 Morning Time lesson plans
Seasonal Morning Time Plans
History Morning Time Plans
Preschool Morning Time Plans

Catholic Morning Time Plans
Summer Reading Morning Time Plans
I'm not new here, but after 15 years of homeschooling, I knew something was missing. Now we wouldn't think of doing school without starting with Morning Time. The "extras" are no longer extra; they are an essential piece of our homeschool. Morning time for us is just as important as math.
Shelly Anglin
Exclusive Content for Morning Time Subscribers
Not only do you have access to ALL the Morning Time Plans, you'll also have access to our exclusive content for subscribers only like our monthly LIVE events and replays.
New live events two times each month from your favorite Morning Time teachers. You have access to the replays for as long as you are a subscriber.
Holiday Plans
These week-long holiday plans help make celebrating easy! They are sure to become anticipated traditions in your homeschool.
Morning Time "Bites"
Don't want to commit to a full set of plans? Pair our Morning Time Bites with video lessons and Lesson Plan Lists for a flexible, done-for-you Morning Time option.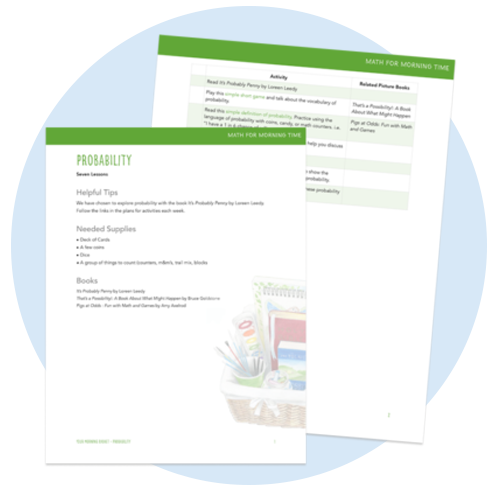 Lesson Plan Lists
The ultimate in done-for-you plans PLUS flexibility. Lesson plan lists are 7-14 week activity plans with suggested reading lists. Choose the topics that interest you most for Morning Time freedom that can't be beat.
Methods Resource Library
Watch video demonstrations of lessons, get practical help from parent webinars, and download procedure lists to help you create a plan and hone your teaching skills. Everything is available on your own time.
Morning Time Moms Community
Got a Morning Time question? Connect with moms through our forum.
You get all of this for only $8.25 per month (paid annually)!
Imagine having the homeschool you have been longing for — days that have delight and not just drudgery. You can finally get to the subjects you have always wanted to do. Stop imagining and get started!
These plans made me super excited that someone else had already put together lessons that were themed and that meshed well with each other. My children are thoroughly enjoying memorizing Shakespeare! I love seeing them get so excited and ask what we're going to learn about today.
Susan Todd
I didn't expect the plans to cover so many subjects. That was a pleasant surprise. Now Morning Time happens consistently. I finally feel as though we're doing what we're supposed to be doing and my heart has more peace.
Rhonda Caluttung
Get the Annual Subscription for only $99
Morning Time has become our best part of the day. It is where we come together and connect with truth and beauty, and possibly the best part is that the work has been done for me. The time it would take to pull all of this together on my own is well worth the money.
Jessica Adam
YOU'VE GOT QUESTIONS? WE'VE GOT ANSWERS.
Do you have a sample of the plans?
Sure. Here are a few sample products:
What age group are the plans made for?
We have separate sets for only preschoolers (labeled as such) which are geared towards ages 3-6. For younger kids these plans make a complete preschool program. For older kids (ages 5 and up) simply add math and phonics for a delightful kindergarten experience. Right now the rest of our plans are designed for grades 1-6 (and we are adding content for middle and high school all the time). Most of our families find the content is easily adapted to include preschoolers or older kids. Remember, Scripture, poetry, art, and music are good for all ages. Most of what is in the plans can be used for an entire family.
What if I can't make the monthly live video lessons?
Replays of all lessons are included on the Morning Time Live page indefinitely. You can access those along with all other plans, videos, and resources through your Morning Time Subscriber hub at any time.
What else do I have to buy to do the plans?
We always try to keep our families' budgets in mind as we make the plans. That said, we find greater enjoyment comes when using a well-made resource created by someone with a passion for their subject. We love our Morning Time partners! We usually include one or two additional paid resources in our plans. We encourage you to wait for sales on these resources, make substitutions for books, check your library, or even feel free to skip a subject entirely if you must. Our goal for 2020 and beyond is to create more complete sets of plans using free resources as we are able while still keeping the joy in using a well-crafted resource your kids will love.
Is there Christian content? What is your statement of faith?
Many of the plans do contain Christian content, though secular families in our community have told us there were able to adapt the plans to their needs. The Catholic (big C) plans are labeled as such and are written by Genie Shaw. While Pam is Catholic the remainder of the plans are ecumenical. They are written by Jessica Lawton who is a member of a reformed church. History plans are sensitive to our ecumenical community. We profess the Nicene Creed as our statement of faith.
What happens after I check out?
You will receive an email confirming your purchase. At any time you may log into your account to access the Morning Time Subscriber Hub and request access to the community, access your exclusive content, and download your Morning Time plans. If you have any problems, email info@pambarnhill.com for assistance.
Will my subscription automatically renew?
Yes! To ensure you don't miss anything and remain at your current locked-in pricing, your subscription will automatically renew one year from the date of purchase. You will get an email five days before your renewal date as a reminder. You can manage your subscription at any time on your subscriber dashboard. If you cancel your annual subscription, you will remain an active subscriber for one year from your initial purchase date — you do not immediately lose access. You may download any of the plans during your subscription and continue to use them after, but you will not be able to access the resource pages for those plans if your subscription ends and you will not have access to new plans or updates to downloaded plans. Refunds will never be given past 30-days of a purchase date.
Have more questions?
If you have another question that has not been answered here, email us at info@pambarnhill.com. We will be happy to help you out.
Get the Annual Subscription for only $99
THE LOVE YOUR MORNING TIME 100% SATISFACTION GUARANTEE. Try the Morning Time Plans Annual Subscription for 30 days. If you're not finding more joy in your homeschool days, feeling the freedom from hours of prep and planning, and getting the support you need to have a better Morning Time, then you can have your money back. In fact, if you aren't 100% satisfied for any reason just email info@pambarnhill.com for a full refund — no questions asked. You have nothing to lose.
Don't wait. Create a Morning Time you love today!