This is everything you need to know about outsourcing in your homeschool. What is it, and what are the pros and cons of outsourcing in your homeschool? This one of my favorites homeschool topics because it means I don't always have to be my kid's teacher, and some days that's a good thing!
What Is Homeschool Outsourcing?
This is a very broad definition. Outsourcing in your homeschool is when you, the parent are not the primary teacher of your child. I'm not talking about outsourcing everything. In my definition, outsourcing is simply handing off some of the subjects in your homeschool to another teacher.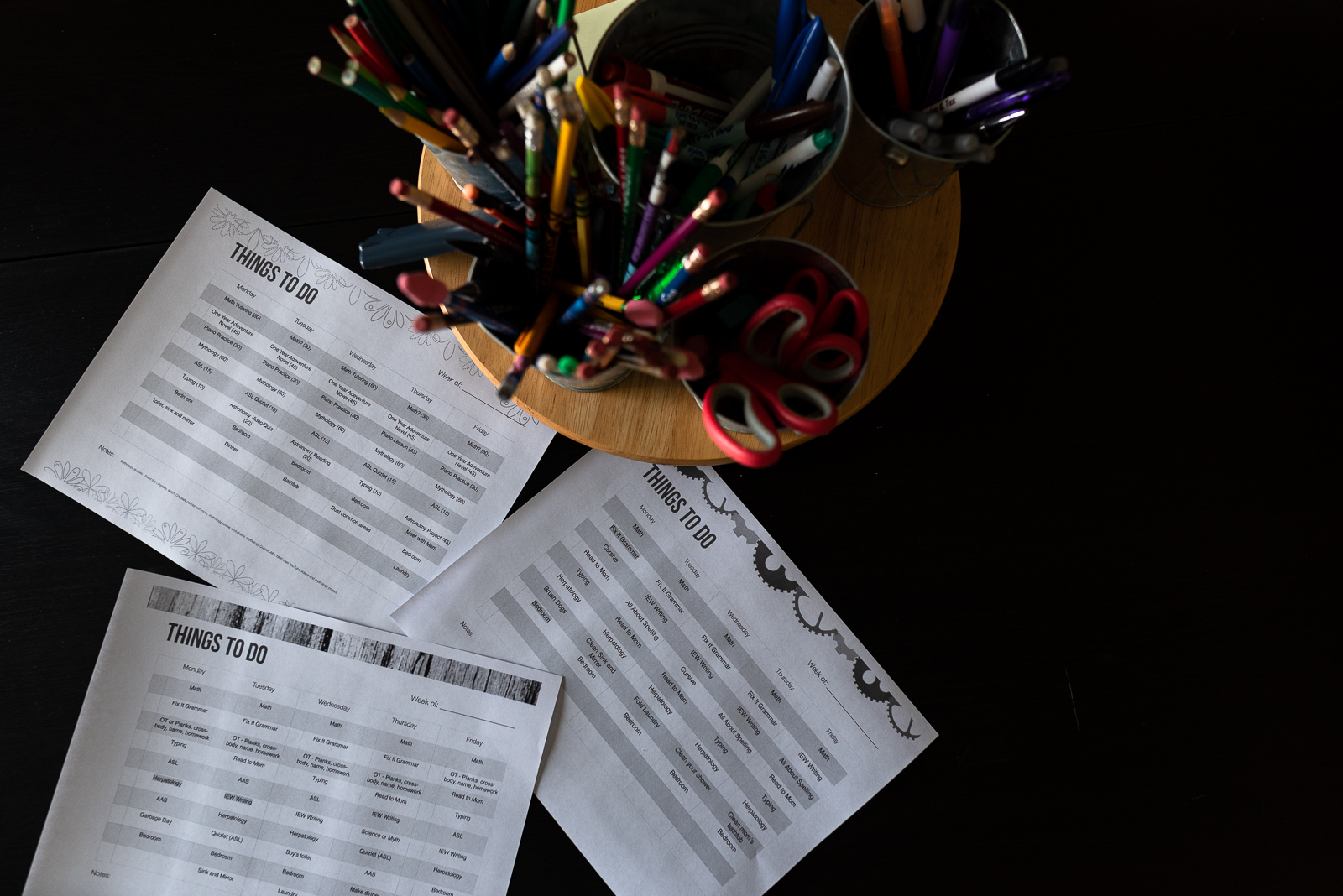 Pin
Examples Of Homeschool Outsourcing
There are so many ways that you can outsource in your homeschool.
1. Hire a tutor to work with your child.
We had a math tutor for a number of years. When my daughter hit long division was when we hired a math tutor. I would still work with the kids on some of it, and then the math tutor would come along and shore up their learning and comprehension.
The best part was that the tutor explained things differently. I knew I needed a math tutor when my daughter didn't understand long division, because the only thing I could do was just explain it again more slowly. I didn't have any other tricks in my bag. I didn't know any other ways to help her to see what long division was, that was when I knew I needed a math tutor.
When we hired her, I still worked alongside the kids until they got into about pre-algebra algebra. Then I really had no desire to learn that level of math over again. Fortunately, our math tutor is very affordable and we let her continue to use her.
2.  Have your kids take an online class.
At various times my kids have wanted to take an online literature class with a different teacher, or they wanted to do some kind of elective like coding or art. These are skills that I don't necessarily have in my arsenal.
I connected the kids with really passionate online teachers who can teach them those particular skills. My kids really loved connecting with other teachers who were passionate about those subjects, who had a lot of knowledge about those subjects and they really just enjoyed those classes.
3. Join a homeschool co-op.
A homeschool co-op is another way to connect your kids with teachers who are passionate about a particular subject.
Plus, in homeschool co-ops, your kids will have access to other children who also share their interests.
Listen to the Podcast:
Pin
The Benefits Of Outsourcing In Your Homeschool
What are some of the benefits of outsourcing in your homeschool?
One of them is what we have already discussed – getting your kids in touch with really passionate teachers. I mentioned that when my daughter  started struggling with math, we got her a tutor. My second child did not struggle with math, but I still put him in with the same tutor. The reason was that I wanted him to have conversations about math, with somebody who was passionate about math.
The same is true with my children's online literature classes. I'm a perfectly adequate literature teacher, but this particular teacher really, really loves her subject. It makes it that much more fun for my kids.
Another benefit is being able to get your kids into a classroom setting. It allows them to practice being accountable to somebody else, letting them see what it's like when mom is not the one expecting your paper to be turned in, and needing to be responsible for coming prepared to a classroom discussion.
It allows you to let them see what it's like if they're not prepared one week. This is a very valuable lesson to learn.
Pin
Watch on YouTube: 
The Drawbacks Of Outsourcing In Your Homeschool
First off, cost is always a factor. Many of us would love to have our kids have a tutor for one or more subjects or take online classes, but sometimes costs can be a mitigating factor. You will always have to budget in those extra dollars for online classes and things of this nature.
Then when you start working on someone else's schedule, be it a online class schedule or a co-op schedule, you give up some of the flexibility that you have in your homeschool schedule.
Our community manager, Dawn Garrett, has had to change her approach to her homeschool year as her children have taken more and more online classes. She typically homeschools from January through November and then they take December off. They don't even start back to school until the middle of January. Now, it's gotten really difficult now that her kids are taking classes that are on a more traditional school schedule classes that aren't off in the same timeframes.
When you choose to outsource, you give up some of your scheduling freedom that you have as a homeschooler. Many homeschoolers feel like it's a perfectly adequate trade-off, but it is a drawback of outsourcing.
Another drawback is that if you have very little kids, there really is no need to find reasons to outsource. Please do not feel pressure to do so! I would just encourage you when your kids are young to explore all the fun topics and subjects together. You will have plenty of time and reason to outsource as they get older.
Overall, it's wonderful that we have the freedom and flexibility to outsource exactly what we want to, or what we need to, and create the best educational experience for each of our individual kids.
Resources for Outsourcing in Your Homeschool
We have tried a number of options through the years. Here are some of our favorites: