Hi. My name is Dawn. I'm not a morning person.
Ironic, I know.
I have a life-long aversion to getting up early to do … anything. Except fun things like Christmas or vacation and then I cannot sleep. But, I digress.
I have noticed that a really filling breakfast is important for my kids and their ability to get through the morning … at least until second breakfast. Homeschoolers are hobbits, no?
Because mornings and I have this deep-seated antipathy, I had to come up with some strategies to 1) not get up ridiculously early, 2) stand at the stove to cook breakfast, and 3) serve a substantial, filling breakfast to start our day.
My first strategy is assigning days meals or kinds of meals. Thinking about what to make for breakfast each day is a hassle that I decided was not worth it. I asked the children what their favorite breakfasts were and assigned them a day each week. I filled in the other two days. However, I left myself some room for creativity for days I was so moved. The other strategies are things like prep as much as humanly possible the night before. Use the oven as much as possible. Pre-program the coffee to be brewed before you make it to the kitchen.
Monday Morning Breakfast Ideas for Busy Homeschool Families
On Mondays, we have oatmeal. That sounds … disappointing. But we can make oatmeal in many different ways. We can have regular oatmeal porridge on the stove – and it can be plain or flavored with different fruits and toppings (my favorite is coconut).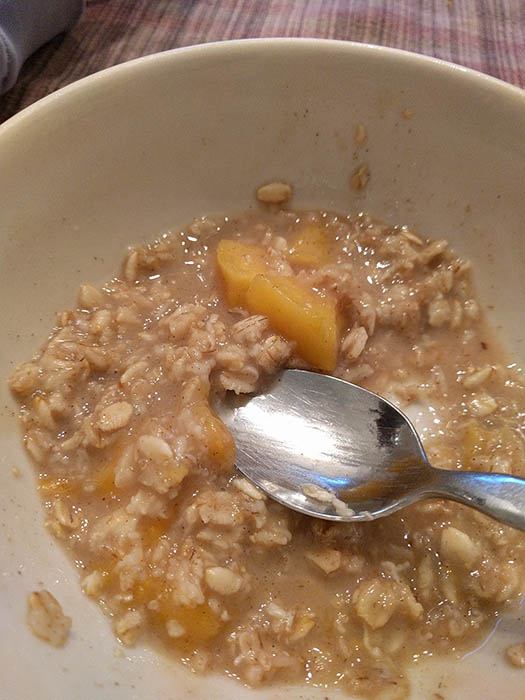 We can have baked oatmeal. Baked oatmeal is great because I can make it Sunday night and pop it in the oven first thing in the morning. We've had gingerbread oatmeal, coffee cake oatmeal, blueberry baked oatmeal.
There are a million recipes to try. I recently was gifted an Instant Pot, so I'm excited to try steel cut oats in the near future. More often than not, though, we have oatmeal porridge on the stove.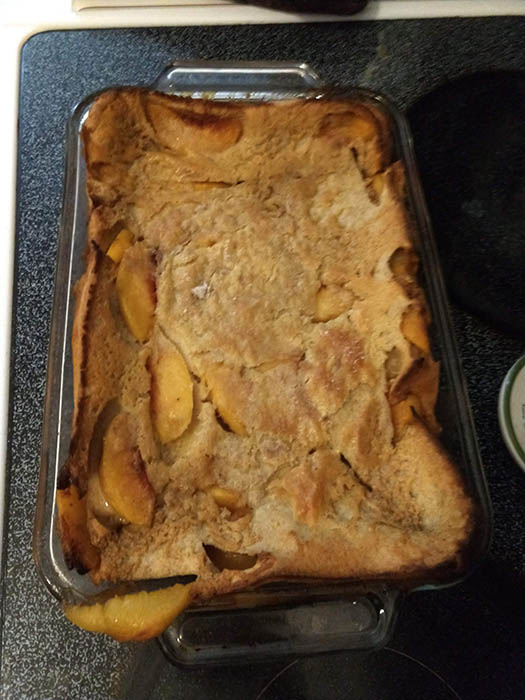 Variations on an easy oven pancake for homeschool breakfast
Tuesdays are for Dutch Puff. Dutch Baby. German pancake, whatever you like. I use Mystie Winckler's recipe except I use all whole wheat flour and "whisk" it in the blender. This can be done the night before and refrigerated. But I've found creative ways to serve this, too.
One of our favorites is to add a small bag of frozen peaches, some brown sugar, and a little ground cloves to the melting butter (this can even sit in the oven all night to thaw so all you have to do is preheat the oven in the morning). This makes a peachy syrup that I pour the batter over. Delicious.

Dutch puff is great with strawberries cooked down in place of syrup, too. Those you can do in the crockpot on low overnight – add a little sugar and a little lemon juice.

We've had it with sausage links, too – the British call it Toad in the Hole; just pre-cook some sausages and pour the batter over. Yum!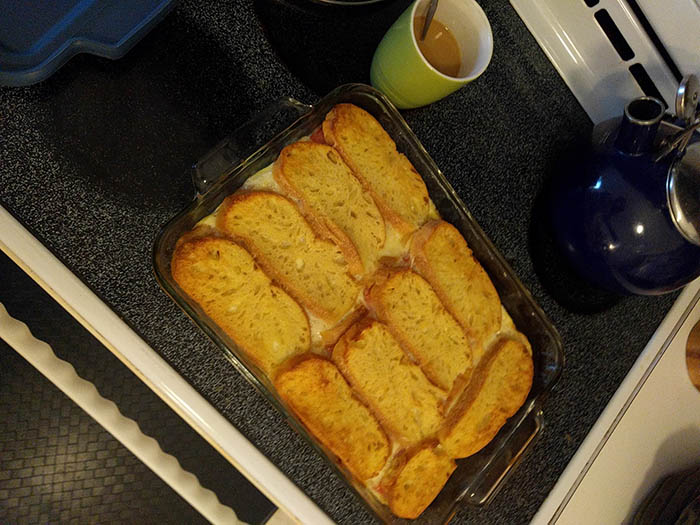 Filling breakfast for homeschool co-op days
Wednesdays we always have Fake Monte Cristos. We need something really filling because 1) it's the middle of the week and 2) it's our out of the house day. These are a night before thing for sure.
Fake Monte Cristos

4 slices ciabatta per person

1 slice deli ham per person

1 slice havarti per person

6 eggs

½ C of milk

Spray a 9×13 pan. Mix eggs and milk well. Briefly soak to coat half of the bread in the egg mixture and set down in the pan as sandwiches. Put the other half of the bread in the egg mixture to soak. Put a slice of ham and cheese on each sandwich. Make sure the top bread slices are soaked well with egg. Put them on top of the sandwiches. Pour any remaining egg mixture over the sandwiches. Cover and refrigerate overnight. In the morning, stumble to the fridge, uncover the sandwiches, put into a COLD oven. Preheat to 375* and cook 45 minutes or until top bread is toasty and you don't see uncooked egg. The havarti can look like uncooked egg, but it's fine.

Serve with Maple syrup (or powdered sugar)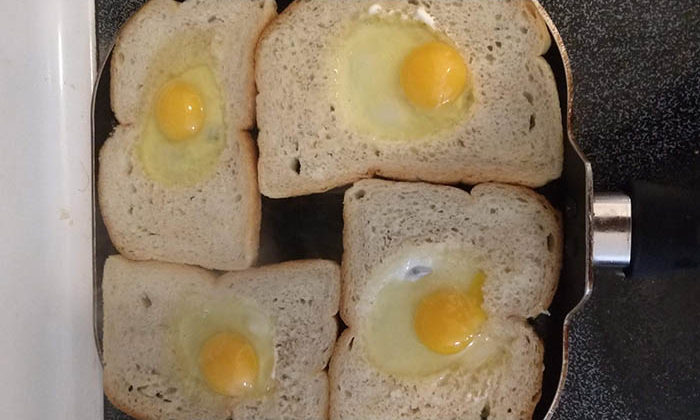 On Thursday we have eggs. This can be as simple as scrambled eggs (always with shredded cheese). But, "Eggs" can be fried eggs or egg-in-a-hole. I've even done egg-in-a-hole in the oven. It isn't as good, but works in a pinch. We've had Denver omelets (egg, ham, cheese, peppers & onions). We've had egg cups (eggs in a pyrex cup lined with a slice of ham). If we've had fajitas earlier in the week and have leftover peppers and onions, I'm likely to toss them into whatever eggs we're having. There's a lot of opportunity for creativity here, but the fallback is always scrambled.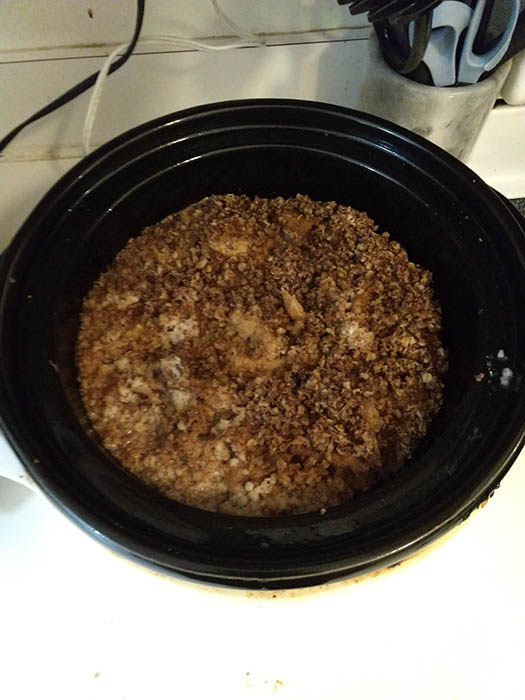 Because Fridays are awesome, we like to have French Toast casserole. Spray the crockpot with non-stick spray. Tear up a loaf of cinnamon raising or similar bread into the crockpot. 8 eggs, milk, splash of vanilla. Pour over and let soak until bedtime. Turn on low at bedtime – the later at night is better here. Wake up to the casserole. Sometimes the edges are a little overcooked, yes. You CAN mess with a water bath if you want. You can also put it in a pan in the fridge like the Fake Monte Cristos and bake it in the morning. Put it in the oven cold and let it warm up to 375 with the oven. Cook 45-ish minutes. If you're feeling generous, a streusel topping (brown sugar, cinnamon, oatmeal, butter) is hoped for by my kids.
So you can see that prep the evening before and little morning effort – mental or otherwise – are high priorities of mine. Yet we have certainly upped our breakfast game from "find something for yourself."
Tools for creating achievable, flexible menus like this are included in our Put Your Meal Plan on Autopilot course. Our private forum is a great place to share recipes and ideas on how to make meal planning a snap!