Last winter my third grader, Sarah Joan, and I were so frustrated with homeschool and each other. I had tried several systems, including the spiral notebook system, to no avail. She still wasn't independently task driven, and I was still falling behind giving her assignments.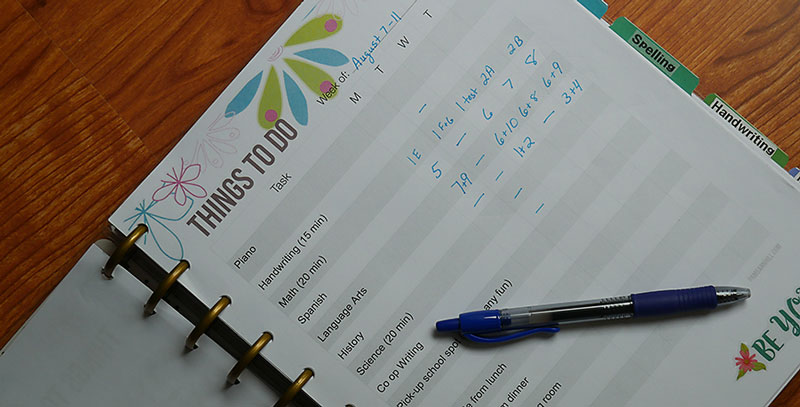 Being a bit of a day dreamer, she also had issues staying focused when there weren't clear instructions for where she was to go next.
She is also my most unorganized child. Math pages, handwriting, spelling notebooks all scattered and sometimes lost. We spent many a school day just looking for the work she needed to complete.
We needed help. We needed a system that would work for both of us. I needed minimal setup time, she needed clear, concise, and consistent direction for her day. Her materials needed a home that was easy for her to care for.
So, I turned to the Plan Your Year Planning Pages for help. While I didn't find what I needed right away, I found forms I could adapt to our needs. I printed them out, decorated them nicely and we got started.
These forms are now included in the Independent Student planning pages.
I also thought a pretty new planner would help. Because all of last year's Happy Planners were now deeply discounted I snatched up one for cheap.
Her cover says Make things happen. This was our goal, so the cover fits perfectly. This also allowed for all her work to be mostly in one place. One notebook, one thing to keep track of, no more lost math pages.
The first day she was so excited. She checked off those items with vigor and proudly told Daddy how many things she had accomplished when he got home.

The student planner plan
This is how I did it.
The Happy Planner was stripped to the cover, dividers, and rings.
Next, I made sections for everything that could be included in this one notebook. This included:
THINGS TO DO List from The Independent Student
TASK LISTS from The Independent Student
Math
Spelling
Handwriting
Nature Study
Book Log
Doodles
Literature
THINGS TO DO Lists – This list includes everything I want to be done in a day. Right down to cleaning up her school spot to chores.
Written next to some of the tasks are times. These help Sarah Joan focus even more. She knows that handwriting only needs to take 15 min if she is focused. Math needs only 20 min if we stay on task.
With a timer, she enjoys trying to get her work done before the "suggested focus time."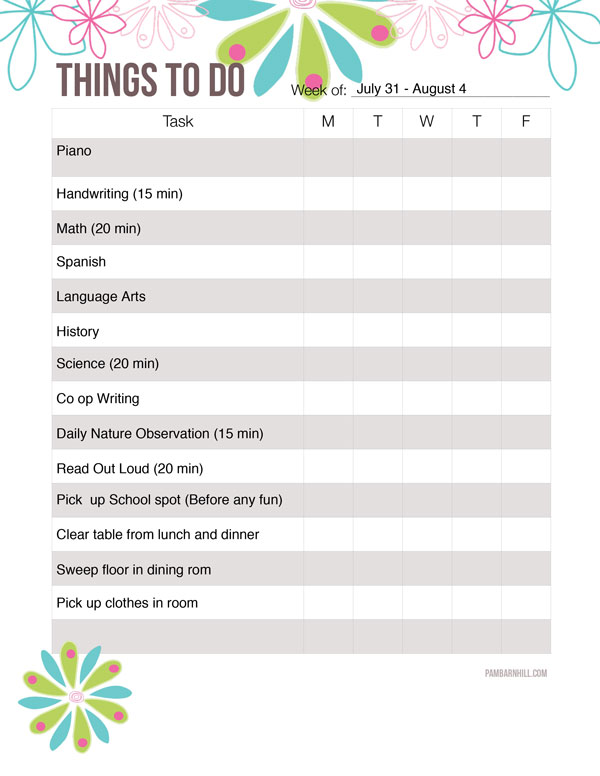 TASK LISTS – These list individual items within a subject. For example, the Language Arts list includes, putting spelling words in alphabetical order, reading a book to a younger sibling, taking a spelling test, and so on.
Each task is numbered. When I do my weekly planning, the number of the task I want to be completed for each subject goes in the box for that day.
This does require some cross referencing on Sarah Joan's part, but she seems to handle it just fine.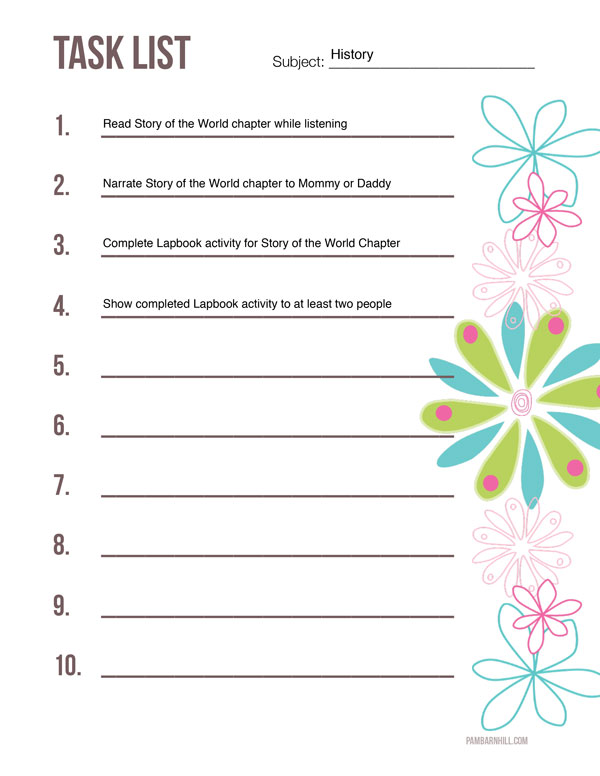 Math, Spelling, Handwriting, and Literature – The workbooks for these subjects are now punched with the Happy Planner Punch and inserted into their respective sections.
Some like Math are done by the unit. Smaller workbooks like spelling, handwriting, and literature have been unbound, cut, and punched in their entirety. This is maybe our favorite part of this system. It.works.so.well.
Nature Study – I don't often get to nature study as often as I would like. But I know that my children benefit greatly from being outside. I have added a Daily Nature Observation to the THINGS TO DO list for just this reason.
Fifteen minutes in the fresh air to notebook at their leisure. I don't check this, I don't even dictate what needs to go in the boxes. I use a Nature Study page from NotebookingPages.com.
Book Log – An extra notebook is now a simple piece of paper in the back of the ONE notebook. (One notebook to rule them all… sorry, couldn't resist.)
Doodles – This section is my attempt to keep the math page cleaner without all of the doodles cluttering up the page. It also eliminates the many sketchbooks that usually accompany my daughter.
All of these sections are cleaned out as needed. When we are done with the math, I remove it and put in a new unit. When the Nature Study pages are filled we take these out, put them in a safe spot, and put in new ones.
This means that Sarah Joan only has what she needs, but she has it when and where she needs it. When we found that this was successful I made a planner in a similar manner for my 2nd-grade son.
Thinking he may not enjoy a Happy Planner, I bought him an Arc System Kit. We used these smaller rings to make it more manageable.
My kids are excited to get started this school year. They know that they can begin in the morning without me, or continue to work steadily while I hop out to change a diaper or start lunch.
And when the list is done? Well, you remember that feeling when school was done for the day… the sun shines brighter, the flowers smell better, and all is right with the world.
Tools I used for the student planner
 The Independent Student
 me & my BIG ideas BOX-112 Create 365 The Happy Planner Box Kit 12 Month Undated, Big Flower Pop Big
 Me & My Big Ideas MAMPUNB.1 PLN The Happy Planner
 Nature Notebooking Pages
 Staples? Arc Notebook System Accessory Kit, Letter Size, Includes Paper, Dividers, and Rings
 Staples? Arc Notebook Rings, Black, 1 Inch, Set of 12
 Staples Arc Desktop Paper Punch, 8-Sheet Capacity, Gray