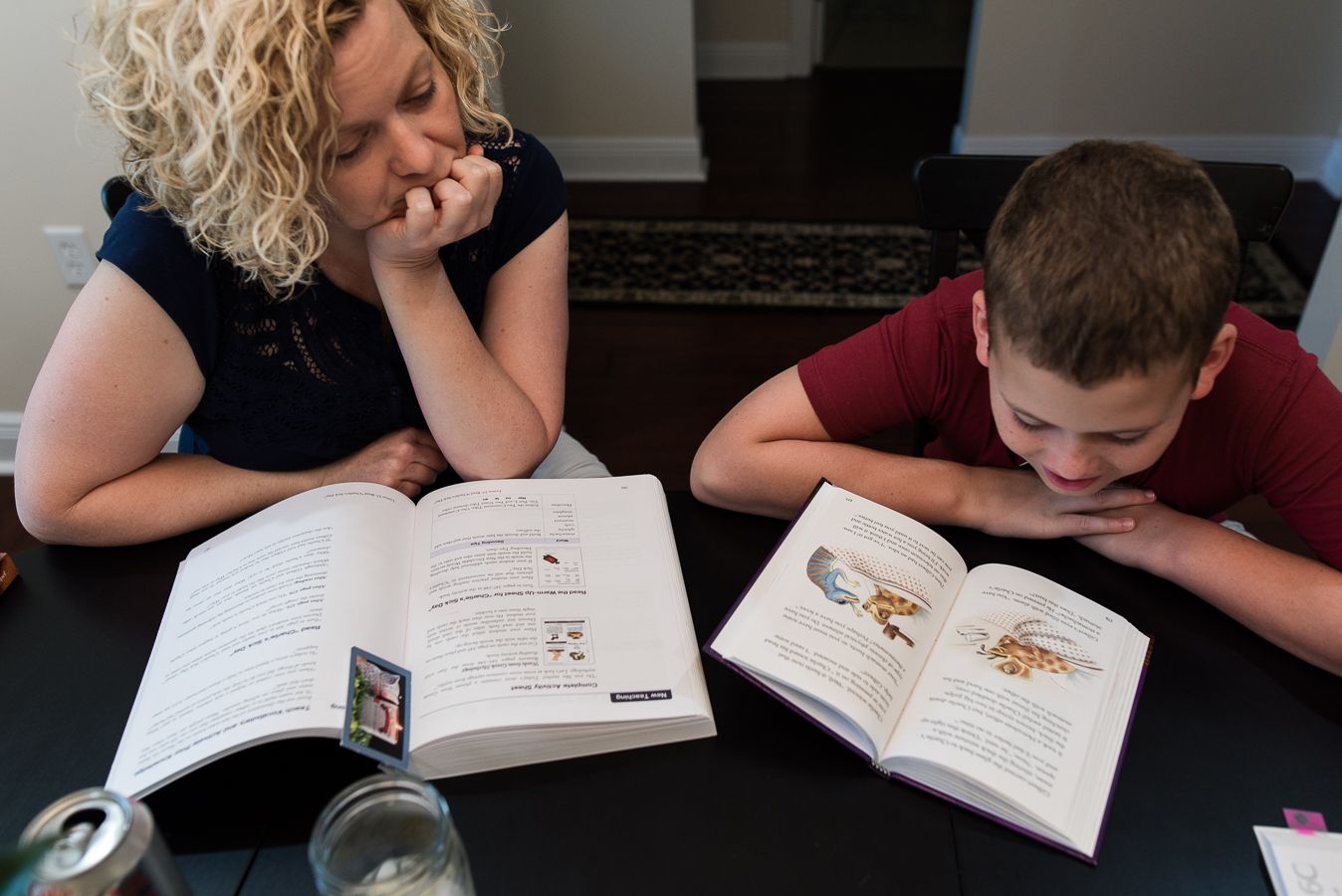 If you are considering or in the process of teaching your child to read, these three key ingredients are must haves for success.
Can You Teach Your Own Child To Read?
Before I share my three tips with you, I want to address this head on. Many parents wonder, as they consider homeschooling, if they're equipped to teach their child to read. Isn't that some special kind of magic that only very qualified people can accomplish? That was my concern many years ago, when I first started on this homeschool journey, and I am here to tell you that you absolutely can teach your child to read.
I did it with three kids, some of whom were very tough to teach to read, to be quite frank. What I've learned is that you just have to keep plugging away. Stay consistent and you will eventually be successful. I am confident that you're eventually going to be successful because you will be the one to never give up on your child. You have a vested interest in making sure that your child exits your homeschool as a reader in the real world. You're going to keep doing whatever it takes to make sure that your child gets there.
Pin
The 3 Key Ingredients You Need To Teach Your Child To Read
Let's talk about some of the most important keys to successfully teaching your child to read.
1. Take your time.
The first key to teaching your child to read is to be patient with the process.
I'm not talking about patience in general, so don't worry if you feel like you don't have a whole lot of patience. This is more about taking the time you need and being patient with the process of learning to read itself.
Timing is an important thing to talk about because the expectation for when children learn to read has dramatically shifted over the past 60 to 70 years.
My friend, Sarah Mackenzie from The Read Aloud Revival talks about this all the time all the time. This is not my information. This is her information. I'm borrowing from her and giving it to you because it's such good stuff. Sarah tells us that back in the 1950s, nobody expected a child to come out of kindergarten knowing how to read. Gradually over the years, it's become the expectation when your child leaves kindergarten, that they will be reading.
The problem with this is that kids really haven't changed. Kids are the same as they were in the 1950s. It's only the expectation itself  that has changed.  This is not necessarily a good thing. Studies have shown that when kids get to fourth grade, you really can't tell the difference between kids who learned to read early and kids who learned to read late.
My advice? Don't start too early and be patient with the process. With my easiest child to teach to read, we didn't start until he was well into six years old –  that's when we started learning the sounds. With my other children, I tried to start super early and it took them longer to learn to read. This is why I recommend you take your time and have patience with the process. Don't have this expectation that your child is necessarily going to be reading by the time they turn six years old. It's completely normal if they're not.
Now the question a lot of times comes up. How do I know when there might be a problem? What if my child's not reading when he's six? I would say, wait. What if my child's not reading when he's seven? What if my child's not reading when he's eight?
At eight years old, we really want to start digging into the signs of learning differences. There might not be. For some kids, it just doesn't click until they're eight or nine years old, maybe even 10. There's absolutely nothing wrong, but it doesn't hurt to look at that point.  Marianne Sutherland, from Homeschooling with Dyslexia, joined me on the podcast where we talked about when to know that there's a problem and what you can do about it.
Related Post: Do You Suspect Learning Issues? Here's What To Do Next.
Listen to the Podcast:
2. Make Reading Fun
Number two is  to make reading something that is enjoyable.  Reading something you want your child to want to do for the rest of your life. Reading is about opening doors, entering new worlds, telling and enjoying stories and things of that nature.
Reading needs to be about enjoyment and joy. It doesn't need to be about drudgery and learning to read.
My advice is to take 5 to 10 minutes a day, especially when your child is really young, and do the reading instruction with them for just a few minute. Keep it light, keep it enjoyable, and build their habit of attention with it. As they get older and they can handle more, and you will be able to stretch it out and make it longer. When it comes to reading lessons, less is more!
The bulk of what their language and literacy development will come from your  reading aloud to them, enjoying stories together, playing fun games with sounds and letters, and most importantly, really having fun.
Pin
3. Find A Good Reading Program
The third key to teaching your child to read is to find a good reading program. There are lots of good reading programs out there. You can ask friends for recommendations. You can do a little bit of research. I'm going to tell you about our very favorite reading program.
This is the one I used with all three of my children from the kid who easily learned to read, the kid who was kind of in between, and then the one who ended up being diagnosed with dyslexia (who eventually learned to read using this program). It took a long time and we just did a little bit every day and chipped away at it.
Watch on YouTube: 
A Homeschool Curriculum For Reading Success
Our favorite reading program is All About Reading. It's one that we used from the very beginning.
One of the things I love about All About Reading is it is scripted. Now, did I read the script word for word? No, of course I didn't read the script word for word. I'm too much of a do my own thing kind of girl to do that, but I could skim the script and know exactly what it was I was supposed to be talking about and what skills I was supposed to be covering.
It was also very easy to break down the lessons into 10 minute chunks. Now this meant that we didn't get a whole lesson done in one day, but All About Reading is flexible, so it was completely and totally okay.
The other thing I love is that the readers are fabulous. So often the readers used for learning to read are kind of ho-hum. All About Reading's Readers were funny from the very first book. My kids will still tell you that they love Fox in a Box. It's the joy of the illustrations and the way that they put the words together to make these fun little stories all the way up to the Level Four reader.
I'll never forget the day when my son closed the Level Four reader and looked at me and said, "When do I get to start level five?" I had to say, "I'm sorry, There is no level five." He was legitimately disappointed that he wasn't going to be able to go on and read another set of readers.
All About Reading offers a helpful placement test on their website. If you're unsure of where your child should be, they even have a phone line that you can call and actually speak to one of their experts. They're very happy to help you with placement, and/or any problems that you're having with the curriculum. They have support on their website and they also have support by phone.
If you are helping your child learn to read, I encourage you to check out All About Reading. I have a very extensive review that I did a number of years ago, that will give you more information as well.
Pin
So there you go, three tips to teaching your child to read in your homeschool. You can do it. I did it. Lots of homeschoolers have done it. You can absolutely do it too.
Leave a Rating or Review
Doing so helps me get the word out about the podcast. iTunes bases their search results on positive ratings, so it really is a blessing — and it's easy!
Click on this link to go to the podcast main page.
Click on Listen on Apple Podcasts under the podcast name.
Once your iTunes has launched and you are on the podcast page, click on Ratings and Review under the podcast name. There you can leave either or both!
---
Thanks for Your Reviews