This is part of our Eight for Each State series on US Geography. Subscribe via email for a new state study each week!
I have always loved a good road trip. Before I had children I was honestly more excited about the trip than the destination. Our honeymoon was a road trip through the Pocono Mountains. There is no way I would have chosen a plane ride to anywhere over that.
I love the feeling of being in the car going somewhere and being able to see close up the landscape change. Even with the extra work and noise of children, I enjoy the sights, sounds and smells of somewhere different.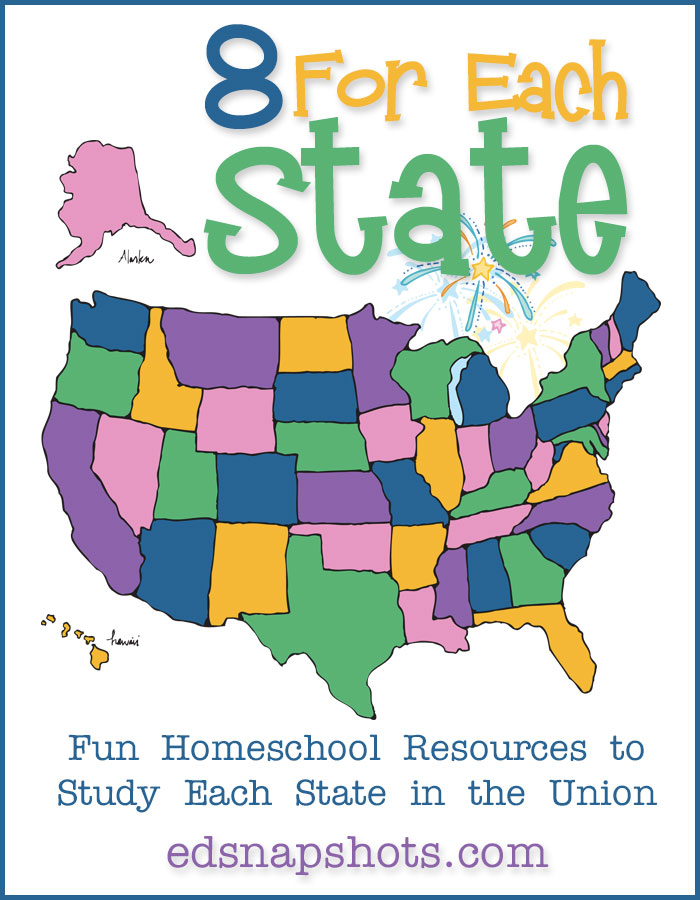 Our U.S. Geography Homeschool Tour
This year our geography memory work was too fun to pass up! U.S. states and capitals! What is more fun than traveling though the States without leaving home? (Ok, I admit, actually traveling the states would be very very cool. We had friends who did a "West" trip this summer.)
First and second grade seemed like the perfect time to take a fun survey of U.S. geography while putting a more in depth study of history aside for the next time we cycle through this time period.
I say this, because our year is going to be full of special projects and extra reading as well as some extra special food. (You really can't do this without food. Ok, you might be able to do this without food but do you really want to? Of course not.) Consider backing off of another subject so you can enjoy your U.S. geography tour a bit more.
Our survey will include historical fiction, history of certain landmarks, and even some history of different people groups but will not focus on one specific period of history.
Each week we will travel to a different state (yes, this will go into next school year), learn about the geography, history, landmarks and people who live there. Because some of our history sentences focus on colonial and revolutionary times, our study of those states will most likely bend in that direction. We will be covering the states in the order they entered the union.
U.S. Geography Homeschool Resources
To get you started here are a few U.S. geography notebooking page sets, as well as some resources that can be used for all 50 states. Some need to be purchased and some are free.
At the top of the list are the two I have chosen for us. Because every child is at a different place in their language development, choose the set of note book pages that will best help you remember your trip!
Remember, this is your trip! We are here to share ours with you and hope as we go along you will share yours with us!

I really liked these notebooking pages for Sarah Joan. She is just learning to write and spell so I needed pages that included some writing but also offered learning with pictures. These pages include plenty of options for both.
The landmark pages have become our favorite as we explore many places we want to someday visit.
There is a new free state every week going in alphabetical order. If your are taking your trip in a different order, like us, you will want to purchase a lifetime membership. Then you can access any state right away along with many other great printables for all subjects!
This set I am using with my older daughter Ruth. She is ready for more writing and I liked the information asked for. Along with the capital and nickname there was a place for the number admitted and the president who was in office when admitted. I think this will help her place the growing of our country in the greater context of history.
A great free booklet for the preschooler who tags along with you on your trip! Just enough coloring to entertain a preschooler or toddler.
The publisher for the Sate By State Alphabet books has lovely teacher's guides for each of the books. Some of the pages and activities are clearly for use in schools, but some are a very nice addition to our study as well. I will let you know during our tour if one strikes our fancy!
US Geography Books, Puzzles and Games
These books are fantastic! We have several and I plan on adding to our collection each year. The main page has rhyming couplets with a beautiful picture. In each of the margins there is a brief paragraph with more information on the subject. I was just amazed at the quality of work in each of these books written and illustrated by different people! Such a gathering of talent in these books!

Sadly the puzzle we use is no longer made. But, if I had to buy one, it would be this one. We have the Europe version and LOVE it!

Pam has this one and her kids really like it too!

Pam and her kids really like this game. We plan on getting them to teach us to play! (Note from Pam: To say we like this is an understatement. Olivia loves this game, and I love that everyone can play with very little help from Mom.)

In planning our U.S. geography tour this cookbook has been amazing! We are not going to use it for every state, but you certainly could.
Be sure to check out our U.S. Geography Eight for Each State Pinterest Board as well. We will be adding to it all year as we come across more great resources.
Happy trails!