Welcome to the Eight For Each State US Geography tour. I am so glad you are joining us.
Louisiana, once a huge wilderness explored by Lewis and Clark, is now a state full of culture, traditions, and food that well known throughout the United States.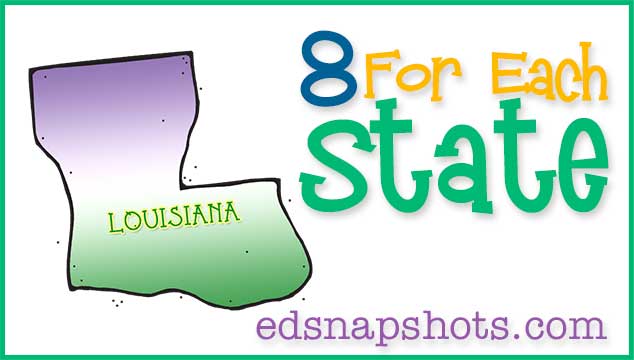 Louisiana was so much fun to study! It could be we had such a great time because our study lined up perfectly with Mardi Gras this year. What fun to end our study with a real live Mardi Gras parade!
I love these books. They are amazing. The girls clamor for them every Monday when we begin a new state study. If you like these, be sure to check out the free teacher guides!
We have also enjoyed the board books by Sleeping Bear Press. Little Louisiana is full of riddles and information on the state. I bet your big kids will like them too!
Mardi Gras was our big event for Louisiana. Not studying Louisiana around Mardi Gras? Pretend!
I myself have never celebrated Mardi Gras or Lent. We all really enjoyed learning about these traditions from Mardi Gras: A Cajun Country Celebration by Diane Hoyt-Goldsmith. I loved the way that Mardi Gras was not just explained, but shown through photographs. The history and lesser known traditions were very interesting!
There are a ton of Mardi Gras resources for kids. Below are a few I liked.
3. King Cake
As we began to tell other moms how much fun we were having studding Louisiana and participating in some of the Mardi Gras activities, I was informed that we HAD to have King Cake. Now, I don't usually shy away from baking, but we were so busy…
Imagine my surprise to learn that I could pick one up at the store! If it is the wrong time of year for you, try one of these recipes. Don't forget the baby!
4. Lewis and Clark
Louisiana is the perfect time during our US Geography tour to do a little mini unit study on Lewis and Clark. Lewis and Clark explored more than just present day Louisiana. The whole Louisiana purchase needed mapping and exploring!
Here are some great books to get you started!
Fun map activity – A great way to visualize the journey of Lewis and Clark.
National Geographic interactive game – This game was a lot of fun! A choose your own adventure and learn along the way sort of game.
5. Pelican
Louisiana is the Pelican state. Did you know they live on every continent except Antarctica? For your bird lovers, spend some time looking into this large, interesting looking bird.
Books
Activities
6. Louisiana Food
Besides our King Cake for the Mardi Gras festivities, we enjoyed Red Beans and Rice for our dinner. Some other Louisiana Food ideas and resources are listed below.
When Swamp People first came out, my children where hooked. We watched it at Grandma's house. The next day, the pretend play centered on reenactment. One child would perch on the couch and pretend to shoot the "alligator", then haul it into the "boat." It was hilarious. And because they were so cute, I continue to let them watch it.
Besides the entertainment factor, I think it is a great way to show a different culture within our country. While there are some rough spots, for the most part family is shown in a positive light. I love the expressions when they realize that the frogs they are catching are not just for fun, but food. Priceless.
Swamp People can be found on Netflix. There are also full episodes on The History Channel show page.
When you are done, just for fun, make Alligator Pie!
 P is for Pelican: A Louisiana Alphabet (Discover America State by State)
 Little Louisiana (Little State)
 Mardi Gras: A Cajun Country Celebration
 Of Courage Undaunted
 A Picture Book of Lewis and Clark (Picture Book Biography)
 Lewis and Clark for Kids: Their Journey of Discovery with 21 Activities (For Kids series)
 Dog of Discovery: A Newfoundland's Adventures with Lewis and Clark
 Those Peculiar Pelicans (Those Amazing Animals)
 Perky Pelican: A Tale of a Lively Bird (No. 18 in Suzanne Tate's Nature Series)
 The Adventures of Pelican Pete: A Bird is Born (The Adventures of Pelican Pete, 1)
 The U.S. History Cookbook: Delicious Recipes and Exciting Events from the Past
 Hurricanes!
 Hurricane!
 Ready, Set . . . WAIT!: What Animals Do Before a Hurricane
8. Louisiana Hurricanes
Hurricanes on the gulf are destructive and sometimes devastating. This is a great time for a mini unit on extreme weather, namely hurricanes.
I hope you have enjoyed our tour of Louisiana.