Welcome to the Eight For Each State US Geography tour. I am so glad you are joining us.
Massachusetts is such an exciting state! There is so much history, interesting people, scenery and wildlife. In high school I took a trip to Massachusetts for whale watching and wildlife exploration. I was excited to share these pictures and fond memories with my children.
As each state comes up, be sure to tell about your own experiences if you have been there. My kids love hearing about the places I have visited and the interesting things I learned along the way. The is one of the ways I am making our US Geography study about relationships.
This is part of our Eight for Each State series on U.S. Geography. Subscribe via email for a new state study each week!
I am beginning to think that these are the absolute best books for US Geography state studies no matter what your age. The 26 tidbits of culture, history, and sometimes wacky facts in these State by State Alphabet books are great for all ages!
After reading M is for Mayflower the girls made this Mayflower Ship from Catholic Missionary Family. They have enjoyed my hands off approach to the craft projects we have been doing. It is a good way to show I have confidence in them.
And look! Isn't it a wonderful Mayflower? I plan on letting it decorate our dining room through Thanksgiving.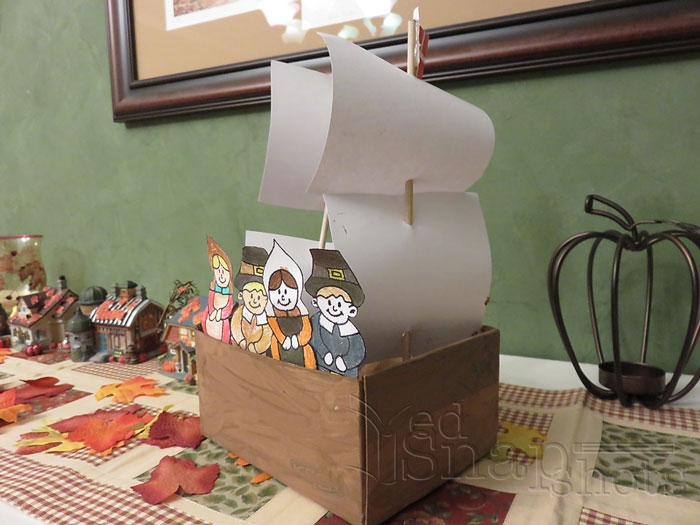 2. Whale Watching
Have you ever been whale watching? Even if it wasn't in Massachusetts, share this experience with your children. Never been? Watch a YouTube video or two together.
Cape Cod Whale Watching 1 – At about [2:08] you can begin to see humpback whales breaching.
Cape Cod Whale Watching 2 – Sometimes they came right up to the boat!
If there is a strong interest in Humpback whales, Here Come the Humpbacks! by April Pulley Sayre and Humphrey the Lost Whale by Wendy Tokuda look like great books for a mini whale unit!
3. Paul Revere
Ruth loved learning about Paul Revere. She is still scouring our library 2 weeks later for all things Paul Revere. Here are the great books she has found so far!
If your US Geography state tour is taking a colonial tract like ours check out these great ways to enjoy Paul Revere!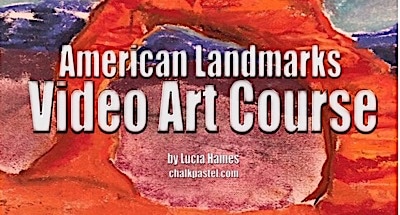 4. Pilgrims and Plymouth Plantation
With Thanksgiving right around the corner, what a great opportunity to let our state study run into our read aloud and craft time! My kids never seem to tire of hearing about how the first settlers came to America, suffered, and persevered.
Besides the classic picture books for Thanksgiving, I found Three Young Pilgrims at the bookstore recently. We all enjoyed hearing this familiar story from the point of view of the children. Here are some other classics we enjoy each year.
If you have older children this trilogy of books written by Marcia Sewall are great for an essay prompt. After reading all three, write an essay on the importance of point of view in history. Why is it important to consider what others are thinking? Which group of people were in the right? Was it possible for them both to be right? Is it possible for two groups of people who are so completely different to live peacefully together long term?
Pilgrim Crafts and Food – this theme is hard to let go, the children enjoy it so.
This classic picture book is set in the city of Boston. We have read it before, but the girls at 6 and 7 still loved it and requested it again the next day!
After our reading, I downloaded this map from Royal, Baloo, and Logi Bear, and the girls drew the path of Mr. and Mrs. Mallard through the streets of Boston. Ruth exclaimed with joy because she recognized some of the landmarks from the books and resources we had already used.
This Google Earth Youtube video is very cool. It shows the landmarks from Make Way for Ducklings and gives more information on each of them.
We are loving our The United States Cookbook by Joan D'Amico. It is quickly becoming our go to resource for state foods. Often if we can't use the recipe because of a food allergy, we can think of something else to represent the state from the fun food facts on every page!
Beans were a colonial staple in colonial times. They could be cooked Saturday night and saved for Sunday dinner when cooking was not allowed.
Our Boston Baked Beans were a huge hit! Everyone loved them. They were soft, not too sweet and easy enough for the kids to make.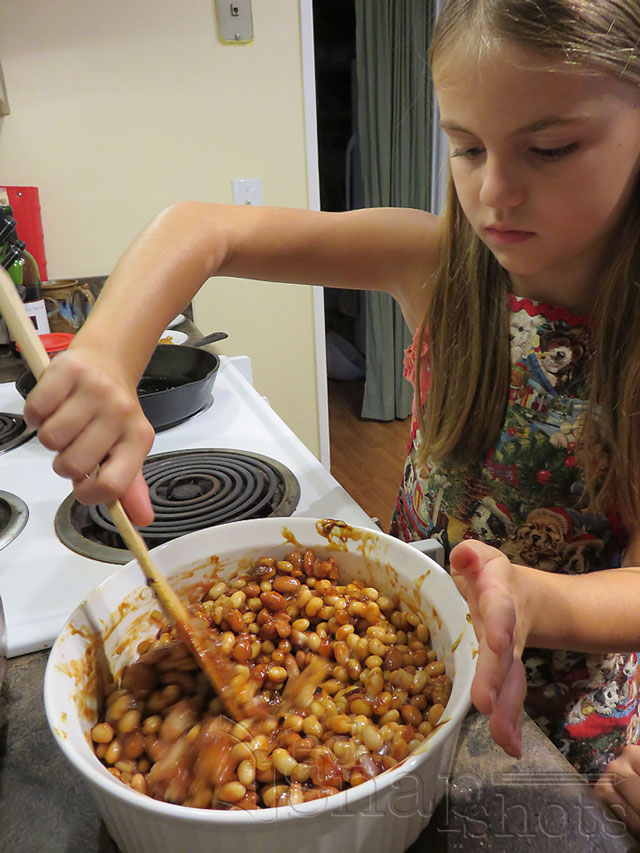 7. State Studies From Around the Web
8. More Youtube Video's for Massachusetts
 M Is For Mayflower: A Massachusetts Alphabet (Discover America State by State)
 Here Come the Humpbacks!
 Humphrey the Lost Whale: A True Story
 Mr. Revere and I: Being an Account of certain Episodes in the Career of Paul Revere,Esq. as Revealed by his Horse
 Paul Revere's Ride (Graphic History)
 Paul Revere's Ride
 Paul Revere's Midnight Ride
 Three Young Pilgrims
 Pilgrim Stories
 N.C. Wyeth's Pilgrims
 The Pilgrims' First Thanksgiving
 Eating the Plates
 The Pilgrims of Plimoth (Aladdin Picture Books)
 People of the Breaking Day (Aladdin Picture Books)
 Make Way for Ducklings
 The United States Cookbook: Fabulous Foods and Fascinating Facts From All 50 States
My girls decided to put Plymouth Plantation on our list of places we would like to visit someday. What's on your list?