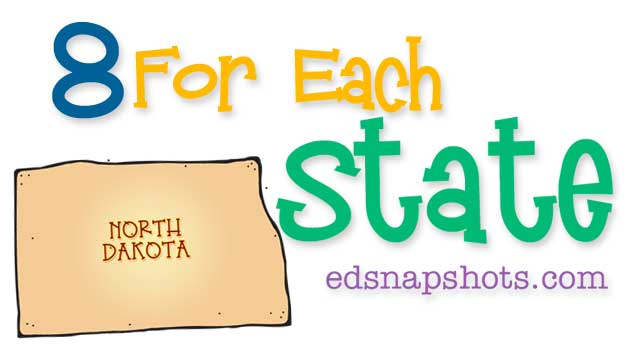 Welcome to the Eight For Each State US Geography tour. I am so glad you are joining us.
North and South Dakota entered The Union on the exact same day. President Benjamin Harrison signed one state in before the other, but because he mixed up the papers afterwords, no one knows which one was first. North Dakota wins out alphabetically; but we will never know if North Dakota really is the 39th state or the 40th state.
Our US Geography study has begun to rely more and more on the enthusiasm and push from my two girls. Often they are now the ones getting excited over what new foods we are going to try or what new beautiful land form we will learn about.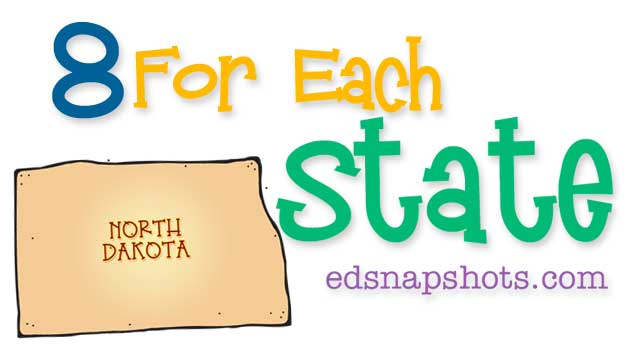 Pin
Ruth took all the exciting things she read about North Dakota and created North Dakota Day. We invited friends, planned food and games, and had the best time. Wish you all could have been here! Activities five through eight below are your go to for your own North Dakota Day.
Pin We always begin looking at a state with one of these beautiful books from the Discover America State by State series. They pique the girls' interest as well as provide us with numerous jumping off points for our study. These books are simple enough for smaller siblings to enjoy and offer plenty of information for the older ones to fill out notebooking pages.
A few more nonfiction books we enjoyed for North Dakota:
2. North Dakota Video
We all love to see what we are reading about, so our next stop after a few books is YouTube.
North Dakota – US Embassy Vienna
On the border of North Dakota and Canada lies the International Peace Garden. Dedicated July 14, 1932 it commemorates the long lasting peace between the United States and Canada.
International Peace Garden of North Dakota/Manitoba – A short informative YouTube video
For a fun activity, pretend you are making an important garden to commemorate a special event or person. Draw on paper, make a 3D model, or simply describe what your garden might look like. Old gardening magazines or catalogs can be used in a fun collage.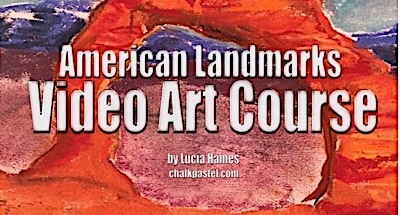 Pin
We have loved exploring the National Parks as we go through our US Geography study. I had no idea there were so many! 58 to be exact. Be sure to wander around the website, especially the photo gallery. Beautiful, just beautiful.

North Dakota Day Activities
5. Knoephla soup or Potato Dumpling Soup
Ruth choose this soup for our North Dakota food. I had never made dumplings before, but this recipe was very helpful. The history of the dish was fun to read about as well. The end result was a very, very tasty soup that is going in our family recipe book.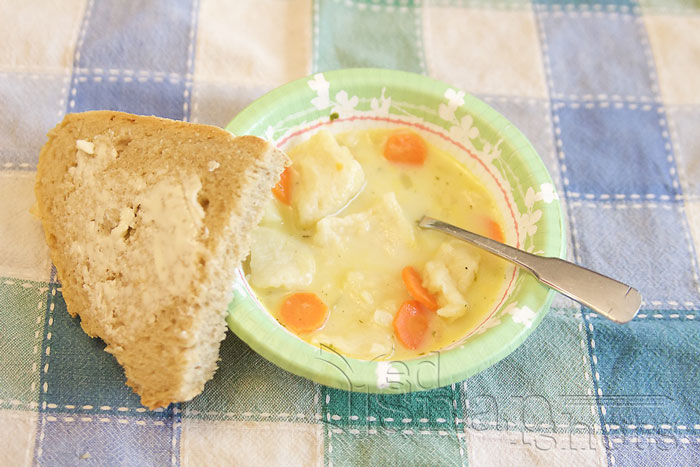 Pin
6. Apple Kuchen
If you give Ruth permission to invite guests to try her soup, she is going to ask to make dessert as well. She chose Apple Kuchen. We used this recipe from Food.com.
Pin
7. Square Dancing
The entertainment for North Dakota Day began with Square Dancing. We had a blast teaching the kids the basics of square dancing. While there was a ton of silly, we all learned a few moves and had a good time on the front lawn. Here are some YouTube videos to get you started.
Easy Square Dance, Garland Smith, Caller
Video Square Dance Lessons – Mainstream Lesson #1A
8. Sioux Indian Relay Race
There are many activities you can do related to the Sioux Indians. Ruth chose to teach her guests a relay race. This race was run by Sioux men before horses. The purpose was to train them to run quickly around obstacles in order to shoot at the buffalo on the plains.
PinP is for Peace Garden: A North Dakota Alphabet (Discover America State by State)
Pin
PinNorth Dakota (Hello USA)
Pin
PinNorth Dakota: The Peace Garden State (Exploring the States)
Pin
North Dakota Facts and Symbols (The States and Their Symbols)
Pin
PinNational Parks Coloring Book (Dover Nature Coloring Book)
Pin
Divide your guests into four teams. Two teams will run and two teams will act as obstacles. Assign trees that wave their arms, mountains that jump up and down, and rivers that move from side to side. As the running teams race, the obstacles get in the way. Switch to give everyone a chance to race.
Have fun and don't forget to tell us about your own North Dakota Day. Or perhaps you have turned another state study into a party. Tell us about that too!