Welcome to the
Eight For Each State
US Geography tour. I am so glad you are joining us.
Tennessee has something for everyone. Spread across three different landscapes, the mountains, hills, and plains, the geography of Tennessee offers outdoor lovers quite the treat.
The music of Tennessee is just as varied as its geography. Be it Bluegrass, Country, Blues, or Rock and Roll, you are sure to find something you like! We sure did in our music study below.
Grab yourself a Moon Pie and come along with us as we study Tennessee on our US Geography tour!
A great way to start any state study is with a good introductory book. We love this series! I have just noticed that they have number books for some of the states too. I ordered one and they are lovely.
 Check out the one for Tennessee, Count on Us also by Michael Shoulders.
A US Congressman turned folk hero, Davy Crockett is a fun person to read about. Enjoy a few of these books about Davy Crockett.
For more Davy Crockett fun, hope on over to Adventures in Mommydom where Ticia has a great mini unit study on Davy Crockett. Sure looks like a lot of fun!
We put the Crockett Tavern Museum on our list of places to visit. It is built on the site of Davy Crockett's boyhood home.
Morris Frank lived in Nashville, Tennessee and became completely blind at sixteen. A fighting spirit led him to lead a normal life, by going to college and having a job. However, he was still very dependent on others.
All of the children loved reading about this young man and the dog that became his dearest companion and friend. This is such an inspiring story! I encourage you to read at least one book about the man and dog that changed the world for blind people in America.
A short video showing footage of Morris and Buddy's journey together is a great way to wrap up.
4. Tennessee Music Study
As I began to look at V is for Volunteer I just knew we would have to explore all the musical variety Tennessee has to offer! Pam whipped up this fabulous printable just for the occasion! Click here to download it.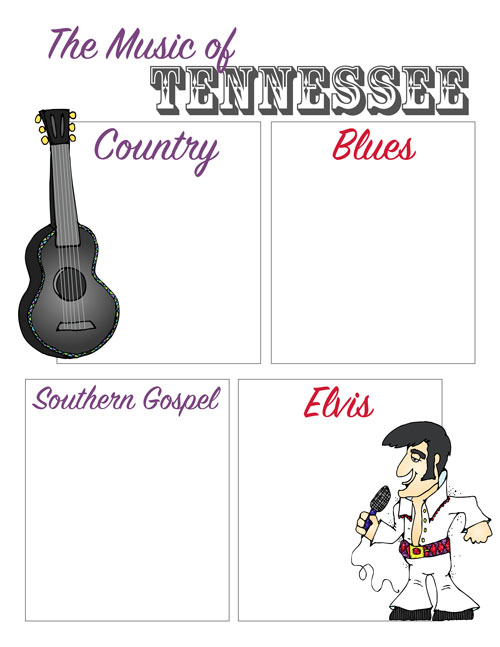 Using YouTube we explored Country/Bluegrass, Blues, Elvis and the birth of rock and roll, and Southern Gospel. I encouraged the girls to listen: for instruments they recognized, to the lyrics, and for the tempo and beat. I also wanted them to tell me how they liked the music and what feelings they felt or heard in the music.
Here are some YouTube videos of the songs we used in our study. If you know more about these types of music, share your favorites with your children. We had a very enjoyable afternoon with music! I hope you do too!
 Country/Bluegrass 
Blues 
Southern Gospel
In V is for Volunteer, the Jubilee Singers were featured as the first to bring this "slave music" to the stage. The tunes are haunting and the harmonies moving. I only wish the quality of sound were better in these videos.
Elvis 
We did Elvis last and frankly were a bit tired at this point. I did a fast and slow song so they could see the difference. We also enjoyed this book about a boy who grew up and did his Elvis impersonation for Bill Clinton! A fun way to look at how Elvis affected the culture of his day.
Shake, Rattle & Turn That Noise Down!: How Elvis Shook Up Music, Me & Mom by Mark Alan Stamaty
5. Tennessee Music Places to Visit
Sarah Joan's notebooking pages from Enchanted Homeschooling Mom, do a fantastic job of giving us great landmarks to study. Graceland was the pick for Tennessee. Check out our Graceland resources as well as some for other Tennessee musical landmarks as well.
Graceland 
The famous Memphis street where the Blues were born is still on of the best places to enjoy great music and great southern food.
No trip to Nashville would be complete without stopping in at the Grand Ole Opry.
6. Goo Goo Cluster and Chocolate Pies
I love trying all these new foods with my kids. I don't think I have ever eaten a Goo Goo Cluster before. They are amazing! We tried all three kinds and liked the original the best. I have heard they may be hard to find, but we found them at Publix, Cracker Barrel, Hobby Lobby, and Amazon.
According to Tennessee: The Volunteer State by Amy Rechner Chocolate Pies are also a Tennessee treat. We bought ours from the grocery store, but if you are feeling extra brave you can try making your own! These are also great if nut allergies keep you from enjoying Goo Goo Clusters.
7. German Potato Salad
Tennessee settlers with German backgrounds brought with them a potato salad recipe made with a vinegar dressing instead of a mayonnaise dressing.
Our recipe for this different potato salad came from The United States Cookbook by Joan D'Amico. If you are looking for an all-in-one source to eat your way through the United Sates, this is it.
 V is for Volunteer: A Tennessee Alphabet (Discover America State by State)
 Count on Us: A Tennessee Number Book (America by the Numbers)
 Quit Pulling My Leg!: A Story of Davy Crockett
 Sally Ann Thunder Ann Whirlwind Crockett
 Davy Crockett: A Life on the Frontier (Ready-to-read SOFA)
 Davy Crockett: Young Rifleman (Childhood of Famous Americans)
 Morris and Buddy: The Story of the First Seeing Eye Dog
 Buddy: The First Seeing Eye Dog (Hello Reader!, Level 4)
 V is for Volunteer: A Tennessee Alphabet (Discover America State by State)
 Shake, Rattle & Turn That Noise Down!: How Elvis Shook Up Music, Me & Mom
 Who Was Elvis Presley?
 Pardon Me… Is That the Grand Ole Opry? (Pardon Me…)
 Goo Goo Cluster Original Chocolate Carton, 5.25 Ounce
 Tennessee: The Volunteer State (Exploring the States)
 The U.S. History Cookbook: Delicious Recipes and Exciting Events from the Past
 Sequoyah: The Cherokee Man Who Gave His People Writing (Robert F. Sibert Informational Book Honor (Awards))
8. Sequoyah
Sequoya was a Tennessee Cherokee who developed a written alphabet for his people. As a result, many Cherokee Indians became literate.
This book received high reviews on Amazon and looks wonderful for children and adults.
Sequoyah: The Cherokee Man Who Gave His People Writing by James Rumford
Adventures in Mommydom has a great little writing activity to enjoy as you study this amazing American.
We had a great time learning about Tennessee. What is your favorite cultural stop in Tennessee?