Not everyone gets a good foundation of financial matters while growing up, but my parents did a fantastic job with it.
Besides being given the usual bit of allowance, one of the fun things my mom did for me as a kid was to create "checks" that I could use when I wanted to buy something, to get me in the habit of keeping and balancing a checkbook.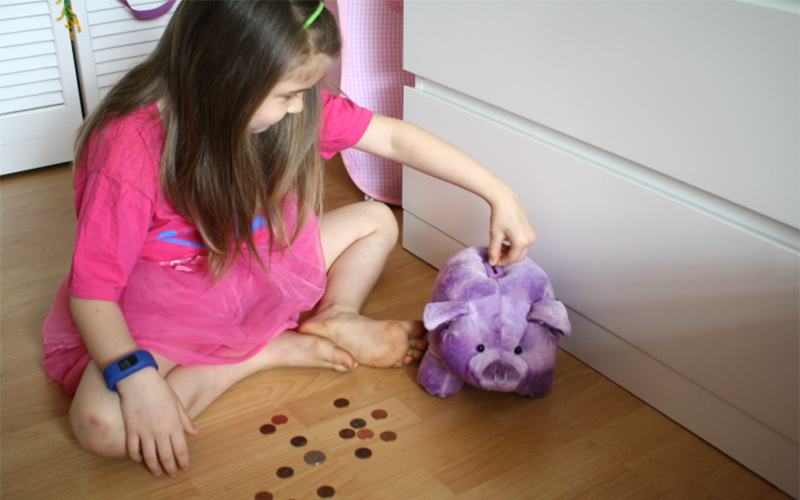 So when our Gv transitioned out of her toddler-dom into the preschool years, G and I discussed a few things we could start doing to help set her on a positive financial-sense track.
Parents need to teach financial management to their kids.
It's no secret that there are scads of people walking around today that struggle with money. The Consumer Financial Protection Bureau has noted that now, more than ever, young people are not prepared to manage their finances when they reach adulthood and recommends that parents actively prepare kids for the financial world in several ways.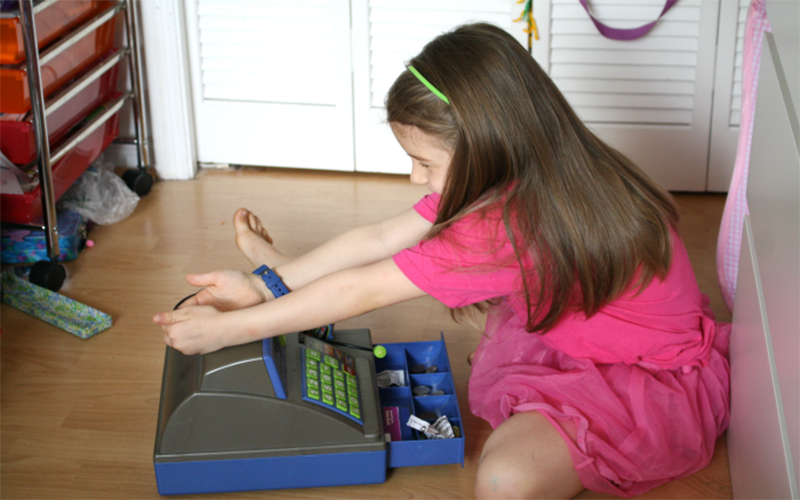 They suggest that parents first start teaching financial literacy at a young age, introducing the topic to kids no later than kindergarten. Parents are also encouraged to provide their children with plenty of hands-on learning opportunities to put their new financial skills to use.
Other advice applies more specifically to the school-aged-and-older set, but even dabbling in the waters of these two suggestions will help give your kids a great start down the road to money-sense.
Implement a variety of money management activities for your child.
So, how does one go about this? Here are a few tips to get you started:
Set a good financial example
This obviously includes handling your own finances in a responsible way, but it also involves being more open and transparent with your kids.
When they ask for an item at a store or to do something that costs money, don't just answer "no," but take that opportunity to discuss what it means to have a budget and how it's important to make choices on where the money gets spent. After a few of these conversations, the answer, "it's not in our budget" is usually all that's needed to satisfy your child when he asks for something.
Give your kids an allowance and a bank account
This is certainly a personal choice for your family, but providing an allowance gives your child an early opportunity to begin putting what she'll learn into practice. To see what we do in our family, click on over to my Money-Savvy Moppets post, where I share what approach my husband and I decided on for our Gv.
Our ideas might sound good for your family, too, but just make sure that you spend time researching and discussing your views on the matter in order to come up with the best approach for your family!
Allow them to purchase their own Christmas (& other) gifts
Homemade gifts are always a big hit around here, but starting on her second Christmas, we'd take Gv to buy something for family members at the dollar store or the dollar spot at Target. Keep in mind as you do this that your kids will likely need plenty of reminders to think of what the other person would really like (and that it might not be what she would like!)
We've found that Gv can usually find something special for everyone there, be it a pair of cozy socks for Daddy or an outdoor thermometer for Papa or a mini air-horn for her teacher-aunt to use to call her students in from recess. Harbor Freight is another great place to look for low-priced items. That place always has so many coupons and deals (is there ever a time that they're not having a liquidation sale?!) that it's easy to find something for $1 or less there, as well.
Provide plenty of play opportunities
Whether it's playing restaurant or store or selling crafts or tasty treats at a lemonade stand, there are tons of ways that money matters can be turned into child's play. Investing in some play coins and paper bills along with a little cash register will guarantee hours of occupation by your little proprietors! Junk-mail credit cards (it seems these are always filling up our mailbox!) provide free fun and an alternative to sticking the things in the recycle bin.
It's also fun to grab an inexpensive carbonless order pad or receipt book for including in their play – adding math and writing practice in as a bonus!
This list isn't lengthy, but it's a good way to start introducing your kids to money matters – even a preschooler can begin to learn the basic concepts!
Additionally, here are some links to other resources that might help you establish good financial habits with your kids:
Books to read:
Helpful websites:
Other resources to check out:
Have you started to introduce the subject of financial literacy to your preschooler yet? I can't wait to hear! Leave a comment below or email me at lisahealy (at) outlook (dot) com.