I love kids' art. It's a good thing. I have bins, boxes, folders, and stacks full of it. My kids like to draw and paint me pictures and I have a really hard time letting them go.
Now what's nice is when kids' art can also be something really useful, right?
That was the inspiration for the super-easy project in todays' DIY Christmas Gifts Kids Can Make.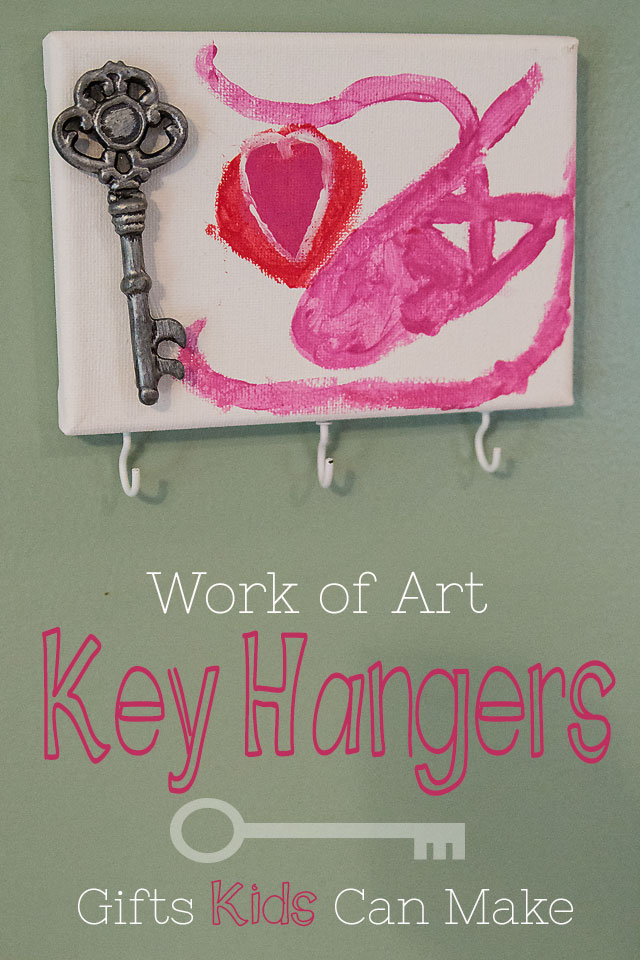 Voila! The kid-decorated key hanger! These are so easy.
Key Hanger Supplies
Canvas with wood frame (size is up to you — ours were 5×7)
Paint brushes
Decorative Key (optional — we got ours in the dollar spot of our craft store)
Glue Gun (optional)
Key Hanger Instructions
Put down a table covering, spread out the paints, and give every child a brush and canvas. Let them enjoy a bit of creativity as they design their masterpiece on the canvas.
We did tell our kids they would be able to glue on the decorative key, so they were all sure to figure out where they wanted to put it and leave a space.
Once the paint dries, screw the cup hooks into the wood at the bottom of the canvas. We spaced three hooks evenly across the bottom of the canvas.
Glue the decorative key onto the canvas using the hot glue gun.
That's it! This little project could not be easier. You could add a saying, verse or quote if you wanted using a paint pen

. Be sure to have the artist sign the canvas or inscribe it to the receiver on the reverse side.
These will hang on the lip of the canvas frame or you could add a ribbon hanger to the top if you want.
These practical, yet thoughtful gifts are wonderful for teachers, family members or special friends. The hooks could also be used to hang sports awards or hair ribbons if they wanted to gift it to another child.
For more great DIY Christmas gifts kids can make be sure to check out our landing page with ideas, tutorials, and printable downloads.