We have some episodes here at Your Morning Basket that are all about the philosophy behind Morning Time, and we have some episodes that are all about the practical how-tos of actually making Morning Time happen, but this particular episode is a lovely mixture of the two.
Sarah Mackenzie is a mother of six, the author of Teaching from Rest: A Homeschooler's Guide to Unshakable Peace, and the host of the Read-Aloud Revival. She joins us on the podcast to discuss Morning Time as a key tool that can help us order our children's affections, turn our attention to things of utmost importance, and ground ourselves in state of rest, avoiding that place of frenzy and worry that we are not doing "enough."
But Sarah doesn't stop there. She also throws in some of her best practical tips, like ideas for how to wrangle a houseful of toddlers and simplify Morning Time as needed during key seasons of family life. There is something for everyone in this interview, so sit back and enjoy!
Links and resources from today's show:
PinBartholomew's Passage: A Family Story for Advent
PinAmon's Adventure: A Family Story for Easter
PinJotham's Journey: A Storybook for Advent
PinThe Taming of the Shrew (Folger Shakespeare Library)
PinOn the Edge of the Dark Sea of Darkness (The Wingfeather Saga)
Life of Our Lord for Children, A
PinMy Path to Heaven: A Young Person's Guide to the Faith
PinMathematicians Are People, Too: Stories from the Lives of Great Mathematicians
PinMy Side of the Mountain (Puffin Modern Classics)
Abby: I do feel for my kids in the sense that I say it's off, time off, but I'm counting so much of what we're doing toward their portfolio. You know, there's, we do so much. For example, we're doing Christmas around the world kind of stuff. They're getting possibly more geography in December than throughout the rest of the year just because there's so much to dive into in the holiday season and they're more interested in reading and they're so excited about the cooking and it's so funny because to them it's time off. But to me it's just a shift in what we're doing.
Pam: This is Your Morning Basket where we help you bring Truth, Goodness, and Beauty to your homeschool day. Hi everyone, and welcome to episode 12 of the podcast. I'm Pam Barnhill, your host, and I'm glad you're joining me here today. Well, today we have a fun episode of the podcast for you. Oh, I hope you find it fun. It was a lot of fun for me. I got to talk to my best friend. I have known Sarah Mackenzie for about six years now. We met online, of course, finally got to meet in person last year, and she's just as delightful in person as she's been all these years not in person. And I've been just as excited these past couple of years to see all the things that she's been coming out with from her landmark homeschooling book, Teaching From Rest to the wonderful Read Aloud Revival podcast, and membership site. It's been a lot of fun to see these great resources come out from Sarah and I've been blessed by them, too.
Now, Sarah's special language is one of encouragement. She's very encouraging to moms, whereas I'm more of a practical applications girl myself. I really love to dig deep into practical aspects of things, where she speaks a little more encouragement and philosophy. So I have to say I was really excited when Teaching From Rest came out and she had included Morning Time as one of the practical ways that you could teach from a state of rest in your homeschool. So, I knew that she would be the perfect person to have on the podcast to talk about what exactly does this look like? How can having a Morning Time in our homeschool help us to be more restful and less anxious in what we're doing in the day to day with our family? So I was really happy when she agreed and said yes and I think you're really going to enjoy this episode of the podcast.
Read Full Transcript
Sarah Mackenzie is a homeschooling mother of six, ranging from a teen all the way down to twin toddlers. And, she's also the host of the popular Read Aloud Revival podcast where she equips and encourages families to read together and build a shared culture in the home around books. Sarah has a passion for speaking to the hearts of busy, frazzled homeschool moms. Through the Read Aloud Revival and her book Teaching From Rest, a Homeschoolers Guide to Unshakeable Peace and her talks on the homeschool convention circuit, she passes along her vital message of finding peace and assurance in the busy day to day. She joins us today to share how the practice of Morning Time can help us teach from a state of rest. Sarah, welcome to the program.
Sarah: Well, thank you for having me. It's so much fun to be here.
Pam: Well, I just love having you on. You and I do quite a few things together, and so …
Sarah: We do.
Pam: … this is old hat for us.
Sarah: Yes it is.
Pam: For those of the listeners out there who may not know you, tell us a little about your family.
Sarah: OK, well, like you said, we've got six kids. My oldest is 14 and probably could run my house better than I do. I also have a 12 and 10 year old. And then we've got this big gap, and then we've got a whole passel of toddlers, so a three year old- she's almost four now, and twin two year olds who keep us constantly running. We've homeschooled all the way from the beginning and it's just sort of been this big long journey of figuring it out as we go. And neither my husband or I were homeschooled, so it's been choosing our vision and running with it and seeing where it's going to take us, rather than knowing what it should look like. It's just been good. It's been fun, lots of fun.
Pam: Tell us a little bit how you got started doing Morning Time.
Sarah: Let's see. I'm trying to remember the first time I really called it Morning Time, was probably after I had read something by Cindy Rollins, that would be my guess. I don't exactly remember a big shift, like we weren't doing Morning Time and then we were. I do think from the beginning of homeschooling I always liked the idea of having some subjects be done altogether, where we're all enjoying the same stories or singing a song or reading some poetry, but Morning Time itself has become a more important part of our school day the more kids we have, especially when we had all three babies in about a year and a half, and ever since then one of the most important parts of Morning Time for me has just been a way to organize ourselves so that we still get to those really wonderful, beautiful, delightful things that we want to do altogether in a reliable fashion. Morning Time just makes it happen every day, or most days at least. And so we've probably always done some things altogether as a family, but now I'm more intentional about what those things are because I'm thinking about them in the context of Morning Time.
Pam: You know, I think that probably happens for a lot of people because, and Cindy will tell you, you know Morning Time is not rocket science.
Sarah: Right.
Pam: We, kind of, give it a name and we make these plans and things like that and I think that's a good thing that we do that because we do become more intentional about it, but honestly, when you get right down to the heart of the practice of it, there's really nothing special there.
Sarah: I think people are always surprised when they hear me talk about Morning Time or say that we do Morning Time, and so they'll say, "Give me more. I want to know how you do it." And when I tell them they're kind of underwhelmed, like "that's it?" It's very, very simple but it's almost like a mindset shift for me, a paradigm shift. I tell myself 'Morning Time and Math are the two most important things we're going to do today.' Morning Time, Math, and time for my kids to read are the big rocks, the big things that have to happen. And so, just having that be one of the main big things that we do, helps me prioritize a couple of things. It doesn't have to be complicated, it doesn't have to be some really elaborate schedule, it could be something super simple. Like the way we do it now is super simple because we only have a pretty short amount of time before toddlers start wreaking havoc and so we have to make the most of it, we keep it really short and sweet.
Pam: So, we're going to break a couple of the things you just said apart, in just a minute. I think Morning Time is a lot about attitude and atmosphere, and less about practices or …
Sarah: What actually happens.
Pam: Exactly. So, let's break apart two things you said. First of all, I want to talk a little bit about what does your Morning Time look like now and how has it changed over the years? So let's start there and then I know everybody's wanting me to ask you about the toddlers, and the impact that they have. I have a feeling it's like Godzilla coming down on Tokyo?
Sarah: It's pretty much like world detonation.
Pam: Let's talk about what does your Morning Time look like now?
Sarah: Right now, it is super short and sweet. The shortest it's ever been for us. We start Morning Time after breakfast but before the kids do any of their independent work. We get together, we all gather together in a room, we begin with the Doxology, we sing the Doxology. We say a couple of prayers, and then we do two things after that. That takes 3-4 minutes to do our Doxology and a few prayers. We generally do one other thing and then we read for about 10-15 minutes from our literature book. Sometimes we don't read aloud from our literature book because the toddlers are already starting to break down and we all love reading from our literature book so we'll save it for later when it will be more enjoyable. So the big things that happen are the Doxology and prayers, and then one other thing. And I say one other thing because that rotates, and I'll kind of give you an idea. So, right before Christmas we were doing picture study using the picture study portfolios from Simply Charlotte Mason. Are you familiar with those?
Pam: Oh yeah, they're lovely.
Sarah: Yes. We love them. We did Monet. And I tend to like to do – how do I word this – I don't like to rotate my subjects as much as I like to go all in and go really deep, kind of whole hog, it's sort of my personality. My kids seem to respond well to that. So instead of, say, doing picture study on Monday and Shakespeare on Tuesday and geography on Wednesday, that's what we would do in Morning Time, I would tend to do just one of those things every single day until we were done with whatever we were going to do. So, for example, for the picture study we would do our Doxology, we would do our morning prayers and we would do a picture study from Monet every single day for, I can't remember, I think it took us 2-3 weeks to get through that whole Monet picture study. Then we were done. Then after that we were reading an Advent book called, Bartholomew's Passage so for Morning Time we would do Doxology, we would do our prayers, and then we would read a chapter from Bartholomew's Passage which was our religious book for that period of time. We would read it until it's done. We would read it every day until it was done. So we also have some plans for the rest of this year for Morning Time to read The Taming of the Shrew so when we do that, we'd do exactly like I said before, Doxology and prayers and then we'll do The Taming of the Shrew every day until we're done with The Taming of the Shrew. So I tend to pick one thing and we do it from beginning to end and then we move onto another. So I have a plan at the beginning of the year. I want to do a Shakespeare play, I want to do a picture study, I want to do a composer study, I want to read these three books for religious education, and so we'll just rotate those during Morning Time but we just do one until it's totally done. Oh, and I forgot! We also do memory work. I completely forgot to say that. We also do memory work, we memorize just very small amount compared to a lot of what other people memorize. Right now we're just memorizing The Sermon on the Mount, and so we spend anywhere between 3-5 minutes practicing our memory work during that time as well.
Pam: And you're memorizing one thing.
Sarah: One thing. In the past we have done lots of other things. We've done states and capitals, we've done math facts, we've done history timelines. This year, we're just doing The Sermon on the Mount, and so every day we start at the beginning and we just recite it until we get to the next verse that we haven't mastered yet and then we'll keep saying it every single day, we just recite it together. Actually our memory work is so simple. I just have it printed out for them and they look at it and recite it out loud, so it's not even where I'm asking them to chant it back to me without looking at it. We just read it out loud together every single day and I'm kind of astonished at how much kids put in memory in that very low pressure [**inaudible** 10:24] memorizing.
Pam: Yeah, that's another thing not to complicate. If you just keep reading it over and over and over you will eventually get it, and they're going to get it before you will.
Sarah: Yeah, exactly.
Pam: I love, love, love the simplicity of this. And I'm really, kind of, latching on to the whole do one thing until you're done with it.
Sarah: Well, you know, it's less to keep in your head, because you don't have to go "Where were we? It's been a week since we got to Shakespeare, where were we in the Taming of the Shrew, what was happening before?" and try to remember and there's good things that happen in our children's brains when they have to do that, you know, a little bit over a long period of time, but for my mama brain, it's enough to make it explode. It's just simpler for me to know that when it's Morning Time I need to grab our memory work and our read aloud and the one thing that we're working on and not have to, every single day, have to go look at a chart and remember what I need to grab, or grab the basket. You know, there's ways to simplify that. But for me, right now, it just needs to be very simple to focus on one thing.
Pam: I'm hearing this collective sigh across all of podcast listendom and they're just going, "Oh, we're going to do it like Sarah does it."
Sarah: The other really great thing that has come as fruit of that that I didn't really anticipate is that it lets my kids dive in a little deeper. So for example, when we were doing the Monet picture study, because we were so immersed in Monet for those few weeks, when we would go to the library, the kids would naturally ask me to pick out some books about Monet, or I would choose a DVD that's about Monet's art or whatever, and we'd bring it home and it just seemed like it was a little more immersive than it would have been if I had spread that Monet study all year. Maybe not, maybe we would have done that anyway, but I don't know. Maybe the deep dive into whatever that one thing is that we're working on, is a way that our family just seems to respond really well to.
Pam: Now, let's talk about those toddlers because you mentioned in your description there that you'd reach a point where the toddlers were melting down. So, you're sitting at the table with the three kids and I've seen pictures of your little binder. I think you've got a Periscope where you talk about your Morning Time and we'll link to that…
Sarah: I do, yes.
Pam: I know that they have little pages on a clipboard or something like that, and so, you're all sitting around the table, what are the toddlers doing?
Sarah: OK, well it kind of depends. I love having things set aside in a Morning Time box or a Read Aloud box, whatever you want to call it, that just comes out for those times of day when you know you want your toddlers to be busy. We have three toddlers, so in some ways that may be easier than having one because they have each other to play with, and in other ways it's not easier because …
Pam: they fight.
Sarah: Exactly. And then they don't share very well because they're two, and the whole nine yards. So things like a bin, has something like playdo or those color wonder markers or in the summer time we would put these paint brushes and these little bowls in a plastic bin and when it was time to read aloud we would take the kids out to the porch and I would read to them out on the porch and the babies would paint the deck with water. And they can do that for so long, I mean, it's ridiculous. They have so much fun. Because when you paint a brown deck with water it gets dark, so it's very satisfying for a toddler to paint the deck. And our deck is pretty big.
Pam: And it cleans the deck!
Sarah: Or earlier this year I went out and bought some brand new Melissa and Doug chunky wooden puzzles that only came out at this time of day, so they were just special toys. So that's my first preference, is to have a special toy or activity that only comes out at this time so that it's special. Even so, I only feel like that buys me about 15 minutes so we still have to keep our Morning Time really short. And then, in a pinch, and I'm going to whisper this so that your podcast listeners don't hear me but we will turn on the tv and go into the other room and let them watch A Signing Time or an episode of Caillou or something so we can get a good half an hour of Morning Time in.
Pam: I'm shocked! Shocked, I tell you! No homeschool mother has ever done that before.
Sarah: Exactly, certainly not talked about it on Pam Barnhill's podcast.
Pam: Oh goodness. OK, what about food? Do you ever use food?
Sarah: Oh yes! We do use food! In the summer my very, very favorite strategy is to put them in a high chair with popsicles, because they take, literally, a hundred years for a toddler to eat. They're a complete mess so by the time we'd get done with Morning Time I'd have to spray everything down but it was completely worth it. They were happy, they were busy, they were a complete sticky mess but it got us a whole Morning Time.
Pam: Right. And you're not necessarily, unless people think that you're toddlers are eating popsicles at 7:30 in the morning, you don't necessarily do Morning Time in the morning all the time.
Sarah: No, we don't. Right now, we are. So I always forget that we shift seasons so often, you know how it is with toddlers, things change so quickly based on naptimes and whatever. So over this last summer we were doing Morning Time in the afternoon, then we started calling it Symposium because I have a daughter who could not stand calling something "Morning Time" that was not done in the morning. But no, right now, lately we have been doing it in the morning, so no, I wouldn't give my kids popsicles at eight in the morning. Well, I don't know, I wouldn't probably be against it if it gave me a good 30 minutes of Morning Time.
Pam: I don't know that I would mark that box off either. I think I would keep that trick up my sleeve. It's fruit and water.
Sarah: Depending on whether I bought them or my husband did.
Pam: True. True. Well, let's talk a little bit about teaching from rest. How did the concept of teaching from rest come to be significant for you personally?
Sarah: Really, the whole idea of teaching from rest kind of took over my brain and the way I was thinking about education when I was pregnant with the twins, I was sort of overwhelmed by homeschooling in general, feeling like I was, kind of, a failure, possibly ruining my kids, feeling like I was really behind at the very least, and I remember the specific day that I had this big paradigm shift. I was cleaning my son's closet (he was eight at the time) pregnant with twins. As you're cleaning your eight year old's son's closet, you're probably in some amount of despair, so I'm totally overwhelmed, but just by all the burdens on the life of a homeschooling mother in general. And I hear Andrew Kern, from the Circe Institute tell Mary Jo Tate that the number one thing, if he could say anything to homeschooling moms, the number one thing he would say is that she should teach from a state of rest. And at the time, I thought that was just this laughable concept. This man has no idea what my life is like, because what does that even mean, and what does that look like in my home where I'm pregnant and I have four children and everybody needs more than I could give? But I was intrigued enough that I wanted to set out on this journey to figure out what that might look like, if it was possible what would it look like? And so, I began writing and thinking about teaching from rest, and that's where the book came from. And really, what I found is that one of the most important tools for me to be able to teach from rest or to teach without anxiety, to teach without the constant worry that everything is slipping through the cracks and that the success of whether or not my children turn out to be capable, competent human beings completely rests on my ability to homeschool them well, one of the tools that has been most effective in order for me to let go of that stress and take on more peace and calm in my homeschool is Morning Time because it gives a form and a structure, an ability for me to prioritize truth, and goodness, and beauty, these things that are so, so critically important for me to be able to immerse my children in every day. It gives a place in the schedule, it gives it a structure so it doesn't feel like this big elusive goal that I'm trying to do some, I don't know, esoteric philosophical thing like infuse my children with truth, and goodness, and beauty. What does that even mean?
Pam: Right.
Sarah: You know, it means showing them beautiful things, like beautiful pictures and beautiful music, and reading really wonderful stories, that's what it means, and so Morning Time gave that legs. It gave it an ability to be lived out in my very ordinary homeschool day, my very ordinary home. It's not anything that would look like the front of a Sonlight Magazine or catalog. My actual day to day life doesn't look anything like this picturesque view that I may have thought one day it would be. So in my very ordinary home with my very ordinary kids and I'm a very ordinary homeschool mom, not very impressive as far as what I do with my kids on a day to day basis, how do I make these big ideals fit into our ordinary life? And that Morning Time, I think, is how that's happened.
Pam: It's like it's a place to put those practices because we talk about truth, goodness, and beauty in this, really kind of, lofty way, and find it's something that's kind of difficult to define, but when you get right down to how are we going to make this happen? The practices that we use are what ends up going in your Morning Time.
Sarah: Exactly, exactly.
Pam: So that's good. How are the principles, or why are the principles of teaching from rest such an important message for our homeschooling families?
Sarah: Well, I think for so many of us we have this tendency to slide in one of two directions. I see rest as the virtue between two vices. So we have these tendencies to slide toward either negligence or anxiety, and I can slide toward either end of that spectrum. I think most of us tend to slide toward one or the other more often. So, what that looks like for me, if I'm sliding toward anxiety I'm starting to be a drill sergeant. I'm starting to freak out when my child is not making progress at a pace that I have decided they probably should. I've started to worry when I hear my fellow homeschooling mom friends talk about what their kids are doing and that they're reading a certain book or at a certain math level and my child's not there yet. And I start putting these undue pressures on my child and myself and my homeschool in general, to perform at a certain bar that doesn't meet them where they are or doesn't treat my kids as the images of God that they are. So it just sort of treats them as the, it's like the factory model. You know, I want you to be able to hit these certain benchmarks at these certain timeframes in order to be successful. And when I slip into that mentality, which happens regularly, I begin to teach from anxiety. I begin to make my homeschool decisions based on fear. So, the other end of that is when I slip toward negligence, which is the opposite end of the spectrum, I start to feel like "my kids are going to learn no matter what I do, so probably the importance of me setting out a curriculum or path for my children to follow is not that important." And I might just, kind of, letting things slide, and not be diligent about having them do their work consistently and lacking in discipline myself in order to do things like Morning Time or supervise their math or just get to those things when you don't feel like it. And I really see rest as the virtue between these two vices, or the way that we hold our self in balance between feeling like we're just throwing everything to the wind and hoping things come out OK or that we are really holding tight our illusion of control and that we have the power to make this all work or not.
Pam: OK, and so, for you, Morning Time is kind of a place that helps you maintain that balance between those two vices?
Sarah: It does. And the other thing it does, I think a huge piece of what it does is that it simplifies what could otherwise become very complicated. So, in my mind when I think 'what is the most important thing for us to get to on any given day?' For us, in our homeschool, it's math and time for everybody to read, and then Morning Time, because in the context of Morning Time I can infuse my children with all of these beautiful ideas. You know, Scripture and poetry and Shakespeare, or reading Life of Fred and getting a little bit more conceptual or playful in our math learning, or fun poetry, or just more delightful things. Where those might slip off the radar, or lose their place in a schedule when things get kind of busy and chaotic, Morning Time holds them in a place, you know, it holds a place for that in our day and helps us remember that homeschooling is more than just getting proficient in math and reading and writing. It's so much more than that. So I think it kind of helps us make learning a life.
Pam: You said something in the book. You said that "passing on the faith to my kids arguably the entire reason I educate my children at home in the first place gets squeezed out of the schedule." So you were talking about, kind of, the daily grind. And you were talking about "those experiences that shape my children's souls and order their affections gets set aside. What do I do about it? Two words: Morning Time." So, this is really where that ordering of affections and the transferring of the faith to your children, that's where that happens as well?
Sarah: Yes. I really think of Morning Time in our home as a place where first things come first. So, Cindy Rollins has talked about Morning Time as a liturgy of love, and I think it's a place where I try to order my children's affections; it's where we read fairy tales, it's where we sing hymns or songs of our faith, it's where we memorize Scripture and all those things that I know that 20 years down the road I would look back and go, "Why didn't we do more of that while we had the opportunity?" Well, you don't do more of that when you have the opportunity because there's also laundry, and dinner, and kids that are two grades behind in math, and it's all kind of stressful. And so, having Morning Time as a place where you put those first things first, no matter what the state of the laundry or the math or the crying baby, is really, really helpful from a practical perspective.
Pam: Now, I just want to point out we talked a little bit about what your Morning Time looks like now and how super simple and streamlined it is, mostly because of the toddlers, but in the past you've had, I don't want to say a wider feast because you're still spreading a wide feast for your kids, but you had, I guess, a Morning Time with more moving parts.
Sarah: More moving parts and a lot longer. We would actually, at one point when it was just the three older kids, I think I was pregnant with Clara [**Claire?** 24:26] at the time so we didn't have any toddlers running about, we would start our day with Morning Time, before we had breakfast. Everybody would, kind of, stumble out to the living room, in our pajamas (myself included!) and we'd all get coffee or hot chocolate or whatever, and sit down, and I'd start with our read aloud. And for the next two hours, and breakfast would kind of get woven into that, for the next two hours or so we would read aloud from a very wide variety. So we'd read 20 minutes from our liturgy book and we'd also do some memory work, we'd also do some Shakespeare, we'd also do some geography, and we would do a lot more because we had a lot more time; it just ended up being a bigger place holder in our day. And I do miss that. I loved doing that. I know that is not my season right now, so we're making Morning Time work in a way that fits with our family season now. But, I loved that, and it still had the same function of being the place holder for those things that are so important that I don't want to slip through the cracks and a place to put first things first.
Pam: I think an important point is either version of Morning Time can be a way to teach from rest, even though doing the short version is restful, but doing the long version can be just as restful as well.
Sarah: Exactly. In a lot of ways I think a longer version can be more restful because you don't feel like 'we only have 20 minutes before everybody breaks down so we've got to get it in!' but a short version can be restful insofar as you feel like, 'I know I'm getting to the most important things' so I don't know, I know I've talked to so many homeschooling moms who are done with homeschooling or have gotten a few of their kids have graduated, so they've got this perspective that the rest of us don't have yet, and I just know that the things they wished they had gotten to, if they could tell themselves 20 years back, "spend more time reading aloud," "spend more time doing poetry," "spend more time having your kids narrate back to you," things like that, those are the things that fit so naturally into Morning Time and Cindy Rollins has been a huge encouragement to me in saying that was the most important thing she did in her homeschool, and so that's been really, really helpful to me to remember.
Pam: OK, now I know, we're going to take reading aloud off the table because we're going to talk about that in just a few minutes, but, are there any other specific Morning Time practices that you have found really can be useful to restful teaching?
Sarah: OK, so the other things that I think fit really, really well, I almost always do our religious education during Morning Time. My kids do very little religious education outside of what we do in Morning Time, outside of just living out our faith. You know, going to Mass, and all the normal things we do to live out our faith, but Morning Time is where we get our religion in; that's where we read about it and learn about it and talk about it in a more schoolish way, I guess, or in a more organized way. So that's one of the things I would say is a big, big piece of our Morning Time always. And then my very favorite thing to put into Morning Time is Shakespeare because I just love, love Shakespeare, so that's another no-brainer for me. We always have to do some Shakespeare every year and Morning Time is the very natural place to put that.
Pam: Let's talk a little about reading aloud and how that looks in Morning Time, because I know reading aloud is your big pet project. How does reading aloud in Morning Time look different than other parts of the day for you, or does it even look different?
Sarah: It doesn't look all that different. Reading aloud is a huge, huge piece of our family life so we are always reading from some kind of literature. And it doesn't need to be classic literature, I just mean some kind of fiction that our family is enjoying together. Right now, we are reading what we've been reading forever, we just keep reading so many different things that we can't quite finish this book, it's so good though, On the Edge of the Dark Sea of Darkness, which is Wingfeather Saga number one by Andrew Peterson, completely delightful. So we'll read a little bit of that everyday and sometimes we fit that into our Morning Time reading and sometimes we fit it into our other time of day read aloud. Sometimes, Morning Time read alouds I ask them to narrate back to me but that is not actually something I have made a regular part of our Morning Time, so it's kind of, sometimes we do it and sometimes we don't. We talk about books all the time in our family in a really organic, conversational way throughout the day so structured narrations haven't been something that we've made a big, big piece. If I was going to do a structured narration or if I am going to do one, I generally put it in with our Morning Time read aloud. But honestly, the read alouds we do for Morning Time and the rest of the day, just kind of looks very similar.
Pam: OK, so there's not like a special read aloud just for Morning Time? You're likely to pick up anything that you've got going and read it at that time?
Sarah: Yes, except that our religious read alouds always happens during Morning Time. They pretty much never happen outside of Morning Time so. For example, during Advent we'll read Jotham's Journey or Bartholomew's Passage, during Lent we'll read Amon's Adventure. We liked reading, Life of Our Lord for Children, which is stories of the life of Jesus. Earlier this year we read, My Path to Heaven, Saint Stories, things like that. Those always go in Morning Time, and so I guess I should amend that and say that literature read alouds happen all the time. They happen in Morning Time, they happen outside of Morning Time. But read alouds that are happening as part of our schoolish curriculum, like religious, or if I was going to read a book that correlated with something we were learning in science, or if I was going to read a biography of a mathematician (we have these great mathematician biographies that you turned me onto a while ago), we'll read those during Morning Time.
Pam: And that's … oh, now I can't think of the name of them.
Sarah: Mathematicians Are People Too is the first one.
Pam: That's it.
Sarah: I can't remember the author.
Pam: We'll link to them in the Show Notes. OK, so you do sometimes read some non-fiction and that would typically find its way into Morning Time?
Sarah: Yes, you're right.
Pam: OK and then what about discussion of what you're reading? So, you're basically using your five questions that you have available, it's the Quickstart Guide to Great Conversations with Your Kids About Books?
Sarah: Yep! The Quickstart Guide to Great Conversations with Your Kids About Books there are five questions I use, pretty much always to have good conversations with my kids about books, whether I've read that book or not, I've found just a couple of open-ended questions to be super effective to opening up great conversations with my kids. It can be about a picture book, it can be about Cat In The Hat or it can be about something my 14 year old's reading, and I can use the same questions to think on my own about something I'm reading, Anna Karenina, or something, it's just amazing, a really good open-ended question. Let me give you an example. So a question like, "Who was the most [blank] in this story?" And you can put any adjective there. So my son recently finished reading, My Side of the Mountain and so I asked him, "What was the most courageous thing? … Well, at first I said, "Who was the most courageous in this story?" but there's only one character in this story so my son looked at me like I was crazy. So, I changed it. He said, "There's only one character, mom." "Oh right! What was the most courageous thing that Sam did in this story?" And whether or not I've read the book, sometimes I actually think the better conversations happen when I haven't read the book, because then my child doesn't feel like I'm drilling or grilling him to find out if he really read it, he thinks I'm asking because I'm interested, because I haven't read it, so I am just really curious, "what was the most courageous thing that Sam did in that story? Tell me about it." And when I'm asking questions it's because I'm curious and I don't already have preconceived answers that I want him to spit back to me. So it ends up being this really casual conversation. So, we will tend to do those at dinner, in the car, as we're folding laundry, and occasionally we'll do those in Morning Time, but sometimes when I open up a question like that, I don't want to cut it off at 15 minutes, we want to just keep talking and everybody just wants to have a chance to say something, and so because our Morning Times are so short, I don't do it all the time during Morning Time, actually I don't do it very often, I should say, during Morning Time. It's more often that we would ask those questions, kind of, in a context of just normal daily life.
Pam: Right, but a family who is able to do a longer Morning Time, like your older Morning Time used to be, that would be a good place to use those questions.
Sarah: Definitely! Yes, definitely! Especially if you end up timing your Morning Time with some kind of snack, or tea or something like that, or everyone's just lounging round the couch and you can just ask an open-ended question, like "Who was the most courageous in this story?" "Who was the most wicked in story?" "Who was the most [use any adjective at all that you can think of] and ask that question and find out what everybody thinks, and then ask them to explain why they think that, and a longer Morning Time would be a fantastic place to put that.
Pam: Well, how can I avoid making Morning Time just one more item on my already long to do list?
Sarah: That's so tempting, it's defaulting that we fall into. I think make absolutely certain that you have things in Morning Time that light you on fire. So, don't just put things in Morning Time that you think you should be doing, don't just put things in Morning Time that you feel guilty that you're not getting to, put those in there, that's good, but also make sure that at least one thing every day is something that you're doing just for the sheer joy of it.
Pam: And you know, I don't know that a mom needs to necessarily, if she really doesn't like, let's say, classical music for whatever reason, you know you just come across somebody 'I just don't care for that' I don't see any reason in the world why you wouldn't leave it out and at some point down the line find somebody else who could meet that need for your children.
Sarah: Exactly! One of the things that I've really realized lately is that my job as a homeschooling mom is not to teach my kids everything, but it is to help them keep their wonder or inspire wonder and awe, and I can't always do that, and a good example of this in our home right now is math. I have realized I have not done a very good job of inspiring wonder in my children in math. And instead of beating myself up over it, or feeling like 'we're going to do living math in our Morning Time because I need to be inspiring wonder in my children in math' I hired a math tutor who comes and does that for me. And instead, I can use Morning Time … we don't even do any of that during Morning Time, we don't do any math during Morning Time, we don't drill facts or read living math books for the most part, none of that during Morning Time, I do things that kind of light me on fire, other things that are really important to me, and then we off load math in another way; my husband could do it, or anyway, there's lots of different ways to tackle things, but I do think that idea that we have to do everything ourselves, even things that don't light us on fire, there's a difference between saying, "Now, I know this is important. My child should get this somehow" versus "I have to do it myself and I had better love it all along the way."
Pam: We need to make a t-shirt that says: Don't Be a Morning Time Martyr, you know.
Sarah: Exactly!
Pam: I'm loving this. Do the things that light you on fire so it doesn't become something on your to do list, you know, because then you're going to really inspire that wonder in your kids and they're going to get onboard with it. And then, the rest of it just find a way to outsource it later. You know? I'm sure there'll be a classical library or documentary they can watch that's well done, or somebody you meet along in life or something who can work on that with them.
Sarah: Exactly. And it's tempting to use Morning Time as a way to fit in all the things that you're feeling guilty that you don't get to, I would just say that's not a bad thing, it's just making sure that you're keeping it so it's actually something you look forward to. Our kids pick up on our attitudes so much. You know? I can fake it all I want, my kids are totally onto me. And so, I have to be really careful to make sure that I'm at least infusing our school day with something that really, honestly, authentically delights me so that they see me getting excited about life and learning.
Pam: And I think we're constantly sending messages to our kids. And so, we want to send the right messages about Morning Time, read aloud time, whatever the case may be, and enjoying it, I think, is the way to do that.
Sarah: I think so too.
Pam: Well, Sarah, tell everybody where they can find you online.
Sarah: The best place to find me is at sarahmackenzie.me, that's where you'll find my blog and you can get to the Read Aloud Revival podcast, which is my big project there. And, of course, on Facebook, I'm Read Aloud Revival there.
Pam: And we'll put a link to the wonderful Teaching From Rest in the Show Notes of this so everybody can go check that out, and I just thank you so much for joining me today.
Sarah: Well, thanks for having me.
Pam: For today's Basket Bonus, we have a couple of great little things for you. First of all, we have a printable list of some of Sarah's favorite Morning Time books. You can get that by heading on over to the Show Notes at EDsnapshots.com/YMB12 and as a special second bonus for you today, the wonderful folks at Classical Academic Press, the publisher of Teaching From Rest have given us a special discount code, so if you don't have your own copy of the book, now is the time to get it. You can use the code SarahYMB20 to get your very own copy of Teaching From Rest or Teaching From Rest along with the companion journal. You can also use the code on all products at Classical Academic Press with very few exceptions. This includes their wonderful Latin programs and writing programs and other curriculum that you might be looking to buy for next school year. So, if you head on over to the show notes, that's EDsnapshots.com/YMB12 you can get the discount code, all the details about the discount code and links to Teaching From Rest and other great things at Classical Academic Press. But hurry, because the code is only good through February 29, 2016. And there you have it, another fun show in the books. Thank you so much guys for joining me here today to chat a little bit about Morning Time. And hey, for all of you guys who have taken the time to go over to iTunes and leave a rating or review for the Your Morning Basket podcast, a big special thank you for you too. I really appreciate you taking the time to do that, the more positive ratings and reviews we have over there the more people that iTunes will show the podcast to. It helps us get the word out and helps other people teach using Truth, Goodness, and Beauty in their homeschool day. I'll see you next time.
Key Ideas about Teaching from Rest with Morning Time
Rest can be seen as a median, or mid-point, between two vices: anxiety and negligence. When we ground ourselves in a state of rest, we are avoiding the state of frenzy that comes from worry over not "doing enough," and also the state of complacency that comes from not being diligent and self- disciplined.
Morning Time is a key practice than can allow us to teach from rest. During Morning Time, we have an opportunity to set the tone for the day, put first things first, and help our children rightly order their affections.
Morning Time can (and should) take different forms during different seasons of family life
Find what you want to hear:
3:50 how Sarah got started with Morning Time
6:51 a description of Sarah's current Morning Time
8:00 going deep with one subject rather than rotating subjects
9:27 Sarah's simple strategy for memory work
12:20 what to do with toddlers
15:10 Morning Time at other times of day
15:57 an overview of teaching from rest
17:21 Morning Time as a key tool for teaching from rest
19:30 rest as the virtue between two vices
21:43 Morning Time as a simple way to put first things first
24:08 a longer version of Morning Time
26:30 specific Morning Time practices that are conducive to teaching from rest
27:21 reading aloud in Morning Time
30:05 discussion questions for read alouds
32:58 putting at least one thing in Morning Time just because you love and enjoy it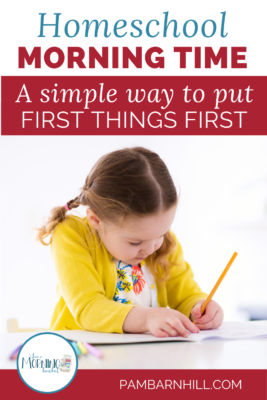 Leave a rating or review
Doing so helps me get the word out about the podcast. iTunes bases their search results on positive ratings, so it really is a blessing — and it's easy!
Click on this link to go to the podcast main page.
Click on Listen on Apple Podcasts under the podcast name.
Once your iTunes has launched and you are on the podcast page, click on Ratings and Review under the podcast name. There you can leave either or both!
---
Thanks for your reviews