YMB #21 Why Shakespeare? A Conversation with Ken Ludwig
Shakespeare. Whatever feelings you have about the Bard, we can all agree that he was the most influential English writer in history. But why should I bother with Shakespearean language for my littles in Morning Time? Won't there be plenty of time for that when they are older?
More importantly how would I introduce such a daunting mass of literature? What if I don't know much Shakespeare myself? What if I don't even think I like Shakespeare?
Ken Ludwig is a playwright and father who has an infectious love of Shakespeare. He began sharing his love with his children at a very young age. Recently he published How to Teach Your Children Shakespeare, a book detailing this surprisingly simple way to teach the Bard's great works to our children.
Come and enjoy as Ken tells us why and how we should teach Shakespeare, as well as how we can handle the harder concepts. Most importantly, Ken encourages us to push past our fear and enjoy Shakespeare in our Morning Times.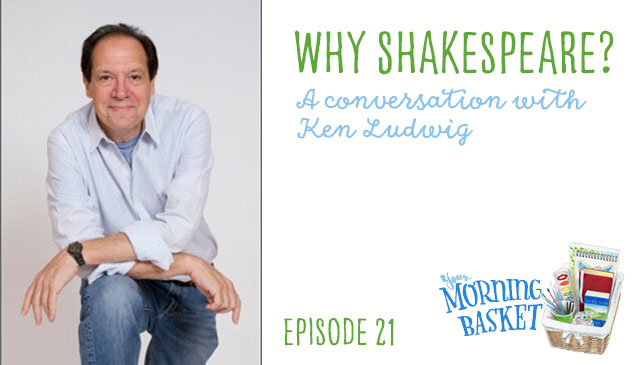 [thrive_lead_lock id='33086′]
Basket Bonus YMB 21
Click here to get the Basket Bonus for episode 21, Shakespeare's Worthy Ideas.
[/thrive_lead_lock]
Leave a Rating or Review
Thank you for your interest in leaving a rating or review for Your Morning Basket on iTunes. Here's how you do it:
Click on this link to go to the podcast main page.
Click on View in iTunes under the podcast cover artwork.
Once your iTunes has launched and you are on the podcast page, click on Ratings and Review under the podcast name. There you can leave either or both! Thanks so much.