YMB #26 Carol Reynolds: Integrating Subjects
It is a question English Moms and Math Moms both dread, "What about the arts?" How am I going to help my child appreciate and love beautiful art, music, and dance? Why should I even bother? Why is this so important when the crowd is clamoring STEM?
Prof. Carol Reynolds is here to answer your questions and more. She is passionate about art, music and how it defines a culture. We are reminded that our children are very expressive beings who naturally find joy in creativity and admire beautiful things.
She encourages us with practical advice on how to help our children keep their natural tendency for creative arts, how to integrate the arts into our everyday lives, into every subject we teach, and how to do this all without a strong arts background ourselves.
With a gentle reminder that the goal is not to produce an artistic prodigy, but someone who appreciates and can discern the beauty in the arts. She also assures us that this can be done without spending gobs of money on lessons or resources but simply by asking the question, "Why is this beautiful, or ugly." With humor and warmth, Prof. Carol makes the arts sound not only doable for the average homeschool mom but absolutely essential.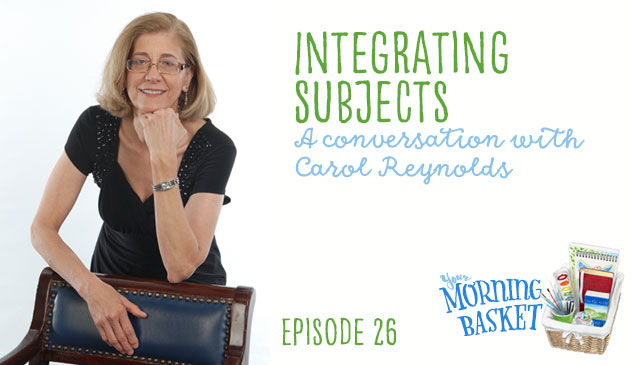 Links and resources from today's show:
 A Whole New Mind: Why Right-Brainers Will Rule the Future
 Discovering Music
 America's Artistic Legacy
 Imperial Russia
 Early Sacred Music
&
&
Leave a Rating or Review
Thank you for your interest in leaving a rating or review for Your Morning Basket on iTunes. Here's how you do it:
Click on this link to go to the podcast main page.
Click on View in iTunes under the podcast cover artwork.
Once your iTunes has launched and you are on the podcast page, click on Ratings and Review under the podcast name. There you can leave either or both! Thanks so much.