YMB #27 Mere Motherhood: A Conversation with Cindy Rollins
We wrap this season of Your Morning Basket up with an interview with Cindy Rollins. Cindy has experienced the joy of Morning Time with all of her now grown children. In this interview, we talk a little bit about Morning Time, a little bit about Mere Motherhood, and a little bit about real family life. 
Cindy is no stranger to the messiness of homeschooling, and she shares some of what she has learned in a way that is both humble and encouraging for other moms to hear.
We delve into using your philosophy of education as a tool, the importance of appropriate education in the little years, and how a remembrance of the past is quite possibly the most important thing for your Morning Time.
If you need an encouraging look into what it looks like to be towards the end of the long haul of homeschooling or a refocusing on what is truly important in your family life, grab a hot beverage, breath deep and listen. Cindy's warmth and frankness are sure to bless you.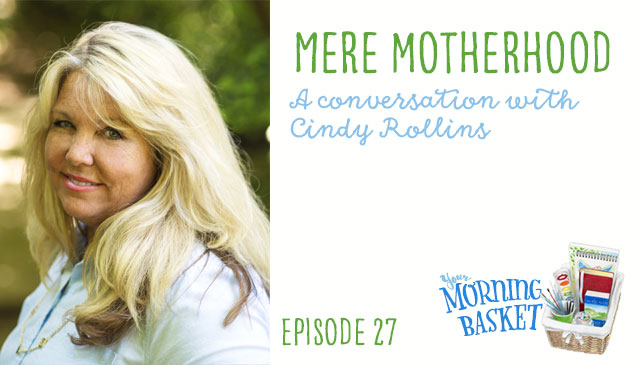 Links and resources from today's show:
 Mere Motherhood
 A Handbook To Morning Time
 Beauty in the Word: Rethinking the Foundations of Education
&
Leave a Rating or Review
Thank you for your interest in leaving a rating or review for Your Morning Basket on iTunes. Here's how you do it:
Click on this link to go to the podcast main page.
Click on View in iTunes under the podcast cover artwork.
Once your iTunes has launched and you are on the podcast page, click on Ratings and Review under the podcast name. There you can leave either or both! Thanks so much.