YMB #32 Socratic Discussion and Leading to Truth: A Conversation with Matt Bianco
Over 2000 years ago Socrates used questioning techniques with his students to help lead them to truth. Today, homeschoolers are interested in using the same techniques for the same purpose — but they wonder how exactly to do it.
This week on the podcast Matt Bianco, Classical homeschooling dad and director of the Lost Tools of Writing for the Circe Institute joins us to explain what Socratic questioning is, why we would want to use it, and how to implement it in our Morning Time.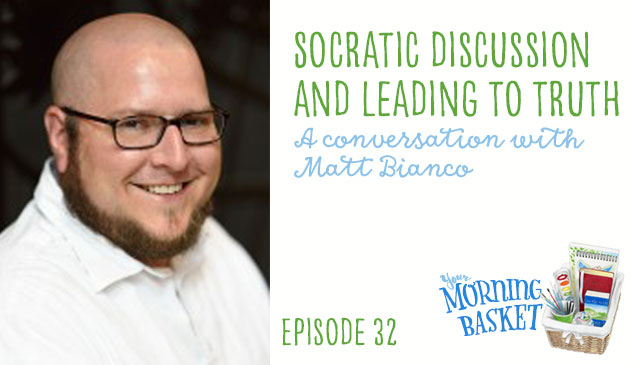 Leave a Rating or Review
Thank you for your interest in leaving a rating or review for Your Morning Basket on iTunes. Here's how you do it:
Click on this link to go to the podcast main page.
Click on View in iTunes under the podcast cover artwork.
Once your iTunes has launched and you are on the podcast page, click on Ratings and Review under the podcast name. There you can leave either or both! Thanks so much.