Start Your Homeschool Day With Delight
Resources and lesson plans that focus your family on Truth, Goodness, and Beauty
Start Your Homeschool Day With Delight
Resources and lesson plans that focus your family on Truth, Goodness, and Beauty
Learning is not about just checking things off a list
When your schedule is packed, it's hard to remember why you began homeschooling in the first place. You wanted to spend time shaping the character of your children and building strong relationships. Checking boxes leads to homeschooling that feels like school at home. You wanted more than an adequate education for your kids….
With a Morning Basket you'll finally get to the subjects you've always wanted to do
Learn and Laugh Together
Try our sample Month of Morning Time ready-made plans.
We've chosen the artwork, poems, books, music and more. You can open and go because we've done all the hard work for you.
Choose from the block or loop schedule — pick the one that best meets your needs. Tips, tutorials, and morning time resources delivered right to your inbox will help you make the most of your plans.
You can have joy in your homeschool
Choose your tools
From full sets of themed lessons, to mix-and-match resources, to live events, we have pulled together everything you need to start a Morning Basket.
Get the help you need
We are here every step of the way with answers to your Morning Basket questions, tutorials, and community to help you make this new habit a reality that sticks.
Inspire a love of learning
Watch your kids delight in your new homeschool subjects and beg for more. You might even find yourself learning new things you love.
Have the homeschool you've been longing for
Combine students for the most efficient
use of your precious time.
Grow closer through shared reading, discussion, and memorization.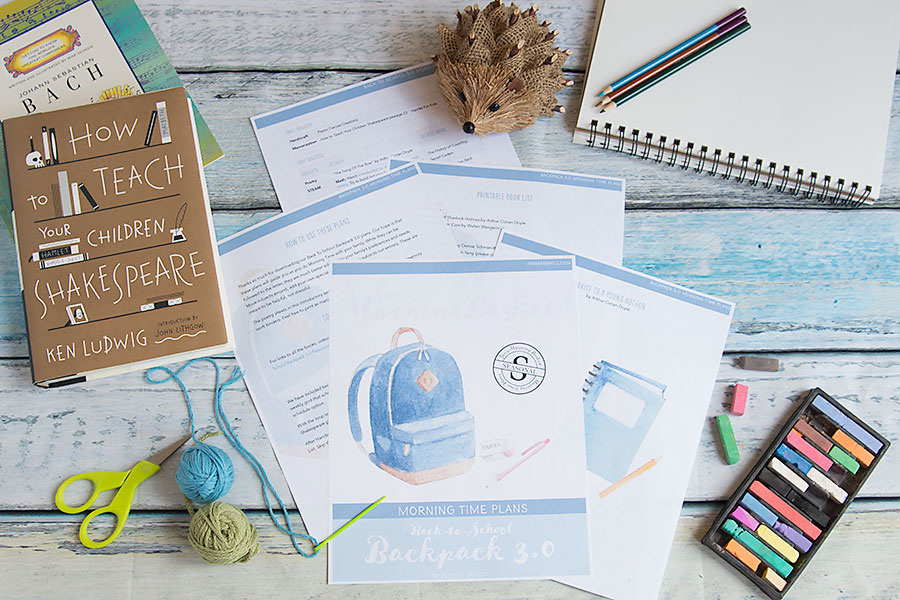 Savor the subjects that matter most
Create space for the art, music, poetry, and read alouds you've always desired in your homeschool.
Before I started homeschooling I had a vision that our days would be full of fascinating read alouds, nature study, hymns and poetry, the arts, and sketching in journals. Then I got bogged down in phonics and math facts and there never seemed to be time for any of the many pieces of my homeschool dreams. When I learned about Morning Time (aka Morning Basket) everything changed. I knew I had to have this in my life. It gave me a place to collect all those small subjects giving them weight in my day, and combining my kids gave me the time to fit more in. Not to mention that we loved learning together instead of juggling time spent between kids or hunched over individual lessons. Fast forward eight years and now I want you to experience the joy and satisfaction a Morning Basket can bring as well.
"I am loving, loving, loving your emails!! We have incorporated many of your ideas into our mornings, and it has changed our entire homeschool feel! The kids are so much more relaxed and "together" (and so is Mom!). A hundred thank yous and hugs."
"I'm a second-generation homeschooler. When I was a kid I learned to eat the frog first, and that's a fine approach. But Morning Time gives us a great way to start off the day. If we're running on a tighter schedule, and we skip Morning Time, I've noticed that the attitudes are a little more abrasive. Morning Time's filled with stuff that you may not otherwise fit into the day, and my kids love it."
"This is our fourth week of using the Fall plans and I cannot adequately convey what a TRUE blessing they have been. They have added joy to the routine! They have added beauty! I am actually getting some music appreciation and picture study in regularly! Thank you, thank you, thank you! Thank you for sharing your wisdom and organizational gifts with people like me."
Join hosts Pam Barnhill and Dawn Garrett as they revisit a classic episode of "Your Morning Basket" with Sonya Shafer, a homeschooling veteran, speaker, and writer specializing in the Charlotte Mason style of education. In this flashback episode, Sonya...
read more
Begin your Morning Basket today.
Join over 45,000 other families enjoying more than an adequate education.
Once-weekly emails with inspiration, tips, book lists, and resource ideas.