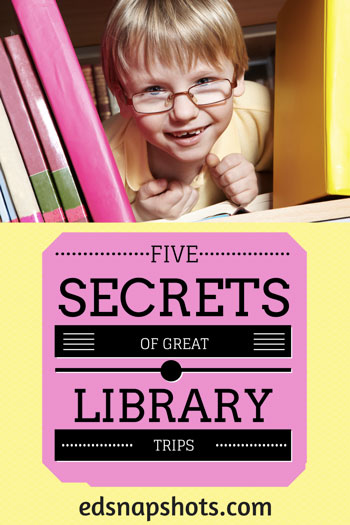 PinThis is part of the Traveling Through the Pages Summer Reading Adventure. If you haven't downloaded your printable goodies it is not too late to get started!
We went through a long, dry spell where we did not go to the library at all. I had a two-year-old, four-year-old, and six-year-old and frankly it was just not enjoyable to do.
I couldn't look for books, the kids were distracted by everything shiny the library had to offer (everything that was NOT a book), they wanted to run down the stacks and NOT be quiet. It was a long, dry spell, and I suffered no small amount of guilt for it.
I am happy to say, though, that a couple of things have changed. First, my kids have gotten much older — now they are 4, 7, and almost 9 — which helps tremendously, and I have had a bit of an attitude adjustment about the library.
It has made all the difference in the world. How did we do it? Here are five tips that helped us turn our library experience around.
Make library trips regular
In a way taking kids to the library is a bit like taking them to church. Even though it can get loud and crazy, the more you do it, the faster they will learn how they are expected to act, and they will improve.
Regular library visits are something the kids begin to look forward to and depend on. They know the day of the visit, so they begin mentally filing away topics for research or anticipating their next read.
Make library trips with kids a priority.
It is so easy when life gets busy to put off the visits week after week, but by keeping them part of the routine, it sends the message that reading is important.
t
You can read or listen to this post.
The message we send about reading is often subconscious. While it is easy to give lip-service to the importance of reading, or to require it, a true love of reading will be built on the messages we send about reading without even meaning to.
Do we sit and read? Are there books in the home? Is going to the library regularly something to be treasured or the thing that always gets pushed aside for other things on the calendar?

Get everyone their own card.
Oh I can hear you now. Yes, I know it is a bother to keep track of so many cards and receipts and fines, but it has made a huge difference in how my kids view the library and checking out books.
They LOVE to take their stack of books to the counter and check them out with their card. It gives them ownership over the process and over the books they check out.
One tool you can use to track books on multiple cards is Library Elf. Sadly, my library is not supported, but yours might be.
Take advantage of library activities.
I fought this one for the longest time. After all, what did board games or Lego play have to do with checking out books? What I have discovered, though, is that my kids LOVE these activities. Participating makes the library a super-fun place to visit, and one they ask to visit often.
And after the Lego club is over, the games are put away, and the puppets are done, then they are always insistent we grab a few books before we leave.
Even when there is no special event going on, we never plan a short visit to the library. We like to go and hang-out, play with the toys in the kid's area, read a board book or two, and meet a new friend when we can.
While we are doing all of this, we wander in and out of the stacks whenever a new topic of interest lures us. It's relaxed and relaxing — we make ourselves at home.
Get to know your library staff
As soon as my kids are old enough to willingly talk to strangers, I begin to foster a relationship between them and the librarian. When they want a book on a specific topic, I encourage them to go ask the librarian for help — even if I could find it myself. I want them to be comfortable working with the librarian and to realize what a helpful resource she is.
I also spend time in conversation with the librarian talking about topics we are studying in our homeschool and my standards for our family reading. By letting her know more about us, it helps her to make good suggestions to me or the kids when we ask for help. A sincere "thank you" also goes a long way to fostering a helpful relationship as well.
The library with young kids is never easy, but I contend it is always worth it. I want to raise kids who see the library as a resource and a fun place to be. That makes it worth all the effort.