Most of us begin our classical education journey like this: at some homeschool conference we stumble into a talk that sounds interesting by Dr. Christopher Perrin or Andrew Pudewa.
Excited about all the wonderful things we hear and learn, we quickly attend every classical session at the conference and purchase a few difficult to read thought-provoking books.
We are enthused! We are excited! We are going to teach our children truth, goodness, beauty.
And Latin.
Oh crap.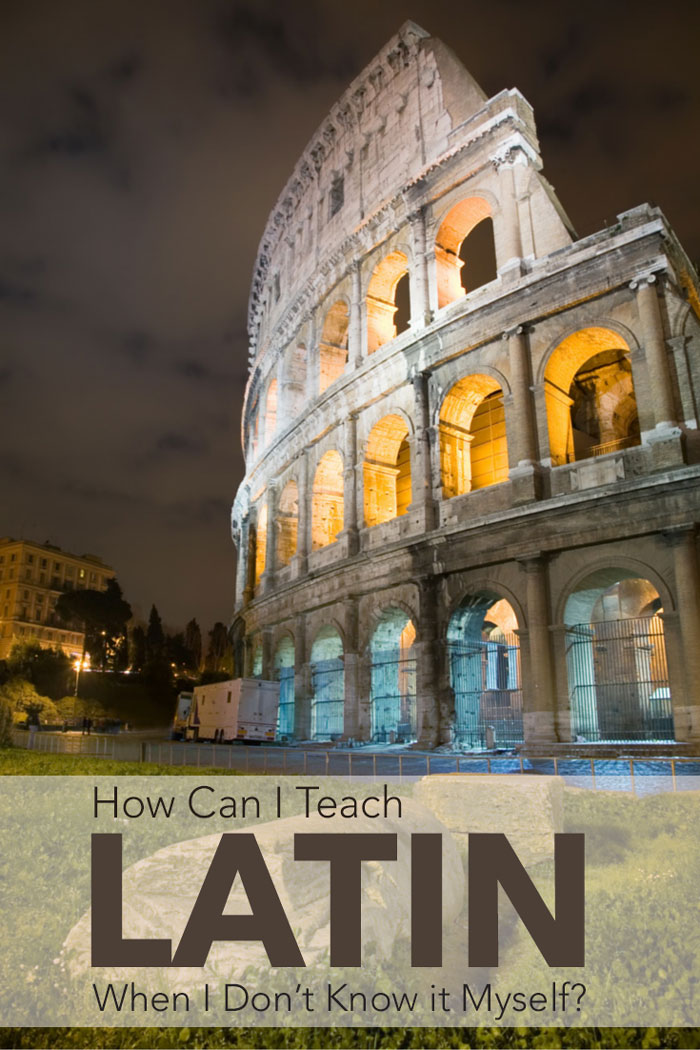 Pin
I can hear you now, because I was exactly the same way. I strongly believe in the need to learn Latin, and yet I struggle with the idea of teaching it. How am I supposed to impart Latin knowledge to my children if I did not have that knowledge myself?
In truth, that is impossible. At some point I will likely outsource the teaching of Latin in my home to a local tutor or one of the excellent online classes. For now, though, I have chosen to become a student of Latin myself, learning alongside my children. Here's how I am doing that.
Brush up on your English grammar.
One of the most important things you can do to prepare to learn Latin with your children is to do a little self-study of English grammar. If it has been years since you picked out a direct object in a sentence or studied verb tenses, then you will ease your frustrations greatly by doing a review.
One book series I highly recommend for foreign language students is English Grammar for Students of Latin
. I used the Russian edition of this book for my college Russian courses, and I daresay I learned more English grammar from that experience than any other study of grammar in my lifetime. The little books are packed with information, clear explanation, and examples.
Make it a family affair.
In our family, everyone is studying Latin except for Dad (hmmm… I may need to remedy that). The five-year-old mostly listens in on everyone else's lesson — in fact everyone listens in on everyone else's lessons.
John (7) does Song School Latin, but we have to quiz quietly or Thomas (5) yells all the answers out from the other room before John can get a word in edgewise. (Thomas is a much faster talker than Johnny. Much.)
Song School is a fun introduction to Latin vocabulary using words and phrases relevant to a young child. And the songs are awesome! Everyone loves to sing along.
Just recently Olivia (9) and I (none ya') started studying Latin together with Latin For Children Primer A. The program comes with DVDs that include kids chanting the Latin vocabulary and grammar, a video grammar lesson taught by Dr. Christopher Perrin, and a fun video tidbit that keeps kids anxious to watch to the very end.
Pin
Everyone in the room stops what they are doing to join in on the Latin For Children chants as they are played. Even the boys are chanting and storing those Latin bits for use later when they begin the program.
The chants in both programs also come on CD, so they can travel with you on your daily errands or to grandma's house.
Get help.
Did I mention that Latin For Children had a video teacher? I did? Well let me say it again, because that is my absolute favorite part of the program.
Dr. Perrin gives a whiteboard lesson of the grammar concept included in each Latin For Children lesson.  This gives me a good grasp on the concept so I can further explain it to Olivia as needed. Nothing gives a mom confidence like a little bit of knowledge and those DVDs really help.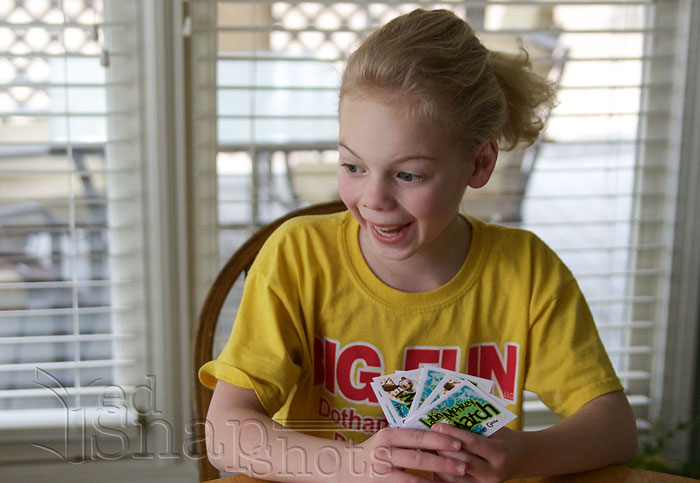 Pin
Have fun with it.
Both Song School Latin and Latin For Children were created by Classical Academic Press. CAP's tag line is "Classical Subjects Creatively Taught."  To say they take that very seriously would be an understatement. Some features include:
Engaging kids lead the Latin chants while using fun hand motions.
The LFC activity book includes puzzles, codes, and other activities that reinforce vocabulary and grammar concepts.
Headventureland.com, CAP's online Latin practice portal provides games for review. I love the fact that there are so many different ways that Olivia can repeat and review the information to solidly cement it before we move on with a chapter. She begs to do this one each day.
CAP's creative use of video, animation, and storytelling brings Latin into the 21st century and makes it cool.
Fun card games like Latin Monkey Match make review painless and enjoyable.
Seriously — everything I ever wanted in a Latin program and more.
I know there will come a time that between meals, laundry, and other lesson plans, that I will no longer have the ability to keep up with the Latin studies around here. Then one of CAP's online classes will beckon. For now, though, I am enjoying learning Latin almost as much as the kids are.
I received a copy of Latin For Children for review and evaluation. The opinions expressed here are my own.
Linked with Trivium Tuesday at Living and Learning at Home. Click over for more great classical posts.