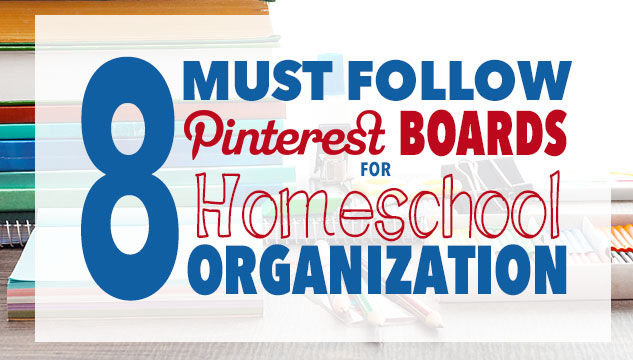 You know me. I love a good homeschool room redo, an organization hack, or sitting down to do a little planning. Tools to get organized make me happy, and sometimes I like to try out a new homeschool system even if ours isn't broken — just to see if it is better.
So I collect Pinterest homeschool organization boards like a dryer collects single socks. Here are some of the "must follow" boards I love to use to get the scoop on all the best ideas.
Homeschool Space
My own homeschool space inspiration board. Look way back to the beginning, and you can see the ideas I pinned when I was working on my space. Now the board has morphed into a general place to pin all the great homeschool space ideas I find.
Follow Pam @ Ed Snapshots's board Homeschool Space on Pinterest.

Learning Room Inspiration
Jen has six kids so she knows a little bit about clutter. Her learning room board is all about taming that clutter and organization. Love these ideas.
Follow Jen Dunlap's board Learning Room Inspiration on Pinterest.

Homeschool Planning
I know a thing or two about homeschool planning, but honestly there is always something new to learn. People have the best ideas!! I put the good ones I find on this board.
Follow Pam @ Ed Snapshots's board Homeschool Planning on Pinterest.
Simplified Homeschooling
What I love about Mystie's homeschooling pin board is her "please no glue" approach to homeschooling. You won't find any crafts here — only the best, simple, ideas for a quality education.
Follow Mystie Winckler's board Simplified Homeschooling on Pinterest.
Home Education – Planning
This board is a collection of planning ideas, tips and suggestions from moms in the trenches. And it has one of the best collections of printable planners I have seen online.
Follow Jen Dunlap's board Home Education – Planning on Pinterest.

Homeschool Organization
Tricia has a little bit of everything on this fabulous board. From workboxes to digital homeschool organization, this one covers the spectrum.
Follow Curriculum Choice's board Homeschool Organization on Pinterest
Workboxes and Busy Boxes
We use clipboards in our homeschool, but I am not ashamed to admit that workboxes geek me out a bit. This is one board that is so much fun for me to pin to. 😉 It also includes workbox alternatives and busy box ideas for keeping the little guys occupied while you do school.
Follow Pam @ Ed Snapshots's board Workboxes and Busy Boxes on Pinterest.
iHSN Homeschool Spaces
If you are looking for good ideas, the ladies of iHomeschool Network will get you pointed in the right direction. Don't miss this board by the best homeschool bloggers on the 'net.
Follow iHomeschool Network's board iHN Homeschool Spaces on Pinterest.
This post is part of the Pintastic Pinboards Round-up at iHomeschool Network. Be sure to click over for more great Pinterest resources.
Pin

Pin