Right now is about the time I look around my homeschool room and realize that things need a bit of sprucing up. The semester has been long and involved, and in the busyness of our school days things don't always get put away or cleaned up on a regular basis.
Now the spoils of our homeschooling litter the floor, and basically the place is a mess. Which means I am ready to take some time out to get reorganized.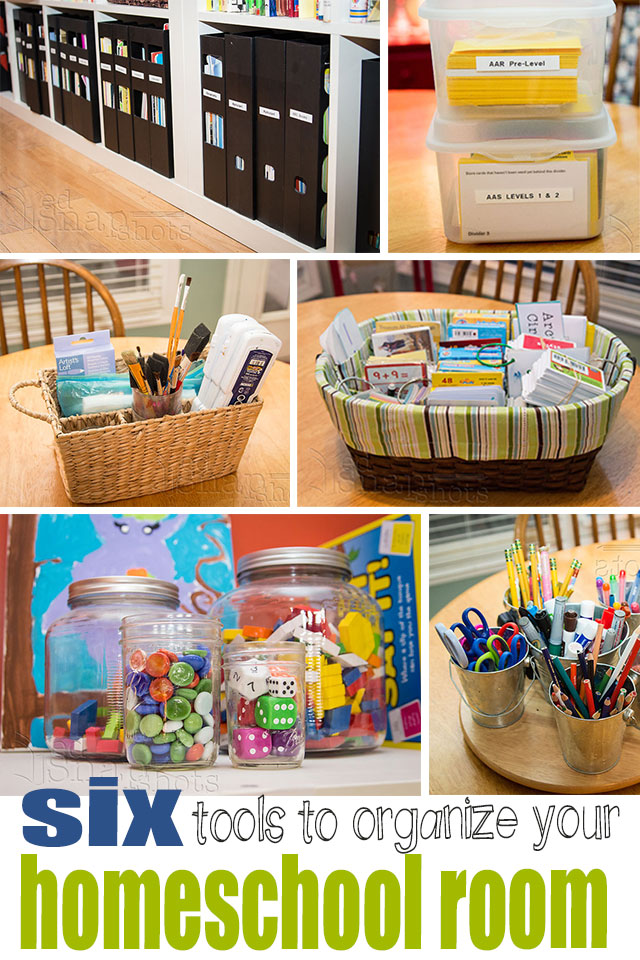 Pin
Every once and a while I like to take a good look around the room at what is working and what isn't working. For the things that are not working I come up with a few creative solutions. Right now I want to share with you a few of the organizational things that are working for us.
Six Tools for Organizing Your Homeschool Room
Picnic Utensil Art Caddy
This wicker picnic utensil holder is perfect for holding some of our smaller art supplies. Paint brushes, water cups, water colors, pastels and other art supplies we don't use daily fit right into the spaces of the caddy. It is compact and fits nicely under on our Ikea table shelves, easy to grab, and fairly easy to keep neat and tidy.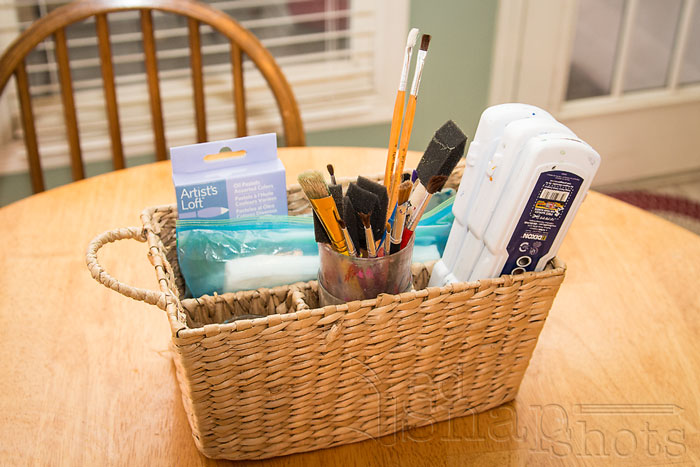 Pin
Glass Jars
I find glass jars in all sizes perfect for storing manipulatives, dice, and other small pieces. When stored in glass, the things I need are easy to find and become part of the room decor.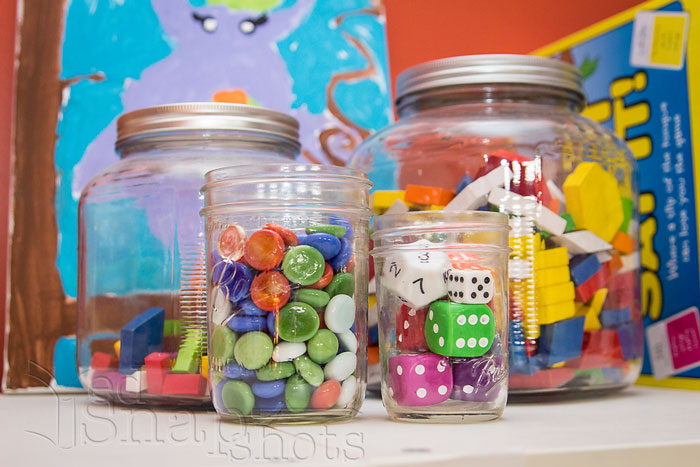 Pin
Magazine Holders
I have found no better way to store our large volume of thin picture books, and I have tried a few different methods. I sort the books by topic, put as many in the holder as I can, and label each spine.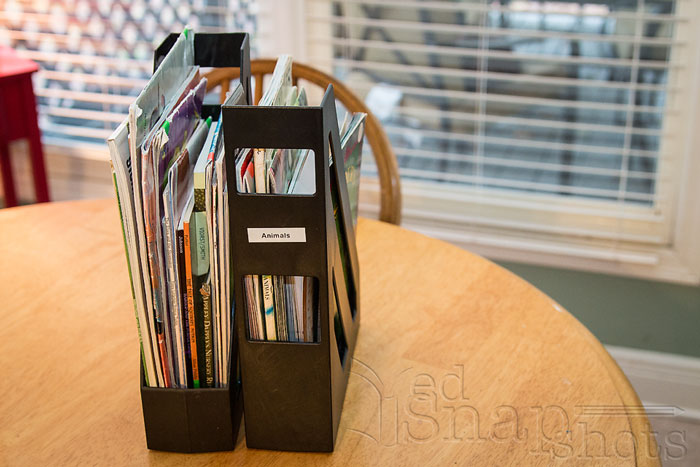 Pin
When I need a book I can reach down and move each holder to the table to thumb through. It usually doesn't take me too many attempts to find the one I need.
Pin
Diaper Caddy
Now I wouldn't suggest going out and buying one of these if you don't already have one you are no longer using, but I found our no-longer-needed diaper caddy perfect for storing our collection of cards of any kind — flashcards, art cards, memory work cards, etc. I rubber band the sets together and store them down in the various compartments. Then I slide the entire thing on the shelf.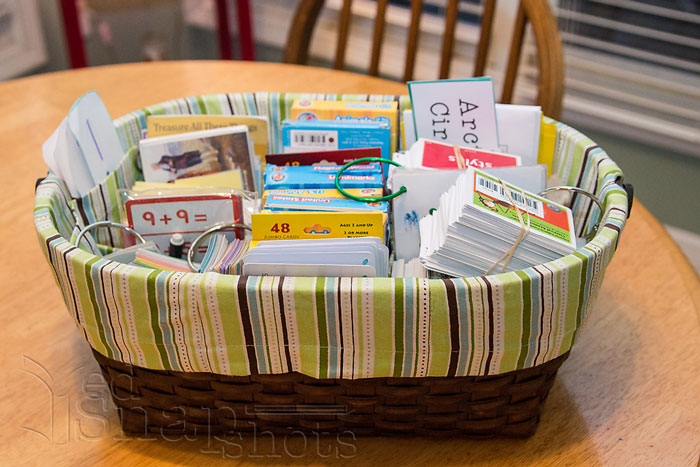 Pin
Baskets!
Shop around your house for these or look for sales at your local craft stores. I look for neutral colors and love a variety of shapes and sizes for different purposes. Ours hold videos and CDs, math manipulatives — basically anything you need.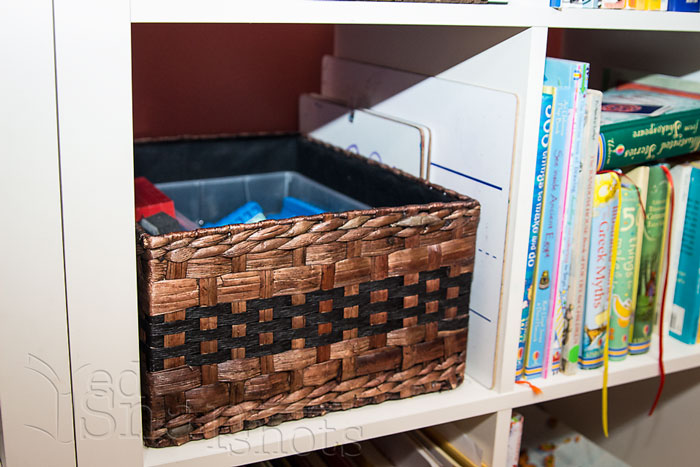 Pin
The beauty of baskets is that they cut down the visual clutter by storing a variety of things behind one solid surface. I also use them to store and group like things together — everything I need for morning time is in one easy-to-grab basket. Love it!
Buckets
These handy buckets come in a few different sizes and are usually pretty easy to find at the Target dollar spot. The colors you find will depend on the season you are shopping. I prefer the galvanized myself.
Homeschool materials are already so colorful. Neutral color storage containers help tone down all the busy in the room. We have buckets on the shelves with large erasers, manipulatives, small pencil sharpeners, and office supplies.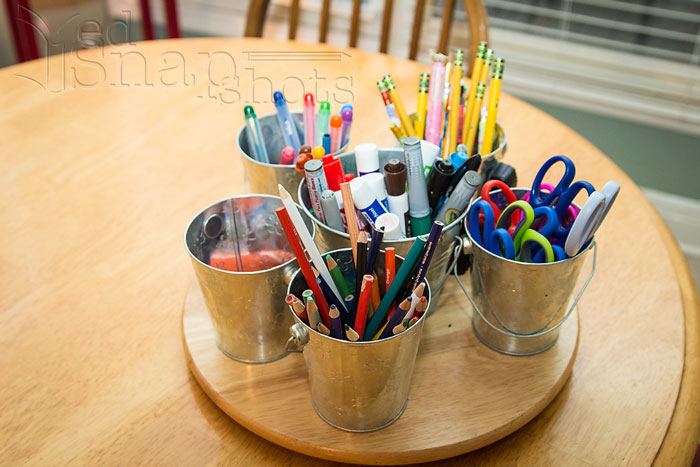 Pin
We also keep a collection of buckets on our lazy Susan to hold pencils, markers, dry erase, scissors, and glue — basically anything we are reaching for on a regular basis.
BONUS Seventh Tool
I can't forget this one. These Sterilite Small Flip Top Storage Box
 are perfect for storing our All About Reading and Spelling cards, Latin flashcards, and any number of small things that need a home. I buy them by the case and always find a use for every single one of them.
Pin
 What are your favorite tools for organizing your homeschool room?