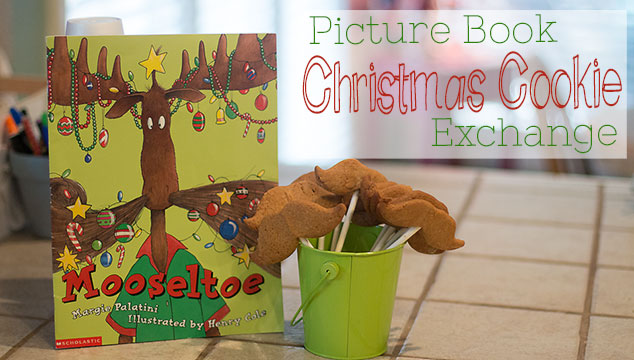 Recently we had a great time by having friends over for our very first picture book christmas cookie exchange. We had a few good friends over on a balmy December afternoon to share some of our favorite picture books and picture-book inspired cookies.
Read or listen to this post:

This party was so easy to plan and hold. All we did was invite a few friends over and ask them to bring their favorite Christmas picture book, plus a treat inspired by that book. That was it. We didn't need any other food, drink, and with it being Christmas the decorations took care of themselves.
Pin
At the party we started with everyone getting a plate of cookies and some hot chocolate and then settling in for story time. Then each mom read their family's book to the group while the kid munched on their cookies. After each selection we would talk about which cookie was inspired by the book.
Pin
Since we had five books to read, the read aloud was the only activity we did for the party other than the kids' own play.
 This Is the Stable
Pin Dolls' Christmas
Pin The Polar Express
Pin Nine Days to Christmas
Pin Mooseltoe
Pin
&
Favorite Christmas Picture Books
Pin
Chocolate cookies dusted with powdered sugar
Oh I love this book. When I heard it was coming to the party I was so excited because it is one of my very favorite nativity stories. The repeating refrain and rhyme makes this a joy to read and the artwork is simply incredible. Not to be missed.
Pin
Candy kiss cookies
I had never heard of this Tasha Tudor selection before, but it was simply a delight. I think the best thing about this book was seeing Miss Tara's absolute joy in it as she read it aloud to the kids. It was a favorite from her own childhood and you could tell with every page. All of us, young and old, hung on her every word.
Pin
Hot Chocolate (of course)
The perineal Christmas classic was one the kids recognized and enjoyed. The artwork in this Caldecott-winning book  is a treasure. And all the kids love the story of the Christmas bell and how it rings for those who believe.
Pin
Mexican Wedding Cookies
Another Caldecott winner, Nine Days to Christmas tells the story of a young girl's posada and her first piñata. A wonderful glimpse into the culture and Christmas customs of Mexico and one of Jessica's kids favorite Christmas books.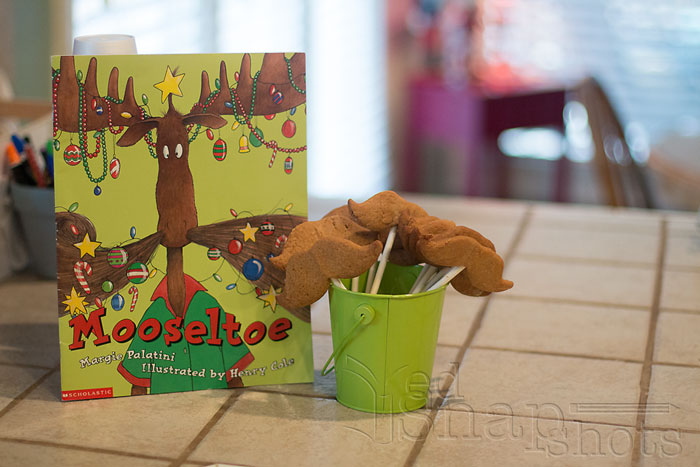 Pin
Mustache Gingerbread
I knew there would be a good selection of touching, wonderful books, so my family went for the fun factor with this hilarious book about a moose with an absurd mustache, a busy Christmas, and a creative solution to a big problem. It's a fun one.
To go along we made mustache cookies using these mustache cookie cutter
 and sticks
, plus our favorite non-spicy gingerbread recipe. They were a party hit!
Pin
Every family had a good selection of cookies to pack up and take home and a good time was had by all. We will definitely be making this event a holiday tradition around here.
What about you? How do you celebrate your favorite picture books at Christmas time?