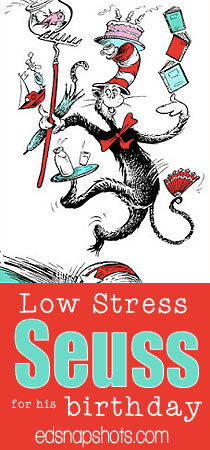 PinMarch 2 is Theodor Seuss Geisel's birthday, so it's time to pull out my low-stress Dr. Seuss birthday activities. I love a good rhyme and fun stories, so he happens to be a personal favorite of mine.
Personally, I think the man was a genius to write those early readers and make them so good working from a word list.
And I am almost certain that I have never heard a forced Seuss rhyme. Which is amazing considering that he wrote everything in rhyme. And then there are the illustrations!
Some of our personal favorite Dr. Seuss books are:
Fox in Socks – My this one gets tongue-twister crazy by the end, but we love it!
Green Eggs and Ham
– Yes, one everyone loves. I like to read it with gusto!
The Tooth Book – This is Seuss, but he is writing as Theo Lesieg, and the illustrations are not his. This one may be one of our favorites though. There is a clam named Pam. 🙂
Six by Seuss: A Treasury of Dr. Seuss Classics
 – We also own this compilation which provides a wide selection, including favorites The Grinch and Horton Hears a Who.
Dr. Seuss Birthday Activities
I thought it might be fun to look at a few low-stress, non-crafty ways to celebrate March 2.
Read a Dr. Seuss book or two. Goes without saying that this would be a thing to do!
Watch Dr. Seuss, usually the free movie-of-the-week at BrainPop Jr. for this week, and do some of the fun activities.
Watch The Cat in the Hat Knows A Lot About That on your local PBS station.
Play rhyming games. How many words can you name that rhyme with bird or house or car? Giggle over the nonsense words that are sure to come up. Make a list. Can you write a two or three line poem?
Eat green eggs and ham.
Visit Seusville.com and explore.
Make oobleck. (Ok, I'll admit that the mess of this could be a little stressful. We have done it outside, and honestly it scrapes right off when dry.)
There it is. I am done. Now you can have some fun!