HS 175: Charlotte Mason Homeschooling Explained with Brandy Vencel
The final interview in the Ultimate Guide to Homeschool Methods is with a super-special friend of mine, Brandy Vencel. I am not (currently) a Charlotte Mason homeschooler, but sitting at the feet of Brandy keeps inching me more and more in that direction I think. I just love chatting with her about Charlotte Mason.
Brandy, who has used Ambleside Online since her oldest was in first grade, is on the Ambleside Online Auxiliary Board. She also provides excellent Charlotte Mason support on her blog Afterthoughts.
Thank you for sharing this homeschooling podcast
Free Resource Sheet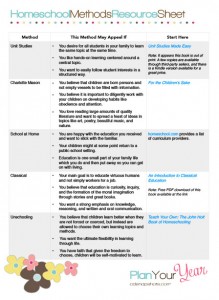 Is Charlotte Mason right for you? As a gift to you, I am offering this free downloadable resource sheet on homeschooling methods. Find out which method might appeal to you, and the number one resource I recommend for beginning to explore each method.
And when you sign up for your free download you will be added to the weekly newsletter list so you will be notified when more audio interviews about each method are released. There will be five in all.
[activecampaign form=30]
Audio Notes
The minute and second mark to find the following topics.
Leave a Rating or Review
Doing so helps me get the word out about the podcast. iTunes bases their search results on positive ratings, so it really is a blessing — and it's easy!
Click on this link to go to the podcast main page.
Click on View in iTunes under the podcast cover artwork.
Once your iTunes has launched and you are on the podcast page, click on Ratings and Review under the podcast name. There you can leave either or both! Thanks so much.