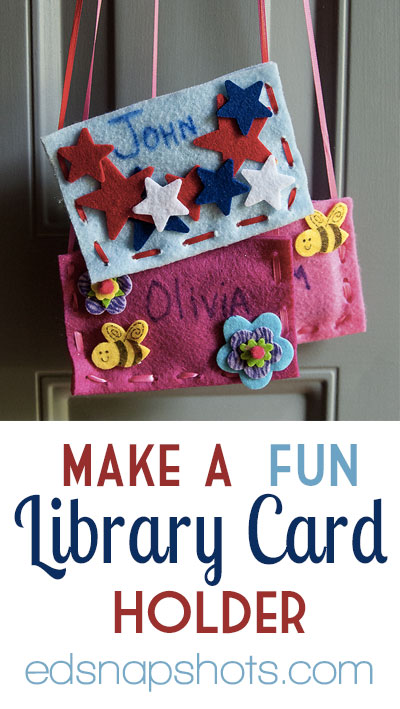 PinThis post is part of the Traveling Through the Pages Summer Reading Adventure. It is not too late to download your free printables and join in on the fun!
About four weeks ago my kids excitedly signed up and got their very own library cards for the first time. It was a big day; an important day that made them feel great.
Me? It gave me a headache. Not literally, but of the figurative kind. Now instead of one little card tucked into the credit card holder of my purse and one receipt to track between visits, I now had four.
Four cards, four receipts, and three little people who wanted to hold their own card and present that card at the library counter each visit. I knew we were going to need a solution.
So I got my craft on and came up with this neat little library card holder for us to keep our cards in. Because we don't do anything difficult or too involved around here, this craft is easy enough for even the four-year-old with a little bit of help.
Library Card Holder Supplies
You will need supplies like these:
Pin
Library Card Holder Steps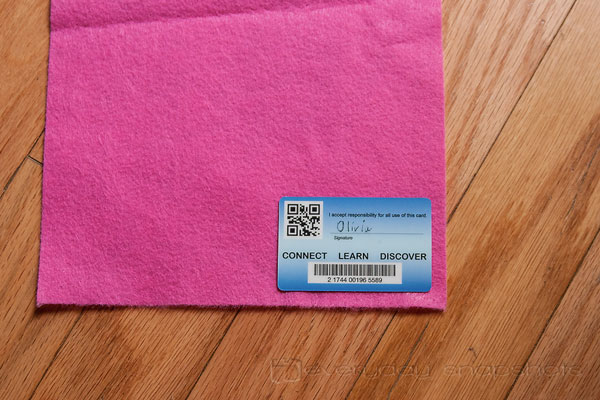 Pin
Use your library card to measure out the size of your pocket. The piece of felt you cut should be twice the height of your card plus 1/4 inch all around to allow for the seam. Our piece ended up being 4″ wide by 6.5″ tall. This would also be a great project for pinking shears — I just didn't have any myself.
Pin
Fold your felt and match up the short edges. Use your heavy-duty hole punch to punch holes around three sides, including the folded edge. Punching an even number of holes will allow you to start and end sewing from the back of the pouch. The felt will not punch cleanly, so use your scissors to carefully trim away the "dangling chads."
Pin
Thread your plastic needle with 4ft of ribbon. Pull the ribbon through the first hole from back to front and leave about an 18-20″ tail. This will be one side of your tie. Continue sewing around the holes with a straight stitch until you exit the final hole on the other side.
Pin
The ribbon does have a tendency to twist, so work with it to keep it straight based on your tolerance for twisted stitches. We didn't stress too much about it. Once you exit the final hole even up the two ties, size the length of the pouch to the wearer, tie a knot with your two cords, and trim off the excess ribbon. Now you can have fun decorating!
Pin
We like the easy-peasy peel and stick felt decorations, but the possibilities are endless. Puffy fabric paint, glitter glue, ribbon, buttons. You are only limited by your craft supplies and your imagination. We used the Sharpie to label ours with our names, slipped in our library cards, and we ready for our next trip to the library.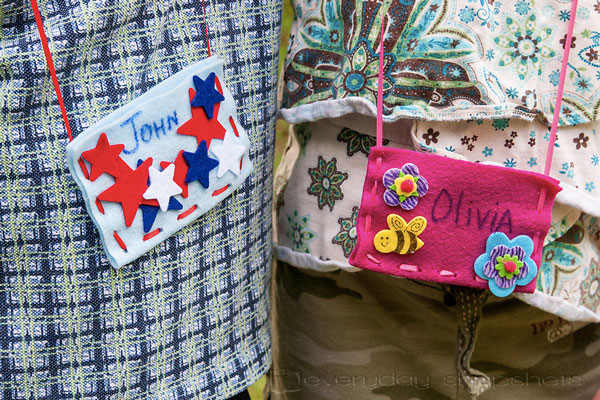 Pin
Aren't they cute? I also collect up everyone's library receipts, fold them, and slide them in my pouch with my library card for safe keeping. When we aren't wearing these to the library, we hang them on a hook by our back door, waiting for our next trip.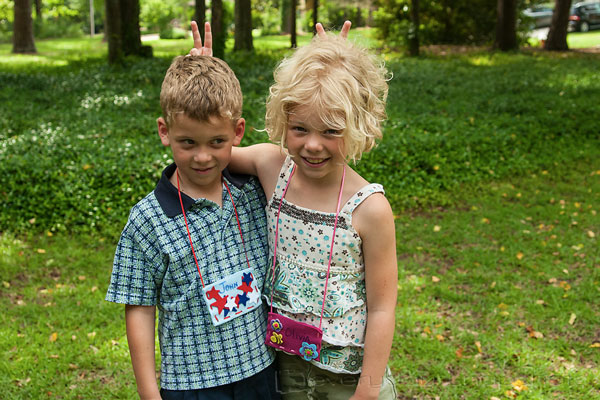 Pin
Funny bunnies!
Do you have a handy tip for keeping up with library cards at your house? If you decide to make some holders of your own, we would love for you to share photos with us!
Don't forget to follow our Summer Reading Pinterest board for more reading inspiration.
Follow Pam @ Everyday Snapshots's board Summer Reading on Pinterest.