Homeschool moms can be very hard on themselves. We take the job of homeschooling our kids very seriously, and so we're really tough on our kids' teacher (and it just happens to be us!). Let's talk about keeping your sanity as a homeschool mom, how we can give ourselves a bit of grace when homeschooling, and where that grace actually comes from.
Why Are Homeschool Moms So Hard On Themselves?
For starters, we recognize what a big job homeschooling is. Raising our kids and parenting them is huge in and of itself, but then when we also take on the responsibility of their education, we are in charge of essentially, their whole life for years. It can be overwhelming. You have to feed them and clothe them. You have the monumental task of parenting them, and then on top of that, we're educating them –  it is a lot.
Given how much we've taken on, it's easy to focus on what doesn't get done in this scenario, where we're in charge of so many pieces. We get discouraged because there's a lot that we don't get done every day. Add to it that it's usually different things every day, and it can seem like there's always something new to feel bad about.
It's that idea that we are responsible for everything. We can't blame the school down the road when we are the school down the road.
Listen to the Podcast: 
Setting Homeschool Goals Without Becoming A Perfectionist
Perfectionism for homeschool moms can be a real struggle. We have the vision of what we want for our children and our homeschool. We have results that we want to accomplish.
When we put our sight, our happiness even, on a result that's in the future and we don't see it happening now; we get discouraged. We try more strategies. We try more controlling types of tactics because we're trying to get ourselves and our kids to certain results.
It often does not look like it's happening  in the middle of homeschooling. It doesn't look like it's happening in the middle of a homeschool day. It doesn't look like your twelve-year-old is ever going to be a responsible adult. The messy middle is real. When we try keeping our sight on our goals and plans for our homeschool as our primary measure of success, it can backfire because we are trying to make that future outcome happen now, or we want to see more results sooner than is realistic.
When we talk about making a vision in Plan Your Homeschool Year, one of the things we warn moms against is that your vision of your homeschool is not what you want your child to be 20 years down the road. It's really about the atmosphere of the day to day in your home, because that's where you have the most influence in how your kid is able to succeed in the long run.
Your homeschool day is going to affect your future relationship and outcome to a much greater degree than whether or not the math program happened.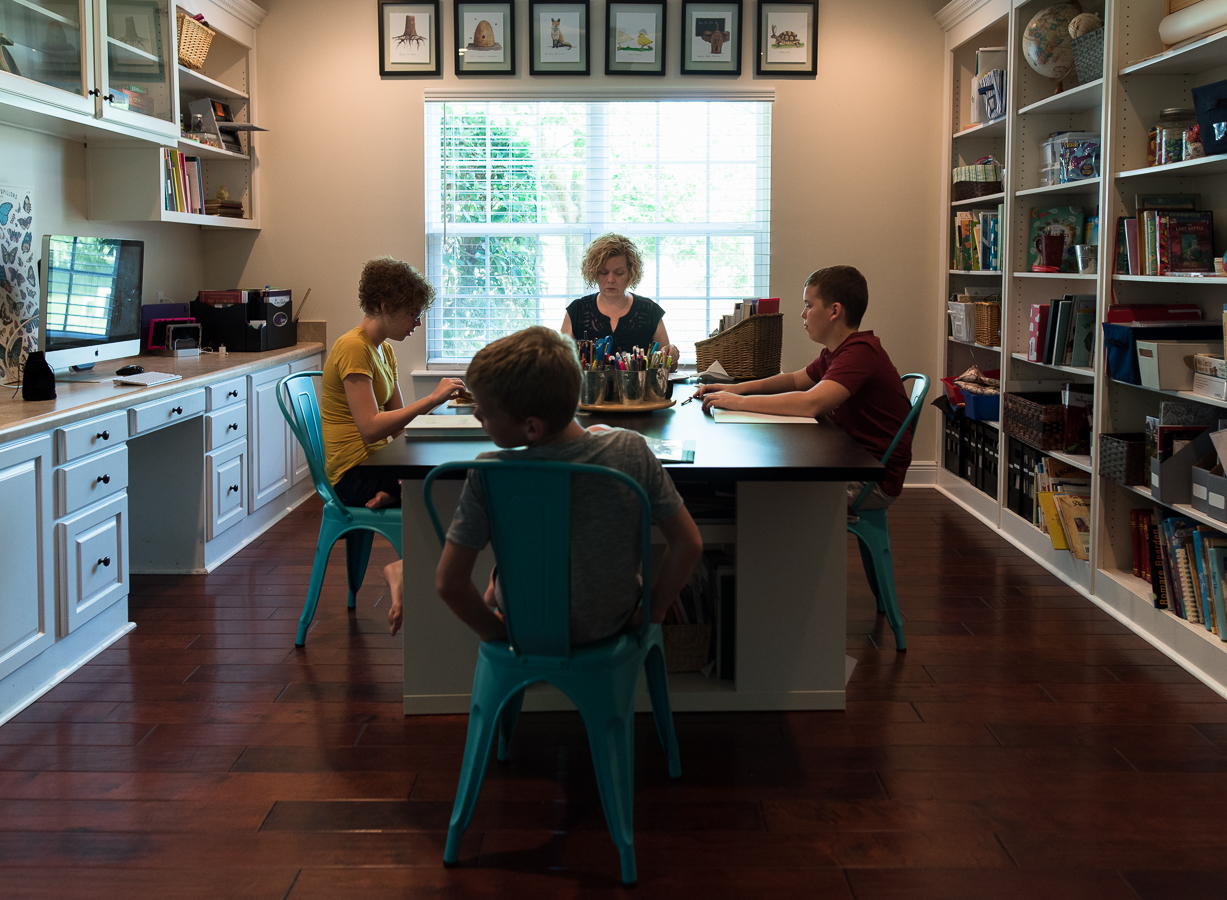 Pin
In Mystie Winckler's new book, The Convivial Homeschool: Gospel Encouragement for Keeping your Sanity While Living and Learning Alongside Your Kids, she shifts the focus to how we, as a homeschool moms, are handling the various situations that come up on normal homeschool days. For example, finding out that your kid was cheating on math. That's a real thing that happens to most homeschool moms at some point, so how do you handle that? The way you do is a big part of how you're homeschooling,
Those moments that are parenting and educating fused together are the ones that have the biggest impact in your children's life. These are also the situations that end up bringing the most growth in our own lives as homeschool moms. So the big point is seeing our homeschool days as God working in our lives for our sanctification. Instead of something that we're trying to accomplish and make other people do and make happen, the day is God working in us.

When we can see that happening, it helps us calm down. I think it helps us to recognize that God's in control when we aren't and he works good through messy situations.

Mystie Winckler, Author of The Convivial Homeschool: Gospel Encouragement for Keeping your Sanity While Living and Learning Alongside Your Kids
This can be a struggle because for a lot of us, it is tough to give up that control. On the other hand, it's also good because the final outcome doesn't depend completely on us.
All we can do is what we can do. All we can do is our part, what we're supposed to be faithful to. Realizing this and embracing it can take a little bit of that pressure off of us.
All I can do is my best.
One common theme among the older homeschool moms I know who have graduated all of their kid is that none of them ever take the credit. I realized what I wanted them to say was, "This is what worked." Then I would do that.
None of them would ever say it. It finally dawned on me, that this was because it wasn't all about me. Maybe that's the lesson that I was supposed to be learning this whole time.
A lot of times, we really want somebody to just tell us what to do. This is just not the way life is. It's not the way homeschooling is.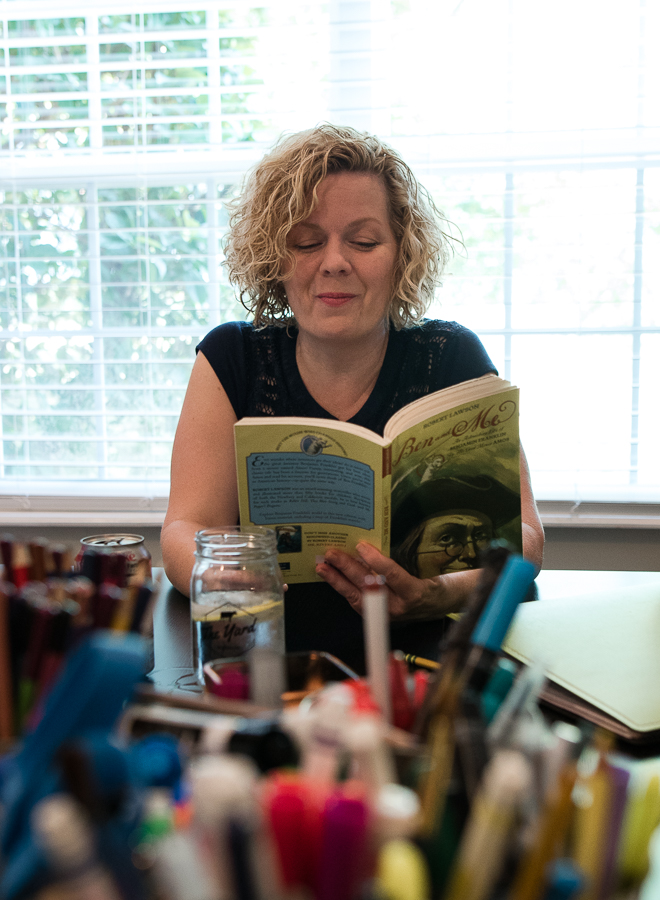 Pin
Guilt, Grace, And Gratitude For The Homeschool Mom
Guilt, grace, and gratitude is kind of a shorthand that is used to describe The Heidelberg Catechism, a church creed. It's a summary of a way to present the gospel.
You have to start with the bad news, the guilt that we all  are actually are sinful. We should call sin, sin,  and start with the bad news. Then you have the good news, The good news is grace. It's God's grace given to us freely, and because of that grace, we can respond in gratitude. That's the proper response to receiving grace.
It begins with the need to repent and it becomes the reason why we can rejoice.
Watch on YouTube: 
Take Time To Reflect
For the homeschool mom seeking grace and looking to restore a bit of sanity and balance, there are some practical steps to take.
One of the first steps, and it usually seems counterintuitive, is to brain dump. It helps us clear our heads and recognize what's actually going on in our hearts. We all have similar struggles, but often for different reasons and different situations. When we simply write things down and put things in words, on paper, where we can see them, it helps us begin to recognize what's truly going on. It helps us recognize any unrealistic expectations or the guilt that we are feeling. We can look at those words on the paper and ask, "Is this guilt 'real guilt' that I need to repent of and ask God's forgiveness for? Or is it 'fake guilt' and something I should not really be feeling so guilty about."
Then we can process it through the lens of gratitude. Find something to be grateful for and change that complaining, bad feeling into rejoicing. It's a way to process through what's actually going on in our hearts and minds.
Pin
The Convivial Homeschool: Gospel Encouragement for Keeping your Sanity While Living and Learning Alongside Your Kids
Our reference book for today, The Convivial Homeschool: Gospel Encouragement for Keeping your Sanity While Living and Learning Alongside Your Kids, is about giving yourself a little grace as a homeschool mom and has many more ideas for helping you feel more balanced in your homeschool and your life. The author, Mystie Winckler, is a second generation homeschool mom of five, who blogs at simplyconvivial.com. This new book is an Amazon number one new release in Christian Homeschooling and is now available online. It consists of a series of  30 short readings that can be done one a day over the course of a month, or one a week for a deeper study through the course of a school year.