Board gaming sounds like such an ideal activity for a homeschool family. It encompasses all that we hold in high regard: together time, fun and laughter, real-life learning and social skill development.
But if you are homeschooling multiple age-groups of children, it might be challenging even to visualize – let alone actualize – a family game of any sort.
I've got some tips to help you stretch the borders of the typical age ranges for games and make your game time a real family affair.
Little People Games
One approach to board gaming with older kids and younger kids is to pick games for younger kids that older kids will also enjoy.
Sadly, other then downloading the best solitaire app on a phone, one of the most common approaches to children's board games is to use a game mechanic that is completely chance-based with no skill or decision needed (think Candy Land, Chutes and Ladders, etc.). Sure, you're getting some counting skills in, but anyone over the age of 6 is going to start yawning.
There are two ways to use little-kid games, but keep them older-kid engaging. First, try games that actually do involve decision making. The games that do this best without becoming too complicated for the little ones are based on either memory/matching or dexterity.
Little people can often hold their own with memory games, as confirmed by recent 21 blitz reviews. And little fingers may have an advantage over bigger ones in dexterity play.
For a big list of games that fit this description, I've got a post all about games for little people that big people will love, too!
The second way to use little-people games and keep them interesting to older ones is to introduce an element of choice or strategy for games that don't include it organically. The younger kids can still draw a card or roll the dice the traditional way, but add a twist for older kids (or parents)!
For example, if you play Candy Land, instead of drawing a color card and moving to the correct space, draw three cards at a time and decide on the order in which you will play them. Then move according to each one in subsequent turns.
Obviously, adapting a game will be more challenging. But if you have a little person in love with one of these games, it can be a sanity saver!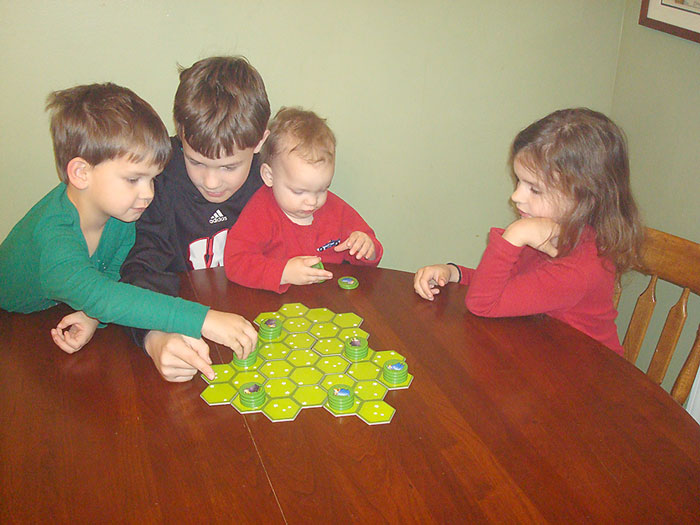 Family Games
Rather than finding small-people games that will interest older kids, too, you might have better success finding games for older children and then including younger children in the action. The family game is a quickly growing game category, so great choices abound!
Different game manufacturers rate the ideal ages for their games differently, but we've discovered that games listed for ages 8+ seem like the sweet-spot for multi-age gaming.
Did you know that the German government promotes board game design and development with a series of annual awards? Each year, a jury of German game critics judges nominees for the Spiel des Jahres. The highest award is given to the best family game of the year.
Winners and nominees of this award make up a large portion of our gaming collection. Check out a list here of past winners (and scroll down further for nominees and other awards for each year).
We've also learned a lot by watching reviews on YouTube. Some of our favorite review channels are The Dice Tower and The Board Game Family. Let the kids watch the review with you to see what sparks their interest and to build anticipation!
You can also like and follow Homeschooling without Training Wheels on Facebook and Instagram where I occasionally share games we've enjoyed!
Board Games for Pre-Readers or Struggling Readers
Sometimes the hold-up to including younger players is the lack of fluent reading skills. Some games are better left until reading is well established; it's no fun to have to ask your opponent what actions you can take with the cards in your hand!
But there are plenty of games that involve great strategy and decision making with little or no reading necessary.
One approach is to pick games where the reading can be done by others without spoiling game strategy. For example, one of our favorite family games is Dragonwood .
It does involve cards with text descriptions of what the card can do. However, the cards are laid out in the playing area before being purchased by a player, so an older sibling or adult could easily read the card properties when the card is put out, letting younger players know what it does. Once players become familiar with the game, they will know from the pictures and symbols what it can do.
If you are uncertain about how much reading might be involved in a game, watch a review or walkthrough on YouTube (see channel recommendations above).
You can also visit Board Game Geek and search for the game. Each game includes a description of the amount of in-game text. You'll want to look for a listing like this:
Finally, if you have pre-readers who are interested in more strategy, visual-spatial games are a great way to go. These games often involve little to no text. The emphasis is on placement or movement of pieces.
You're likely already familiar with Checkers, Connect Four, and other similar games, but for more suggestions, check out our favorite visual-spatial board games!
House Rules
Sometimes it isn't the rules or the strategy that keep younger people from joining a game; it's the length of play.
We've succeeded in playing fun engaging rounds with younger children by modifying the rules to shorten the game.
This will take a little work, but if you find a game you'd love to share with your family, it's worth the effort. Here are some suggestions.
Play the game a few times with adults or older children to get a feel for how it plays.
Determine the "end game conditions". For example, does the game end when someone reaches a certain number of points? After a certain number of rounds? When a supply of cards or tiles is exhausted?
See if you can adapt the end game conditions (fewer points, fewer rounds, fewer cards, etc.) in order to shorten the game while enjoying the original gameplay and strategy.
Another option is to find the "junior" or "my first" version of family games to introduce the gameplay and strategy as a way to work up to the family version.
Team Players
Sometimes, even if you pick family games and add some house rules, the littlest game enthusiasts aren't ready for the choice and strategy involved.
Here's a list of ways that the smallest gamers can still participate. Start simple and work your way up and you'll have full-fledged gamers in no time!
Let a little person roll the die or spin the spinner for you.
Have them count spaces and move game markers.
Narrow down choices (of cards, movements, etc.) to two and then let them pick one.
Play "open hand" – everyone places their cards or tiles face up on the table and talks about strategy out loud.
No matter what game you are playing in your homeschool, tons of learning is happening.
You don't necessarily have to know which educational boxes you are checking; your kids are exercise brain cells and build thinking skills! But if you'd love a copy of my huge chart of board games and the skills that are practiced by playing them, you'll want to check out my post on Better Learning Through Board Gaming!